Triple H was reported to have offered to support Jon Moxley on behalf of WWE after Moxley was released.
On a recent episode of Oral Sessions with Renée Paquette, Cassie Lee and Jessie McKay spoke on their release from WWE. They talked about the support they received from fellow wrestlers and people in the industry.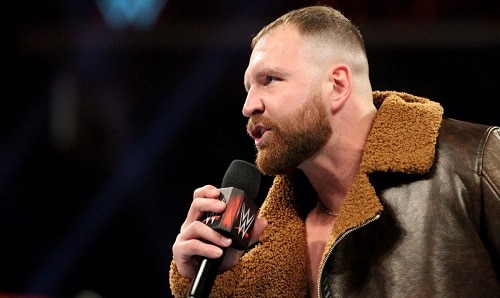 Paquette brought up the friendships which grew while working in the industry and how they can strengthen even after a departure from the industry.  hese friendships can even transcend into rival promotions because of the friendships they build and the camaraderie. The support can even come from the most unlikely of sources, like a person very high up in WWE to a recently released wrestler wrestling for a rival promotion.  
RELATED: CASSIE LEE AND JESSIE MCKAY TALK ABOUT THEIR RELEASE AND WAITING ON VISAS
Paquette brought up how WWE Executive Vice President of Global Talent Strategy Development and COO Triple H took Paquette aside to check on her husband Jon Moxley formally known as Dean Ambrose in WWE. Paquette was a backstage interviewer and host for WWE. In August of 2019 Moxley developed a severe MRSA infection in his elbow after wrestling an event for NJPW.  
Jon Moxley: The Game Of Being A Good Person
According to Paquette Triple H went out of his way to check in on Jon Moxley to make sure he was doing alright and offered to help him in whatever way they needed on behalf of WWE. This was after Moxley had left the company four months prior.
"Even when Jon left, there were times that Hunter [Triple H] pulled me aside because Jon was injured when he came back from New Japan [NJPW]. Hunter kept checking in to make sure that Jon was okay. If he needed anything, they [WWE] would have been able to help him in any kind of capacity. So it was nice to know that that olive branch was still extended and it wasn't that heat-seeking thing that everybody thinks that it is. We've all spent so much time together and nothing bad went down," Paquette said. H/T To Wrestling Inc. For Transcription
It is really nice to see that WWE or at least Triple H isn't bitter or angry at one of their top guys which Jon Moxley was at the time he left.  Everyone likes to think that there is a war and hatred between WWE and rival promotions. However, that doesn't seem to be the case, not this time at least. Moxley is currently wrestling for AEW and it's possible Triple H wouldn't have offered the support if he was with AEW at the time, but I doubt it.
RELATED: BROCK LESNAR MAY BE MAKING AN UNEXPECTED WWE RETURN VERY SOON
WWE has been known to help ex-Superstars with medical and drug problems, but don't like to publicize it which is admirable.  I hope this kind of thing continues to happen because wrestling is a hard life. Sometimes they fall into hard times and with WWE offering support post their release it will hopefully prevent extremely talented wrestlers getting cut down in their prime.
What are your favorite Jon Moxley memories? Do some dirty deeds and leave some comments below on what you think of Triple H reaching out to make sure Jon Moxley was doing well.
KEEP READING: BULLY RAY TELLS EDDIE KINGSTON TO NOT TALK ABOUT WWE AFTER PROMO