Cody Rhodes speaks on the importance of AEW grabbing big name free agents and Bray Wyatt's recent release from WWE.
AEW EVP Cody Rhodes did a media call on Tuesday prior to AEW Dynamite: Homecoming. That night he was set to face Malakai Black formally known as Aleister Black in WWE. Black was just one of the recent releases from WWE which AEW picked up along with Andrade and at this point almost certainly Daniel Bryan. The internet rumors are also saying CM Punk may make his way over to AEW as well.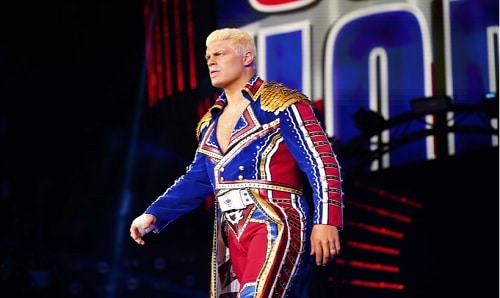 Cody Rhodes On New Free Agents
With all these big names from WWE who were released or left voluntarily in the last few years and many ending up in AEW Cody expressed the importance of bringing these free agents in as soon as possible.
"I tell a lot of my peers in wrestling and people who use me as a sounding board and I use as a sounding board, I always tell them, 'You can't wish away good talent,' especially when you get in a groove as a talent yourself," Cody Rhodes said.  And it's not unlike the world that Tony [Khan] comes from already.  In the world of the NFL and football in the UK, if there's a free agent out there that can move the needle and be something significant for us, I personally, I'm not saying this from the company perspective, think you have to go after them. And does that change the landscape of the show and the roster?  For sure, but that is one of the areas where, as much as things can get personal, it is business, and no one is immune from that."
Is Bray Wyatt The Next Big Name To Go To AEW?
A big name which was recently released from WWE and is on everyone's minds is Bray Wyatt. Wyatt was one of the most popular Superstars in WWE and seemed to really be hitting his stride in the company. Everyone in the wrestling world is wondering where he will end up and if AEW will be his next stop.
Wrestling Inc. asked Cody Rhodes about just that and if there is a spot for Wyatt in AEW.
"Bray Wyatt [Windham Rotunda] was my rookie in the second season they did of NXT," Cody Rhodes explained, "The Rotunda family and the Rhodes family, they certainly go way, way back.  I can't comment on if I see a spot for him, when it comes to us, but I can tell you, he's an incredibly creative individual, an incredibly creative man.

And whenever I see someone like that lose their job or move into the next phase in their career, as someone who left WWE on my own, at the time, that was super unheard of to leave. I can't be everyone's sounding board, but I really want to be. I'll give you an example. I'll pivot away.

I would have never thought that Matt Cardona [Zack Ryder] was going to end up being GCW Champion and getting pelted with trash, but I should have thought he would be doing something and to circle back to Bray. I can't comment on if he fits in with us, but I can say, if he has an ounce of passion for this, that guy can fit in anywhere because he's a very special, special talent. That's really all I could say there."
RELATED: MORE DETAILS ON BRAY WYATT'S SHOCKING RELEASE AND HIS RELATIONSHIP WITH VINCE
Unfortunately Cody Rhodes didn't give us any hints as to if he or AEW has recently talked to Wyatt. It would be crazy to think they aren't interested in him, but can they afford him? Wyatt did get released because he made too much money so I'm sure he would expect the same amount of money. AEW no doubt wants all these ex-WWE Superstars, but they can only afford so many?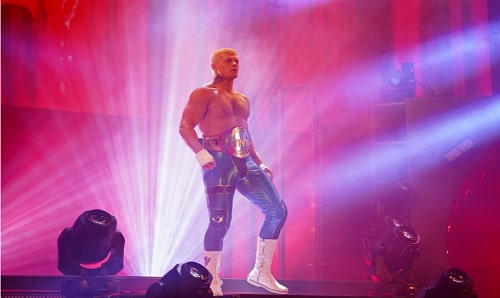 Who do you think will be the next Superstar WWE will release? What do you think about Cody Rhodes comments? Is there anyone in AEW who you think should go back to WWE? Don't be afraid to leave your thoughts in the comments below.
KEEP READING: RUMORS HAVE DANIEL BRYAN GOING TO AEW
Source: Wrestling Inc