"The Man" Becky Lynch is scheduled to be at SummerSlam later this month.
According to PWInsider, Becky Lynch has been scheduled to attend SummerSlam on August 21. However, the downside is she isn't set compete or even be on camera at all, at least at this point.
We haven't seen Lynch for over a year. The last we saw her was in May of 2020 when she announced her pregnancy and gave her RAW Women's Championship to Asuka. Since then she and her husband, Seth Rollins, have had their daughter and Rollins has returned to in-ring action. However, Lynch has stayed off TV and had given no hint as to when she would return.
RELATED: MORE DETAILS ON BRAY WYATT'S SHOCKING RELEASE AND HIS RELATIONSHIP WITH VINCE
That was until recently. Lynch recently posted a picture of her new hair which was the same style she had when she wrestled. This seemingly implied she was returning to the ring very soon. We now know she will be at SummerSlam and was also backstage at Money in the Bank, so she has been around WWE recently.
Will A Perfect Return Opportunity For Becky Lynch Be Missed?
Being at SummerSlam seems like the perfect place to start a new feud, but reports are she will not return to the ring until October when the draft happens.
A possible reason for delaying Becky Lynch's return until the draft is because she is currently on the RAW roster which isn't a problem by itself, but Rollins is on SmackDown. WWE tries to keep couples together on the same show, so either Lynch will need to move to SmackDown or Rollins to RAW. Currently Bianca Belair is the SmackDown Women's Champion so Belair may want to watch her back. A lot of times they will just move the returning Superstar to the other brand and hope no one notices, but Lynch left TV in such a big way.
RELATED: NEWS ON THE FUTURE FOR TWO RETRIBUTION MEMBERS
Becky Lynch was at the peak of her popularity and had a ton of momentum behind her before she left. People will remember how she left and how she vacated her championship, so WWE may want to have her RAW return be a bigger deal than her just showing up one day. The other reason and the more likely one is when the draft happens and the number one or two pick is Lynch the crowd will go nuts.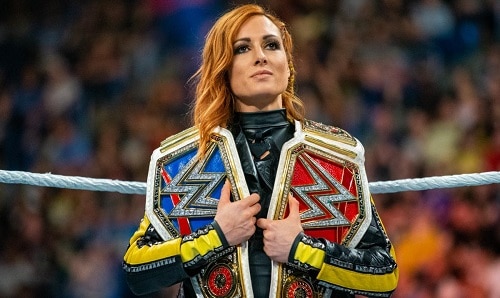 This is of course all subject to change as we still have time until SummerSlam. Becky Lynch could jump Charlotte Flair, Nikki A.S.H. or Belair and start a feud that night. WWE could even release her from now until then with the way they are releasing top people these days, but I sure hope not.
RELATED: CODY RHODES COMMENTS ON BIG NAMES GOING TO AEW AND BRAY WYATT'S RELEASE
We will have to see what happens at SummerSlam on August 21. I personally hope she makes an appearance on TV even if she doesn't wrestle or even say a word.
Do you think Becky Lynch will make her return at SummerSlam or will WWE wait until the draft? Who do you think should be her first feud when she returns? Is there anyone who you would love to see Lynch wrestle? Do you think she can regain her popularity and momentum when she returns? What other surprises do you anticipate for SummerSlam this year? Leave some comments below or on Twitter because we would love to hear your thoughts.
KEEP READING: "BEAUTIFUL" BOBBY EATON DEAD AT AGE 62
Sources: PWInsider, Wrestling Inc.