Big E did what has seemed to be impossible as of late by defeating The Almighty Bobby Lashley for the WWE Championship.
Big E won the MITB men's match back in July. It is very common for the holder of the MITB briefcase to taunt champions with it and he has done just that. They are always hiding in the shadows looming over the champion and hinting as a cash in at any moment. It is a Sword of Damocles kind of scenario. Always looking over their shoulder and in constant danger of getting cashed in on and losing their championship.
RELATED: PAUL HEYMAN SAYS HIS PARTNERSHIP WITH THIS SUPERSTAR WAS ONLY TO PUT OVER BROCK LESNAR
Big E Makes His Intentions Known
Monday morning, he took to Twitter to announce he was going to cash in his Money in the Bank contract that night for an opportunity for Lashley's WWE Championship.  However, it wasn't clear if this was a bluff to get in Lashley's head.  RAW began with Lashley and Orton talking about their WWE Championship match, but Big E was there too.  He made it very clear he was cashing in on the person who won that match.  
During the match, all the fans were watching out for the great fighter himself to make his entrance.  However, everyone quickly forgot about Big E's promise because Lashley was having a lot of trouble with Orton.  Even though Lashley was in clear control of the match for a good portion of it, Orton just needed one RKO to beat Lashley.  That is why he is so dangerous.
Lashley was able to spear Orton and get the three count.  However, he wasn't done with Orton or Matt Riddle.  He destroyed them just to show everyone why he is the Almighty and should be feared.  He took Orton and slammed him through the announce table, but in doing so he injured his own knee.  However, it didn't matter because the match was over.  Well, he forgot about Big E.
Whoops Lashley Forgot About Big E
As he limped back into the ring to gloat over his defeat of Orton and yet another challenging opponent defeated, but Big E's music hit. He ran to the ring and cashed in his MITB contract. Lashley begged Big E and the ref not to ring the bell and start the match, but the bell rang.
RELATED: WWE IS REPORTEDLY NOT LOOKING TO SIGN INDIE TALENT
The first thing which happened was Big E slapped the taste out of Lashley's mouth and the match began.  Lashley tried to overpower Big E and came out hard.  He even hit Big E with a spear, but because of his knee he wasn't able to get full power out of it and Big E kicked out.  Lashley then tried to hit him with a Dominator, but he reversed it to a Big Ending.  It ended up being the big ending for Lashley as Big E pinned him and walked out the new WWE champion. The New Day rushed the ring to celebrate with the new champion and the fans went nuts.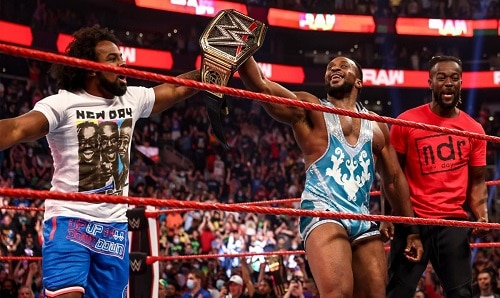 I Love The New Direction This Can Take The Championship
I love how the WWE championship turned out.  I have always thought he is the best wrestler in New Day and the only one I could see as a world champion and being believable.  He has the look for sure and overflows with charisma.  He is a fan favorite and his WWE Championship reign is long overdue.
However, the biggest reason I am excited for him to be champion is the question of how he is beatable.  When a big, imposing, destroyer beats everyone then how they lose their title is a big deal.  When Lashley, Brock Lesnar, Roman Reigns or Braun Strowman for example are in a match with Ricochet let's say then everyone knows they aren't losing their title to Ricochet.  That's not a slight on Ricochet because I love him, but those guys aren't beatable by normal circumstances.  They only lose under special circumstances like a MITB cash in or if they wrestle each other.
However, Big E is beatable. This means he could lose to anyone within reason. If he wrestles Ricochet he could lose his WWE Championship. This makes his matches more exciting and tense for those near falls. I hope Big E holds onto that championship for a while and doesn't lose it at next week's RAW.
What do you think of Big E being the new WWE champion? Do you think he was the right person to dethrone Lashley? Who would you like to see Big E defend his championship against besides his inevitable rematch with Lashley? Leave your thoughts on our new champion below in the comments.
KEEP READING: SAMOA JOE FORCED TO RELINQUISH NXT CHAMPIONSHIP
Source: WrestleZone