Apache Junction is a generic Western dressed up with some modern sensibilities. All the expected archetypes of the genre are here without much done to differentiate them from the crowded pack, but it's decently made and ends at 90 minutes straight. 
Apache Junction may satisfy those seeking an old-style Western, but all else should ride to greener pastures.
In 1881, Annabelle Angel (Scout Taylor Compton) is a city reporter out to write a story on how the crime-ridden Apache Junction is being cleaned up by cowboy deputies. However, when one such deputy attempts to have his way with her, she is saved by the gruff but good-hearted Jericho Ford (Stuart Townsend trying to find his inner Clint Eastwood) and his Native American friend Wasco (Ricky Lee). 
However, as Jericho shot the man who attempted to harm Annabelle and that guy was a solider of Captain Hensley (Trace Adkins), that means that Jericho now has a bounty on his head and must keep Annabelle out of harms' way. They're also joined by a hooker with a heart of gold Mary (Danielle Gross) who wants to escape her lot in life.
Apache Junction Official Trailer
FRIED BARRY EXCLUSIVE INTERVIEW: DIRECTOR TALKS ABOUT HIS UNIQUE TWIST ON ALIEN ABDUCTION STORY
Apache Junction's biggest problem is its refusal to embrace any of the elements that could have made it different. We open the movie following Annabelle and are lead to believe she will be the main character, but she ends up being shuffled into a supporting role so Jericho can take the lead. The film seems to want to say something about the law, public perception, and the importance of good journalism, but these interesting ideas unfortunately are holstered in favor of following the Western formula to a tee.
If you're into the predictability of Westerns and want something familiar, I imagine you might enjoy this throwback.  If not, then I suggest hitching your tent elsewhere.  Apache Junction has some interesting elements, decent performances, and a few good scenes, but it's nothing we haven't seen before.
Apache Junction Synopsis
Apache Junction is an outpost of lawlessness, a haven for thieves and cold-blooded killers. After big-city reporter Annabelle Angel (Scout Taylor-Compton) arrives to write an article on the town, she becomes a target when notorious gunslinger Jericho Ford (Stuart Townsend) comes to her aid. Now Annabelle must entrust her future to a man with a deadly past, as Jericho heads toward a tense showdown in this thrilling Western that unloads a double-barreled blast of action. Costarring country music superstar Trace Adkins and Thomas Jane.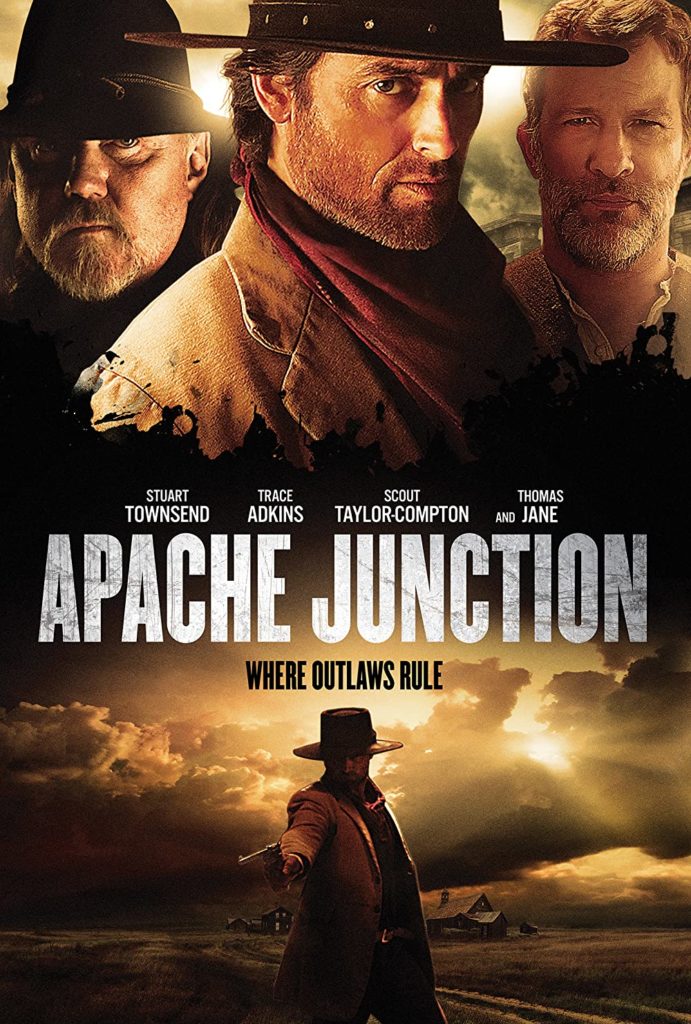 2.5 out of 5 stars (decent)
Apache Junction is in Theaters, On Demand and Digital right now. What did you think of Apache Junction? Let us know your thoughts in the comment section below or over on our social media.
KEEP READING: NO TIME TO DIE REVIEW: A WORTHY SWAN SONG FOR DANIEL CRAIG'S 007