The latest robo combination seen in Kikai Sentai Zenkaiger, was not created in the original concept for the show. The 45th anniversary season was recently revealed to have the Zenryoku Zenkai Cannon, a new weapon for the leader, Zenkaizer, that can become a jet and combine with the other four team members. However, Zenryoku Zenkai Oh wasn't originally planned in the beginning and required a lot of studying to make possible.
In Zenkaiger, the other 4 kikainoid Rangers could grow giant and could only combine in duos in the beginning. They also had another mode based on the theme they represented, such as a Tyrannosaur or a Dump truck. Although Zenkaizer and Twokaizer had new robo forms for their Super modes, they never combined all zords together yet.
RELATED: WHY SUPER SENTAI AND POWER RANGERS ORIGINALS SHOULD BE USED IN THE FUTURE OF THE BRAND
The new formation is similar to a ultrazord seen in Power Rangers, and finally combines the core 5 Rangers together.
The Truth Behind Zenkaiger Gattai Robo
This information was released by Toei, but was translated on Twitter by @vvmmrrcc. They revealed that the team behind the series had to study and tinker with their own material, made for Zenkaiger, to be able to create something that would unite them all.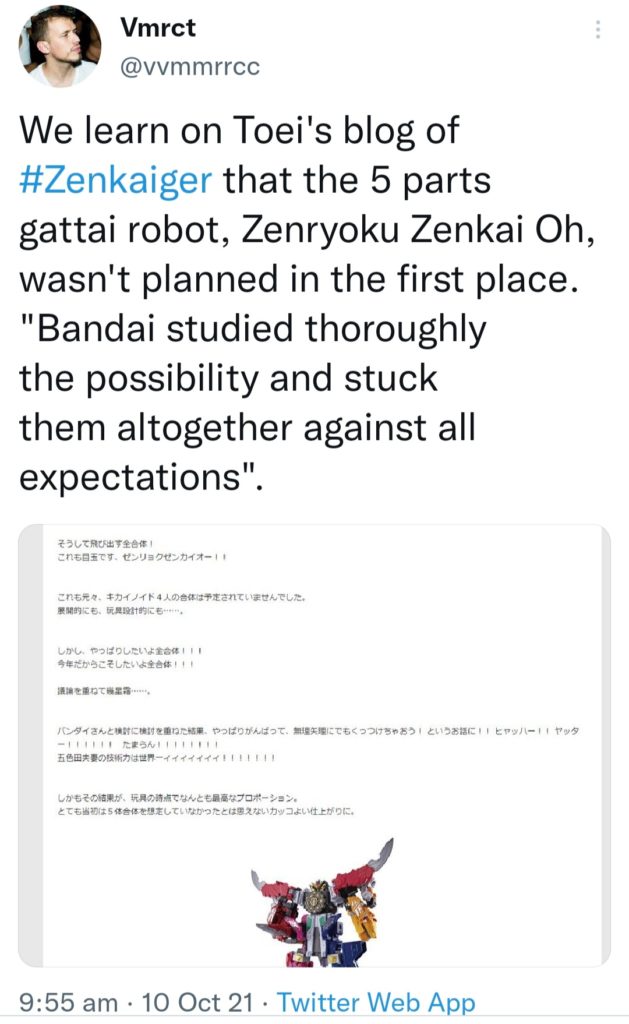 It's insane to think that this addition was never meant to be added, according to the original plan. However, not only is it great they managed to fundamentally make a zord that combines them all, but that it perfectly does without sacrificing proportions. It is hard to imagine that anything could have combined this type of Zords in Zenkaiger, but thankfully they have shown it was possible.
The same person on Twitter also translated another fact released by Toei. This included that the Zenryoku Zenkai Oh was the first CGI model to use motion capture for the show. This is a first use of the technology in Super Sentai as revealed in the following image.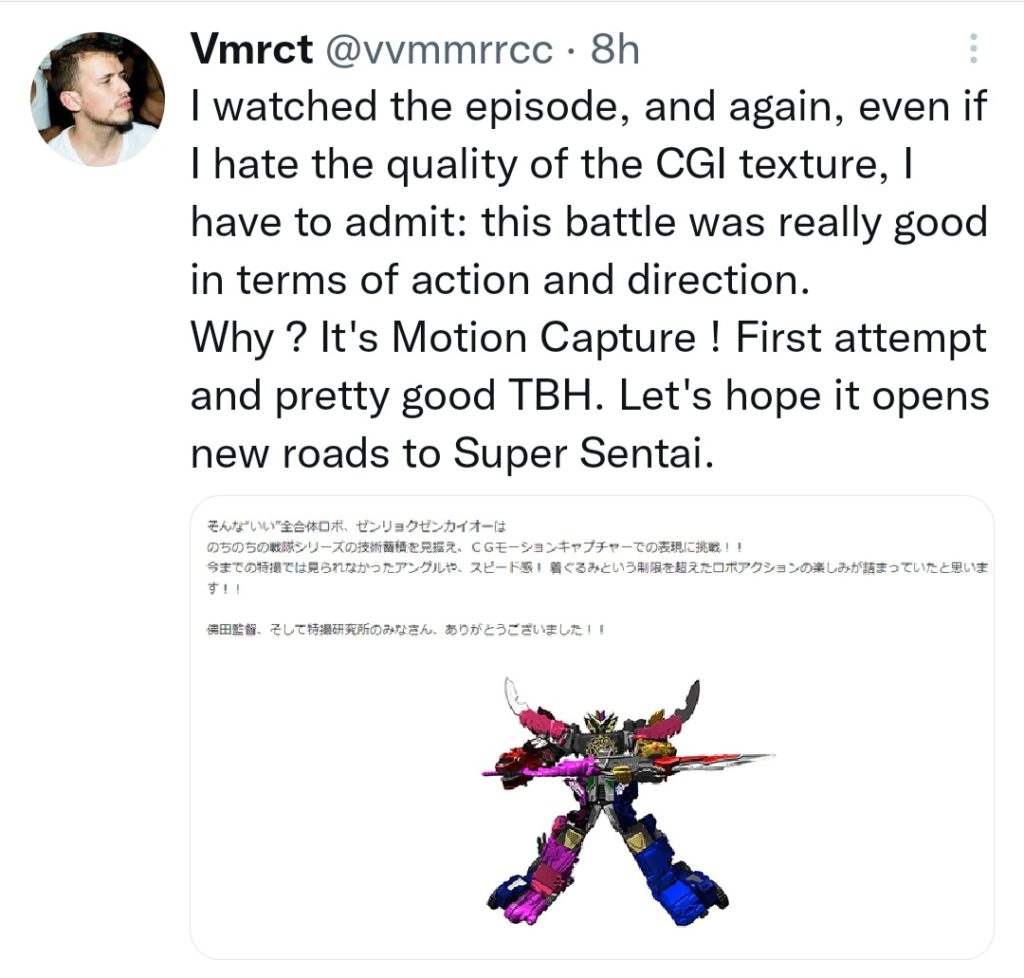 It's possible that this could improve the quality of future seasons and may even spark new inspiration for the next series. Hopefully, they do improve the texture quality and ensure that their CGI is on par with their physical costumes and Props.
What do you think of this last-minute creation? Do you like the Zenryoku Zenkai Oh formation? Is there anything else you'd like to see in Zenkaiger? Let us know on social media, or in the comments below, and keep following The Illuminerdi for more Super Sentai and Power Rangers content.