Bryan Danielson is looking forward to his rematch with Minoru Suzuki and showing him what he's learned since their last match was in 2004.
In their last meeting in 2004 things were very different.  Danielson wasn't going by Danielson at the time or even Daniel Bryan. He was known as the American Dragon. The pair worked some tag matches together at some NJPW events. However, the two men eventually were at opposite ends of the ring and faced each other in a singles match.  Suzuki and Danielson faced off on day 11 of the NJPW Summer Struggle 2004 event. Suzuki came out the victor on that night.
Danielson Gets A Chance To For His Revenge
However, Danielson has a chance at redemption as he and Suzuki will meet once again. The two men will have a match this Friday at The Buy In preshow for that night's AEW Rampage from Miami and will be aired on YouTube.
In 17 years a lot can be forgiven and forgotten, but Danielson hasn't. He remembers his loss to Suzuki and it appears it may not have sat well with him. Danielson took to his Twitter and showed Suzuki the respect he earned in their last match, but the wrestler says he has changed and grown since their last meeting. It doesn't look like Danielson will let Suzuki come out victorious this time.
RELATED: BRITT BAKER SPEAKS OUT ON WWE AND ITS INTEREST IN SIGNING HER
This is what Danielson had to say via Twitter:
"In 2004, I wrestled Minoru Suzuki 1 on 1. He beat the sh*t out of me. Showed me what violence and sadism inside a wrestling ring looks like. Since then, I've learned a thing or two about violence myself. And sadism. Excited to show Mr. Suzuki what I've learned #DANIELSONvsSUZUKI,"
17 Years Of Both Men Wrestling All Over And Learning A Few Tricks
Danielson has wrestled all over the world since 2004. From little promotions in school gyms to big indie promotions like Ring Of Honor and the granddaddy of them all, WWE. He has been one of the top wrestlers wherever he went and has undoubtedly learned a lot in that time.
RELATED: ADAM COLE TALKS ABOUT WWE WANTING TO CHANGE HIS UNIQUE LOOK AND NAME
However, Suzuki wasn't sitting around getting soft during that 17-year period either. He wrestled up and down Japan wrestling for NJPW, AJPW and Pro Wrestling Noah winning championships along the way. However, Suzuki also wrestled in Great Britain and even down in Mexico for CMLL. There is no doubt Suzuki has also learned a few tricks along the way to use on Danielson.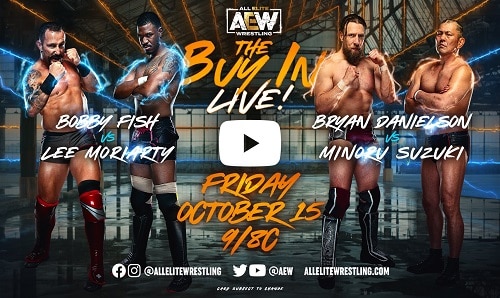 The Buy In Has Some Very Interesting Matches
The Rampage Buy In preshow will not just show us a rematch between two wrestling legends but also two wrestlers in their prime looking for their deserved recognition. Friday will also showcase newly signed ex-WWE wrestler, Bobby Fish, taking on Lee Moriarty. The following night Fish and Danielson will face off for Saturday's AEW Dynamite show. That is of course if he survives his match with Suzuki. Suzuki may have taken a few years off Jon Moxley's life after their match in September and Suzuki seems to be just as sadistic as when Danielson met him in 2004.
The rest of the Buy In preshow has some interesting matches as well. The newly returned CM Punk will take on Matt Sydal in Punk's introduction to the young wrestling fans tour and showing the older fans he's still got it. The also newly signed ex-WWE Superstar Ruby Soho will face The Bunny of the The Butcher and the Blade team. Finally in what is sure to be a hellacious match Junior Dos Santos, Scorpio Sky and Ethan Page will take on Chris Jericho, Jake Hager and AEW TNT Champion Sammy Guevara. Their rivalry sure has been heating up as of late.
Are you looking forward to Danielson and Suzuki facing off yet again? Do you think hehas what it takes to defeat Suzuki this time around?  Leave a comment below and let us know which one of the other Buy In matches are you most looking forward to.
KEEP READING: PARKER BOUDREAUX FINALLY DEBUTS ON NXT WITH A NEW NAME, HARLAND, AND LOOK
Source: Wrestling Inc.