Mel Gibson and action go together like PB&J, so it's rather fitting he's been cast in a new prequel TV series to John Wick, titled The Continental. 
It will be a 3-night special event hosted by Starz for Lionsgate television that will see the origins behind the titular hotel for assassins central to the John Wick franchise.  We'll follow Winston Scott through 1975 New York as he navigates the city's underbelly to confront his dark past and seize the titular hotel. 
RELATED: RUBY ROSE CALLS OUT CW, BERLANTI PRODUCTIONS FOR "TOXIC BEHAVIOR" ON BATWOMAN SET
Though he is played in the film series by Ian McShane, it is yet unclear who will portray the younger version of him in the show.  However, we know Gibson will play a character named Cormac.
The Road To The Continental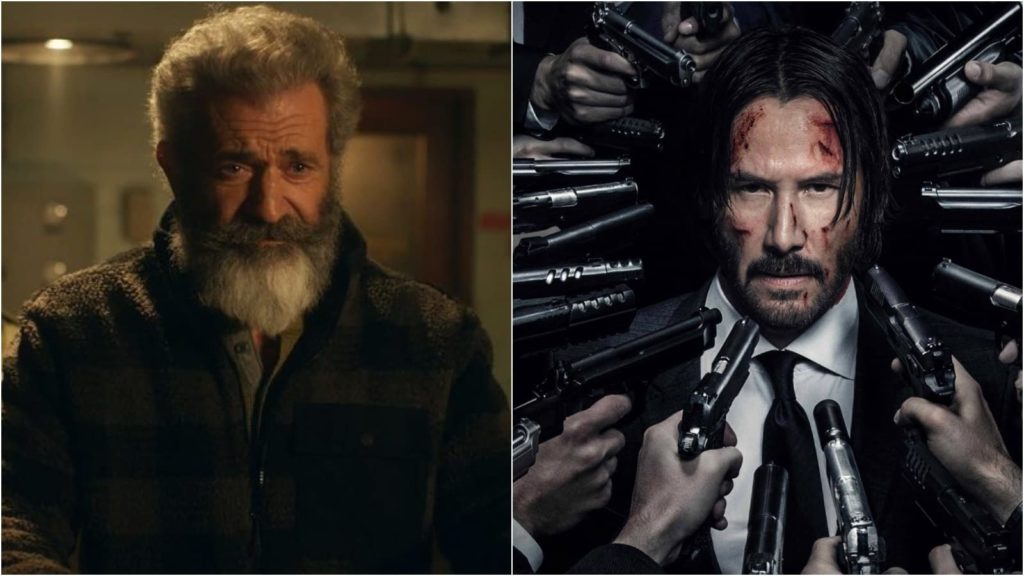 This is not Mel Gibson's first foray into television. The action man aussie got his start on drama series The Sullivans from 1976-1983, during which time he rose through the ranks in the States with George Miller's classic Mad Max, Peter Weir's Gallipoli, and The Year of Living Dangerously before hitting superstardom with the Lethal Weapon series and his Best-Picture-winning directorial epic Braveheart. More recently, Gibson was seen in the 2018 drama Dragged Across Concrete co-starring Vince Vaughn and co-starred with fellow 80's action hero Sylvester Stallone in 2014 on The Expendables 3.
The John Wick franchise was a shot in the arm for both the action genre and the career of its longtime star Keanu Reeves. Along with the 3 films grossing around $600 million in total, the franchise revitalized the mid-budget action genre with grit, humanity, and creativity that has seen many, many imitators in recent years.
The first John Wick was released in 2014 and saw its title character exiting retirement to hunt down the mob boss who killed the puppy left to him by his now-dead wife.  That simple but effective hook has expanded out into a violent, large-scale extravaganza that has seen Hollywood heavyweights Laurence Fishburne, Halle Berry, Willem Dafoe, Anjelica Huston, Lance Reddick, and rising star Asia Kate Dillon (Orange is the New Black and Billions) join the crew over time. 
As the series progressed, Wick has fought those seeking to claim the bounty on his head and bringing each to their bloody end.  He's actually banned from the Continental after breaking its oh-so-sacred rule (no killing on the premises).  While Lionsgate has stated Reeves and Ian McShane won't appear in the series, Reeves is in talks to be an executive producer.
Lionsgate TV representative Kevin Boggs explained their inspiration for the prequel in April:
It's such a successful franchise, it's on its way to its fourth and fifth installments as a movie…. It's got such a great mythology and such interesting style, and the gun fu approach of these incredibly poetic stunt esthetics is just out of this world, which is why the movie with Keanu Reeves — who is so amazing in everything he does but particularly compelling as John Wick in our mind — it just cries out to be something in TV. Just like the Marvel Universe and the DC Universe from a TV perspective are incredibly opportunities, and that is our superhero franchise in the family".
Boggs also spoke specifically about his plans for The Continental and positively about the creative process with Starz,
"What we're exploring in The Continental is the young Winston and how it came to be that he and his team of confederates found their way into this hotel which we have met for the first time in the movie franchise 40 years later… That's the arena. I won't give away more than that, but Starz really leaned into this take also, and they have been great collaborators. And how we've approached this first season is as three essentially 90-minute events which you could construe as a limited series or a limited event series."
We don't have a release date yet on The Continental, but fans can count down the days until May 27, 2022 when John Wick: Chapter 4 comes guns-ablazing into theaters.  We'll update you more on The Continental as information comes out, so keep your ears to the ground and don't kill anyone's dog until then.
Are you excited for The Continental?  What's your favorite Mel Gibson movie?  How would you rank the John Wick franchise so far?  Let us know in the comments below and on our Twitter.
KEEP READING: EMILY BLUNT IN TALKS TO JOIN CHRISTOPHER NOLAN'S NEW PROJECT
Source: Deadline