It's official, Charlie Cox will be making the daring leap from Netflix to the Marvel Cinematic Universe as the Devil of Hell's Kitchen.
Whether or not he'll be in Spider-Man: No Way Home, however, is another story.
RELATED: HERE'S HOW SPIDER-MAN'S J.K. SIMMONS FOUND OUT HE WAS CAST AS J. JONAH JAMESON
The news isn't very surprising to most of us. What's surprising is the source. Believe it or not, Kevin Feige, the top boss of Marvel Studios himself, made this grand reveal. That's right, the same Kevin Feige who is known to be strict about maintaining secrecy for all Marvel productions shared the news.
Will Charlie Cox Show up in Spider-Man: No Way Home?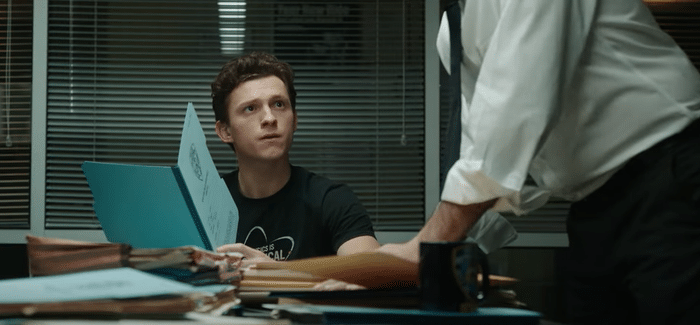 While speaking to Cinemablend, Feige confirmed Cox's return. He did not however say whether or not he'll appear in Spider-Man: No Way Home, while we may have our suspicions on that front, it looks like we'll just have to play the wait-and-see game for now. Here's what Feige had to say:
"If you were to see Daredevil in upcoming things, Charlie Cox, yes, would be the actor playing Matt Murdock/Daredevil. Where we see that, how we see that, when we see that, remains to be seen."

Kevin Feige
As I've stated earlier, while Cox's reprisal of Daredevil is confirmed, we still have no official word on whether or not he'll be in Spider-Man: No Way Home. In my educated guess, we won't see Daredevil in Spider-Man: No Way Home, but I can't say the same for Matt Murdock.
Murdock is a lawyer, Peter Parker is on trial, it will be a missed opportunity if Murdock isn't in No Way Home as far as we're concerned. Fans have been speculating about Cox's Murdock defending Holland's Parker for months, some fans found substantial evidence while others grasped at straws. When the first trailer dropped for the new Spider-Man movie, fans believed Charlie Cox's forearms could be seen in an interrogation scene with Peter Parker.
While promoting his show Kin, Cox outright denied the rumor to Newsweek. Do you remember when Chris Pratt denied rumors about him being cast as Star-Lord? What about when Paul Rudd denied rumors suggesting he got cast as Ant-Man? Let's not forget Jonathan Majors denied his involvement in Loki, and listen, don't even get me started on Tatiana Maslany.
Don't Expect to see Daredevil Season 4
Netflix's Daredevil fans, you may want to sit down for what I'm about to say next. Although Charlie Cox will be reprising his role as Daredevil, don't expect to see the fourth season of Netflix's Daredevil. A soft reboot or retcon is highly likely. Before the MCU expanded on Disney Plus, spinning out various series, from Wandavision to Hawkeye, among future projects, there was Marvel Television. Marvel Television existed in a confusing time in MCU's history. They're now a defunct division of Marvel Studios.
Marvel Television produced Agents of Shield, Agent Carter, Runaways, Cloak & Dagger, and most notably all of Netflix's original Marvel content including Daredevil (starring Charlie Cox himself), Luke Cage, The Punisher, Defenders, etc. All of those shows were supposed to be set in the Marvel Cinematic Universe, before most if not all of them took on a life of their own, now they're MCU-adjacent or somewhere in the multiverse. At least this shows that Marvel is not above bringing those actors back to play their respective characters, Vincent D'Onofrio's Wilson Fisk/Kingpin will also be returning, sooner rather than later, to those of you who've seen the latest episode of Hawkeye, you know what I'm talking about.
As for other Netflix Marvel characters like Jon Bernthal as The Punisher, Mike Colter as Luke Cage, Krysten Ritter as Jessica Jones, and Finn Jones as Iron Fist, if we're lucky we'll see them return at some point.
Spider-Man: No Way Home will premiere in theaters on December 17, 2021 – with or without Charlie Cox. If you like what you read, don't forget to follow us on Twitter or Facebook so you don't miss more Marvel and Disney content like this in the future!
KEEP READING: NEW DAILY BUGLE TIKTOK HILARIOUSLY TEASES 2 MAJOR VILLAINS AND THEN SOME
Source: Cinemablend