Mick Foley talks about which of his "Three Faces Of Foley" is his favorite and why.
Mick Foley is a true legend in professional wrestling. He has so many memorable moments in his career like when Undertaker threw him off the Hell In A Cell. He was also one of the unsung heroes of the Attitude Era. The Rock, Stone Cold Steve Austin, Undertaker and other top Attitude Era wrestlers needed someone to go up against and Foley was the perfect opponent for a brutal yet entertaining match.
However, one of his biggest accomplishments, which is not brought up enough, is how he had three distinct gimmicks, Mankind, Cactus Jack, and Dude Love… or four if you count his Mick Foley persona to "get over" and become successful in WWE. Even just having two different characters would be extremely difficult for even the most talented wrestlers. 
Mick Foley has switched between his three gimmicks throughout his WWE career, but which one was his favorite? While on the Excuse Me: The Vickie Guerrero Show, he went into who was his favorite is and what he liked about each of his gimmicks.
"I love being Cactus," Foley said. "At the time I was doing it, I enjoyed being Dude Love for two months during the 'Summer of Love' [in 1997]. But when November rolled around and I was still dancing in the ring, I was like, 'Oh. This character has run its course.' But I love being Dude Love on Cameo videos. It's the hokiest. Dude has reinvented himself as a lounge singer. So, I do birthday songs. (Foley sings badly) So I love doing it." H/T To Wrestling Inc. For Transcription
Cactus Jack's Brutality And Dude Love's Peace And Love Make Quite A Pair
Cactus Jack was Mick Foley's hardcore wrestling gimmick. He was mostly used in WCW, ECW and Japan. Jack was someone who was focused on inflicting pain and did this with the use of barbed wire-wrapped baseball bats and slamming his opponent on a mat full of thumbtacks among other weapons.
To counter this barbarism the persona of Dude Love was created by Mick Foley. Love is a ladies' man who loves to dance, have fun and is all about peace and love. Every man wants to be him and every woman wants to be with him or at least that's what Love thought. However, Love could get serious when he needed to and won his share of matches.
RELATED: WWE RELEASES JEFF HARDY AFTER REFUSING DRUG TREATMENT
Mick Foley's third "face," Mankind, is by far the scariest. This also happens to be his favorite.
"But if I had to pick one I would pick Mankind," Foley said. "Latter-day Mankind. And the reason is, I didn't realize it at the time but that latter-day Mankind character was really connecting with people who didn't feel like they fit in. So it was kind of a sense of, a source of, we're supposed to take people's minds off their problems and entertain. But it took me years to find out that people were connecting and felt a kinship with this guy who didn't quite fit in but found a way to become a big deal anyway."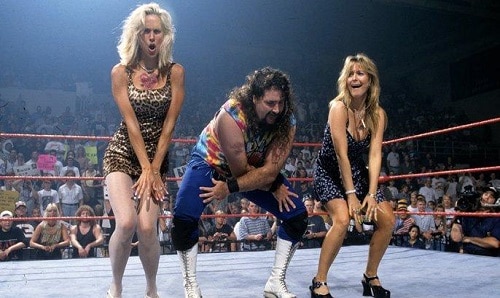 Mankind Or The Reject, Who Won Over All The Fans?
Mankind is devoid of compassion and will do whatever it takes to inflict pain on his opponent even if that means almost killing himself. However, as Foley acknowledged, the latter-day Mankind was a bit different.
As time went on Mankind became a lot more of a comedic gimmick. He would find himself in funny situations and would try and fail to make friends. One of the goofiest aspects of Mankind was the sock puppet he would pull from his pants or off his foot named Mr. Socko. Mr. Socko became a fan favorite and Mankind would insist on using it to speak to WWE staff, wrestlers and fans.
RELATED: WWE SUPERSTAR XIA LI ON WHO SHE LOOKS FORWARD TO COMPETING WITH IN THE FUTURE
All of Mankind's weirdness started to become endearing and like Foley said people started to identify with Mankind. It gave us weird kids hope that even though we are weird we can still be successful and maybe even win the WWE Championship.
Foley eventually shed his "Three Faces Of Foley," or maybe he just absorbed a piece of each, when he returned to WWE in 2004 as Mick Foley. He had what he has described as his favorite match of his career when he faced Randy Orton at Backlash.
"Coming back after four years of not having a single match and teaming up with The Rock the month before, at WrestleMania, it just didn't feel like I took my best swings," Foley said. "And like, there's nothing wrong with failing as long as you give it your best shot. And I did not feel like I gave it my best shot at WrestleMania [in] 2004. So I came back a month later and took my swings and I'll dare say I connected. So that was my favorite match because not only was it, I thought, a great match but one that meant a lot to me on a personal basis."
Mick Foley is still an inspiration to wrestlers today and fans alike. He proved that dreams are achievable no matter what as long as you're willing to put in the work and make sacrifices. 
Which of the "Three Faces Of Foley" is your favorite or is Mick Foley your favorite? What is your most memorable moment from his career besides the Undertaker Hell In A Cell? Mine is when he visited Vince McMahon in the hospital with the clown. Is his match with Orton at Backlash your favorite match of his? If not, which is your favorite? Leave a comment below and let us know if you think there will ever be another Mick Foley in WWE on Twitter.
Sources: Wrestling Inc., Excuse Me: The Vickie Guerrero Show
KEEP READING: NICK KHAN IS EXPECTED TO TAKE OVER WWE ONCE VINCE MCMAHON RETIRES