WWE has decided to release Jeff Hardy from his contract after being sent home and has moved him to the alumni section of their website.
WWE has been releasing a lot of people in the past year and at first look it looks like Jeff Hardy was just another victim of "budget cuts." However, according to Fightful the release was based on something which happened at a WWE live event which took place this past Saturday.
At the event Jeff Hardy teamed with Drew McIntyre and King Xavier Woods. Hardy tagged in McIntyre and then disappeared from ringside. Reports are he was sluggish during the match. It isn't known if he just left ringside after he tagged out or if he was told to go to the back. Most likely he was pulled from the match.
RELATED: WWE RELEASES KEITH LEE, KARRION KROSS, EMBER MOON AND MANY OTHERS DUE BUDGET CUTS AND UNVACCINATED STATUS
Jeff Hardy was sent home and replaced the following day in a six-man-tag match by Rey Mysterio against The Bloodline [Roman Reigns and the Usos].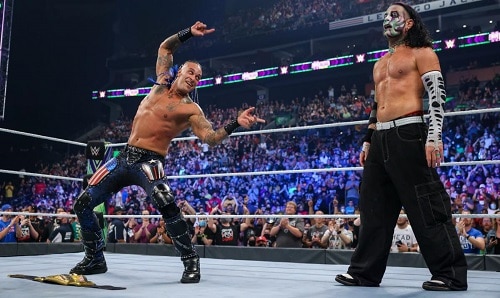 A History Of Substance Abuse Issues
It is pretty obvious something was going on with Hardy on Saturday and possibly Sunday. Unfortunately it has come out that WWE offered to send Jeff Hardy to a rehab facility and he refused. This gave WWE no other choice but to release Hardy.
Jeff's brother Matt who currently wrestles for AEW spoke to Jeff on Monday and gave an update on Jeff's wellbeing via his Twitch stream.
"I did speak to Jeff for a little bit today. He's okay. He's good. I think he'll be fine. once again, this isn't my business. If he wants to go into it with more detail, he'll do it himself. Jeff is okay. He is at home and okay. It's not my business or story to tell or explain. Besides that, it's not my story to tell because it's not my perspective. I love my brother and I want him to be okay and healthy,"
It is good to hear Jeff is doing well with the situation.  Jeff has yet to comment on his release at the time of writing this. Jeff's wife posted on Twitter echoing what Matt said that Jeff is doing well.
For long time wrestling fans as sad as the news of Jeff Hardy's release is, it isn't surprising. The wrestler unfortunately has a history of drug and alcohol use. Hardy has a famous clip of him wrestling Sting in TNA where he is clearly drunk, has multiple WWE Substance Abuse and Drug Testing Policy violations in a past WWE run and was charged with driving while impaired in October 2019.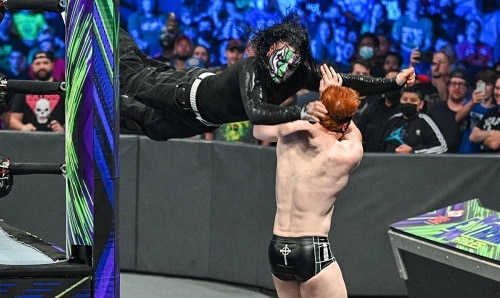 A Highly Decorated Champion
However, despite having well known substance abuse issues, Jeff Hardy is universally beloved and respected by fans and his fellow wrestlers.
Jeff Hardy is a former WWE champion, two time WWE World Heavyweight champion and a cumulative 10 WWE Tag Team champion among many other WWE championships.  He has just as many championships in TNA.  His WWE career started in 1994 as a jobber, but his career really took off in 1998 as one half of The Hardy Boyz.
RELATED: MATT HARDY WANTS TO END HIS CAREER IN AEW WITH JEFF
In September 2020, Jeff Hardy signed a two-year contract with WWE and was a little over a year into the contract. The last time Hardy wrestled on TV was the Nov. 26 episode of SmackDown where he teamed with Drew McIntyre to defeat Madcap Moss and Happy Corbin.
Is This The End Of Jeff's Career Or Just His WWE Career?
However, could this really be the last time we see Hardy in a WWE ring? He is definitely at the tail end of his career as he is 44 years old and he could decide it's time to retire. WWE could decide he is too old to rehire as they are looking to only sign wrestlers under 30 years old.
In an exciting possibility Matt has gone on record he wants to end his career with his brother in AEW and this may be the opportunity to do so.
First and foremost Jeff needs to get clean and sober. Hopefully this will be a wakeup call to enter rehab. After he gets a handle on his issues then we will see where he ends up if he decides to keep wrestling.
Do you think Jeff Hardy will retire after his release? Do you think WWE will rehire Hardy once he gets sober? Is AEW a better place for Hardy? If he goes to AEW should he be a singles wrestler or reform The Hardy Boyz? Don't just whisper in the wind, be sure to leave a comment below.
KEEP READING: WWE RELEASES JOHN MORRISON AND OTHERS IN LATEST BUDGET CUTS
Source: Fightful, Matt Hardy Twitch Stream, Fightful Transcription