Former AEW TNT Champion Miro had been wrestling with an injury and is currently taking time off to deal with said injury.
Miro has not been seen wrestling on AEW TV for quite some time. The last we saw him in the ring was at the AEW Full Gear PPV on Nov. 13 where he took on Bryan Danielson in a losing effort at the AEW World Title Eliminator Tournament finals.
RELATED: AEW'S JON MOXLEY ENTERS AN ALCOHOL TREATMENT PROGRAM
Since then Miro has been nowhere to be found. However, we recently found out where he has been. According to Fightful Select via Wrestling Inc. he has been dealing with a hamstring injury. The injury appears to be something he had been dealing with prior to being taken off TV as he can be seen with his leg wrapped up in his most recent matches.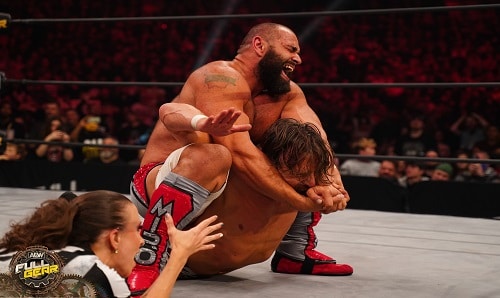 Miro Has Been Pretty Scarce Lately
Miro has only wrestled two matches since the Sept. 29 edition of Dynamite where he lost his AEW TNT Championship to now former champion Sammy Guevara. Perhaps the hamstring injury happened during the match because he had not wrestled until the Nov. 3 episode of Dynamite. Maybe he had taken the time off for his hamstring to heal and it was a little bit more hurt than he had thought and needed more time to heal.
Miro was not originally scheduled to wrestle that night and was slotted in at the last minute. He replaced Jon Moxley in the AEW World Title Eliminator Tournament as Moxley entered an alcohol treatment program. Miro took on and defeated Orange Cassidy to move on to the next round. His last match was at Full Gear where he lost to Danielson.
Don't Know When He'll Return But Watch Out When He Does
We do not know the extent of Miro's hamstring injury. We also do not have a timetable for his eventual return.
However, this past weekend we did see a "Miro vs God" promo package during the Dec. 25 episode of Rampage. This teases his return where it looks like he plans to feud with God or maybe just whoever holds the AEW Championship at the time. It isn't totally clear, but whoever he is challenging should be scared because I know I am.
Even though the promo teases his return we still don't know the timetable of his return. It could be next week or sometime early next year. My bet is it will be the end of January or early February. Promos like that usually mean a set of a handful of promos in the same vein leading up to an eventual return and usually at a PPV.
RELATED: 'FILTHY' TOM LAWLOR TALKS FREE AGENCY AND WE SPECULATE WHICH PROMOTION HE COULD BE HEADED TO
AEW World Championship Gold Will Look Good Around His Waist
Hopefully once Miro returns he gets thrown into the AEW World Championship picture. I have been a fan of his since his WWE days and have always seen as a strong world champion, but unfortunately he never got the chance in WWE. However, AEW is his second chance to get the world title.
There hasn't been a big dominant bruiser like Miro to hold the title in AEW and I think it is about time we get one. This would also open up the possibility for two big bruisers to go one on one for the championship like Brian Cage, Wardlow, Powerhouse Hobbs, Luchasaurus or Jake Hager against Miro. I think any of those matchups at a PPV would be pretty cool.
Who would you like to see Miro take on once he returns? Do you think he is ready for the AEW World Championship or should he challenge for the TNT Championship again? Leave a comment below and let us know if you think he will return with his wife, C.J. Perry formerly Lana, by his side.
KEEP READING: TONI STORM GRANTED RELEASE FROM WWE
Sources: Wrestling Inc., Fightful Select