CM Punk says he is open to forming a long-term trios team with Sting and Darby Allin.
Punk spent New Year's Eve doing what any straight-edge savior worth their weight would be doing, working out in the gym. While grinding away in the gym trying to get those gains Punk decided to do a Q&A.
RELATED: SHAWN MICHAELS REVEALS WHO FROM NXT 2.0 HAS IMPRESSED HIM
During the Q&A a fan asked if CM Punk would be open to reforming the trio of himself, Sting and Allin in a long-term fashion.  Punk answered with a very enthusiastic "F*** Yeah." 
The team formed for a match at the Holiday Bash edition of Dynamite. They took on the team of MJF and FTR. When Punk's team came out they all came out in facepaint. Sting always has always comes out in facepaint and Allin has been wearing a half-face of face paint. Punk doesn't usually come out with face paint so it was interesting to see him with face paint.
However, the really interesting part was what paint they wore.  Sting had paint which was a homage to CM Punk, Allin wore a take on the Crow Sting face paint from WCW and CM Punk wore paint reminiscent of classic surfer Sting from late '80s and early '90s.  They all coming out in face paint definitely left the internet abuzz. AEW capitalized on the buzz and created a shirt.
Sting, Allin and CM Punk: Legends And The Making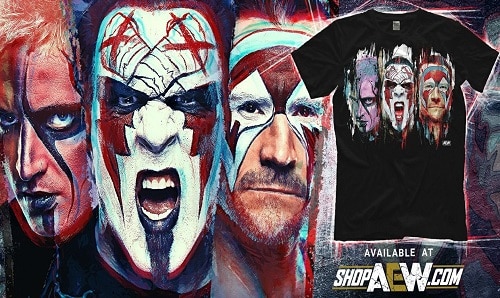 For those unaware Sting is an absolute legend in wrestling. He rose to prominence in the late '80s feuding with Ric Flair and became a fan-favorite baby face. However, where he may have hit his peak and when I took notice of Sting was in late '90s WCW when he began feuding with and later joining the NWO. This is when he took on the Crow Sting gimmick inspired by The Crow movie. Whenever you see Sting 99 percent of the time it is from this era and his face paint is still very similar to that era today.
Allin is basically what if a Jackass actor became a wrestler. He is a daredevil and is very willing to throw himself in harm's way if it will hurt his opponent even a little or do whatever he needs to to get the win. Allin is considered the future of wrestling and has garnered a lot of respect within the wrestling community.
Sting and Allin have been teaming up together since the Dec. 2, 2020, Winter Is Coming edition of AEW Dynamite after exchanging longing looks at one another. Since then they have become a formidable team. Every match Sting has teamed up with Allin for they have come out the victors.
RELATED: CM PUNK MAKES HIS MOMENTOUS AEW DEBUT
CM Punk broke the internet when he returned to wrestling at The First Dance episode of AEW Rampage after a long seven-year hiatus from wrestling.  Punk was a king of the indies and made his name in WWE proving himself in the ring and on the mic.  He delivered the most famous promo of the last 20 years with his "pipebomb promo."  Part of his legend was how he left WWE on such bad terms.
Punk's very first match and fued back was against Allin with Sting by his side. Punk showed he could still deliver a good promo and perform in the ring.
A good way to look at this trio is kind of like Evolution in WWE.  Sting is the legend who has done everything in the business, CM Punk is the guy on top now and finally Allin is the future of the business.
I would be very interested to see what a faction like this could do in AEW. AEW seems a little faction heavy at the moment, but I would like to see Punk given a chance to run a faction.
Would you like to see Punk, Allin and Sting to team up long term? If not Allin and Sting then who are two AEW wrestlers you would like to see Punk form a trios team with? What about a wrestler to join Sting and Allin if not Punk? Leave a comment below and tell us if you want to see Punk lead a faction and who should be in it.
KEEP READING: AEW STAR MIRO IS OUT WITH AN INJURY
Source: Wrestling Inc.