A mysterious "dream signing" is on their way to AEW and will be debuting soon.
Recently AEW President, CEO, General Manager and Head Of Creative Tony Khan did an interview with Josh Martinez of Z100NewYork. Khan was asked if there are any "dream signings" he is going after and if they are in North America.  Khan said yes and they are coming soon. 
RELATED: NJPW STAR KAZUCHIKA OKADA ISSUES A CHALLENGE AND CM PUNK ACCEPTS
As if AEW isn't stacked enough with some of the best wrestlers in the world, it is going to get another big name wrestler. However, Khan was pretty mysterious with his response and gave us no hints. We don't know if they are male or female and if they are truly a "dream signing" to the general public. It is very possible Khan said they are a "dream signing" because they would know he is talking about them and didn't want to hurt their feelings.
Who Could This Mysterious Individual Be?
If they are truly a "dream signing" there are a handful of names I can think of off the top of my head. Since CM Punk and Bryan Danielson are already in AEW those are two big names already signed.  The biggest name is obviously Windham Rotunda formerly known as Bray Wyatt in WWE. He has teased his return and his Cult of Windham faction for the last few months, but hasn't debuted yet. Rotunda was an extremely popular performer before leaving WWE and is a top level talent. He can have amazing feuds with everyone on the AEW roster. WWE was really dumb to release him.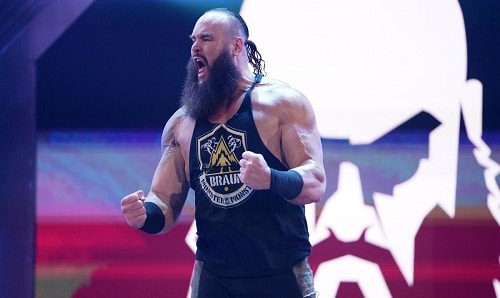 Speaking of Rotunda his old faction mate Adam Scherr formerly known as Braun Strowman has only wrestled a few times on the indies, but may be making his way to AEW. Perhaps they will get Erick Rowan and reform the Wyatt Family in a new AEW iteration. Scherr was another big star for WWE and was really coming into his own before WWE released him.
Those are two of the big names who would also make sense as far as they are past the 90 non-compete clause from WWE. However, another big name who isn't past his 90 days is Jeff Hardy. He is a tag team legend and has accomplished a lot of singles gold as well. His brother Matt is already in AEW so it would make sense he may want to rejoin his brother.
Who Is The Danielson Of Women's Wrestling?
We also don't know if the dream signing is actually a man…it could be a woman. As far as a "dream signing" I can't think of a woman the general public would think of that way. However, two women I think would be big signings are Ember Moon and Nia Jax.
Moon had a very good run in NXT winning the NXT Women's Championship. Once she got called up to the main roster she did well, but still lost a lot of her momentum coming out of NXT.  She had a severe Achilles tendon injury which sidelined her and once she did return she failed to recapture any of the momentum she once had. AEW would be the perfect opportunity to show WWE what a mistake they made not utilizing her more.
RELATED: TONI STORM GRANTED RELEASE FROM WWE
I know what you were thinking when I brought up Jax, but hear me out. Jax is a big name and would draw a lot of eyes on her. She has a lot of experience and could help teach young women wrestlers a lot of things. At the very least they could learn how to wrestle a dangerous worker and not get injured.
Did AEW Sign A Wrestling Power Couple?
The signing could also be a wrestling couple and I have a few I would love to see in AEW. I would lose it if I saw John Morrison and his wife Taya Valkyrie formerly Franky Monet in WWE. I am such a big fan of both of them and both were so underused in WWE. Morrison would bring so much to AEW because he can do it all in wrestling.
Speaking of underused, I would love to see Karrion Kross and Scarlett Bordeaux. Kross was a killer in NXT and in Lucha Underground and I would love to see him go toe-to-toe with some of the big men of AEW. Bordeaux also knows her role very well and does it perfectly. I'm not familiar with her in-ring work, but her valet/manager stuff is top notch.
The list of ex-WWE wrestling couples wouldn't be complete without Keith Lee and Mia Yim. Lee and Yim had so much potential in WWE and for whatever reason WWE didn't want to use them anywhere near their potential.  
The Wild Card Choice
Now we get to the "it'll never happen, but it would be cool" section of speculation. Wouldn't it be cool if the arena went black and bells started to toll. The lights turn on and Undertaker is standing there. I'm sure WWE owns the Undertaker name, but it would be cool if Mark Calaway showed up in AEW.
Who do you think this "dream signing" is? Out of everyone on my list, who would you most like to see in AEW?  Do you think the "dream signing" will be someone WWE released in 2021? Who would be your "dream signing" for AEW be? Leave a comment below and let us know who your "it'll never happen, but it would be cool" pick would be.
KEEP READING: WWE RELEASES WILLIAM REGAL, ROAD DOGG AND MANY OTHERS FROM NXT
Sources: Wrestling Inc., Josh Martinez of Z100NewYork