The Award-winning director Joe Wright welcomes cinema enthusiasts, musical lovers, and play aficionados to a show for all the senses, and every possible emotion you can feel. Music, romance, and beauty all encompassed in the artistry that is Cyrano, breathing new life to the ageless tale of a tragedy known solely by a love triangle.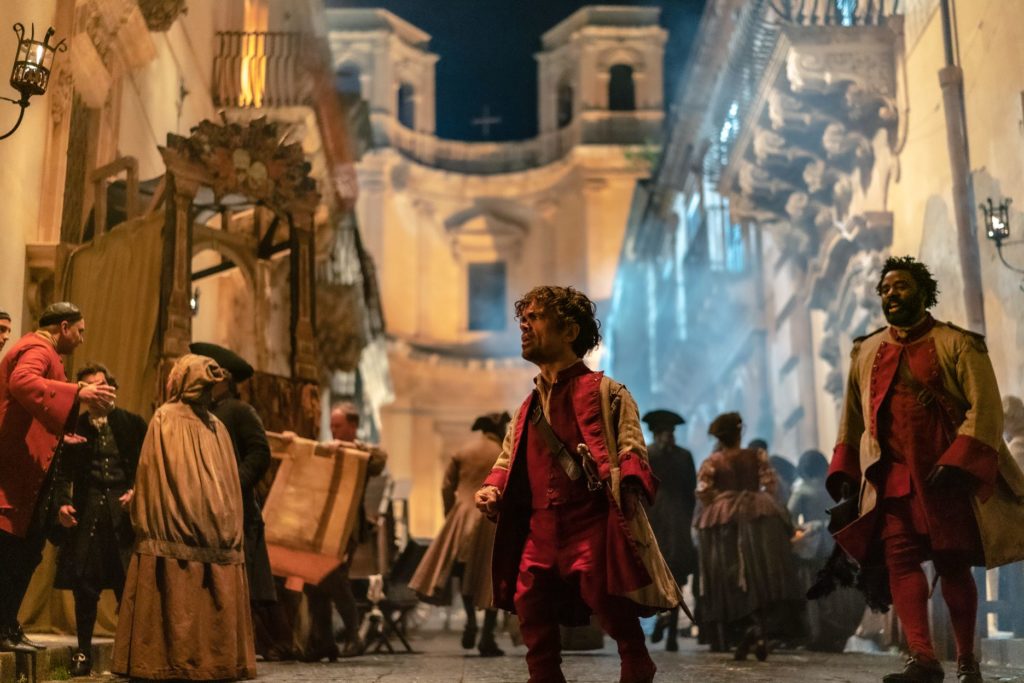 RELATED: BEAVIS AND BUTT-HEAD WILL MAKE THEIR REMARKABLE RETURN ON PARAMOUNT+ LATER IN 2022
Joe Wright's Cyrano is based on the play, Cyrano de Bergerac, by French poet, Edmond Rostand. One notable difference between both iterations would be Wright's Cyrano being a musical rendition, where he translates Rostand's poetry into song. Personally speaking, this is an alteration I gladly welcome, and one that I eagerly look forward to.
Cyrano | "A Razor Wit" Behind The Scenes Look
RELATED: DOCTOR STRANGE 2 MAY BE FACING LEGAL ISSUES OVER SHUMA-GORATH
If the footage shown is any indication to go by, the music is absolutely astonishing. The vocals of Dinklage, Bennett, and Harrison, combined with incredible lyrics based on a literary wonder from centuries ago are factors of a masterpiece in the making. Just listen to Hayley Bennett, she has the soothing voice of a mother singing a lullaby to a child on a restless night. Dinklage and Harrison both sound like two sides of the same operatic coin, they command strong dueling voices. I can't wait to see what amazing performances lie in store for us, looks like Joe Wright can't wait either.
Here's What Joe Had To Say
"It's an outlandish, romantic atmosphere. Every character has an extraodrinary unpredictability that makes them more human and heartbreaking. I hope the audience comes away from the movie theater with a renewed sense of love and beauty in the world."

Joe Wright
Cast & Crew Behind The Rejuvenated Classic
Peter Dinklage, Haley Bennett, Kelvin Harrison Jr., and Ben Mendelsohn star in Cyrano. Joe Wright is on board as the director, and the screenplay was penned by Erica Schmidt. Aaron & Bryce Dessner serve as the composers behind the music with lyrics by Matt Berninger & Carin Besser. Tim Bevan, Eric Fellner, and Guy Heeley are the producers. The executive producers are Erica Schmidt, Sarah-Jane Robinson, Sheeraz Shah, Lucas Webb, Matt Berninger, Carin Besser, Aaron Dessner, Bryce Dessner, Kevin Ulrich, Aaron L. Gilbert, and, Jason Cloth.
Cyrano Official Synopsis
A man ahead of his time, Cyrano de Bergerac (played by Peter Dinklage) is a force to be reckoned with, be it with vicious a tongue at a war of words or with the swiftest hand at a clash of swords. Though with all his talent and bravado, Cyrano remains convinced that his appearance renders him undeserving of the love of his dearest friend, the ever glowing Roxanne (Haley Bennett), he has yet to profess his love for her — and Roxanne has fallen in love, at first glance, with Christian (Kelvin Harrison Jr.).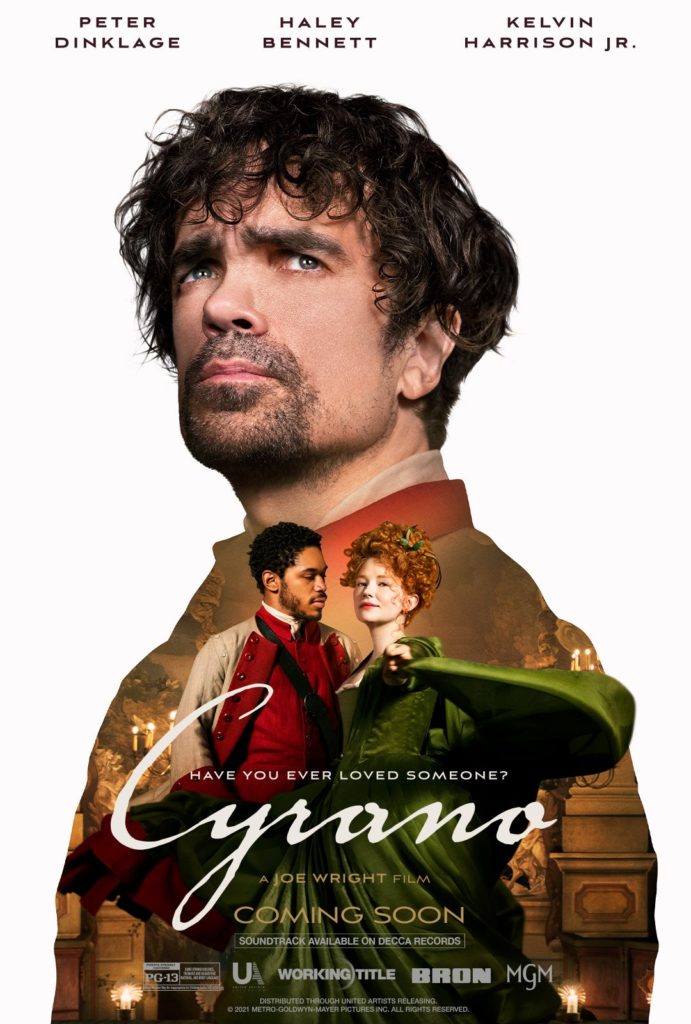 Cyrano is set to make its theatrical debut in the United Kingdom, February 25th, 2022. Are you looking forward to seeing Cyrano in theaters? Have you seen the play or any other previous films about Cyrano de Bergerac? What do you think about Peter Dinklage in the leading role? What do you think director Joe Wright has up his sleeves for the upcoming adaptation? Let us know all of your best thoughts and theories down in the comments below. If you like what you read, make sure to follow us on Twitter or Facebook so you don't miss more great musical content like this in the future!
KEEP READING: JON STEWART CALLS J.K. ROWLING OUT FOR ANTI-SEMITIC GOBLIN CHARACTERS IN HARRY POTTER FRANCHISE
Source: MGM