Brock Lesnar refused to work with a former WWE champion, and it led WWE to have Superstar drop his championship.
According to Wrestling Observer Radio, Lesnar would not work with Jinder Mahal when Mahal was WWE champion and Lesnar was Universal champion.  The two were originally scheduled to go one on one at Survivor Series in 2017.  However, Brock Lesnar's refusal to work with Mahal led WWE to scramble and change their plans.  
RELATED: WWE RELEASES WILLIAM REGAL, ROAD DOGG AND MANY OTHERS FROM NXT
WWE had Mahal drop the WWE Championship to AJ Styles just 12 days prior to Survivor Series.  This of course led to Styles and Lesnar going at it in the champion vs champion match at the PPV.  Needless to say they had a very good match because Styles can have a good match with anyone.
What Happened With Brock Lesnar?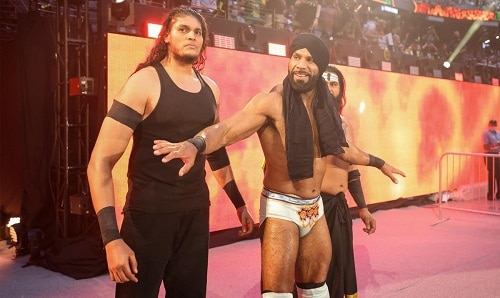 Dave Meltzer of Wrestling Observer said the championship changed hands solely because of Brock Lesnar and his refusal to work with Mahal.  Meltzer unfortunately did not give the reason as to why Lesnar didn't want to work with Mahal.  Hopefully it was just because he didn't think he would have a good match with Mahal or Mahal said something which offended him or something along those lines.  I'd hate to think it was something less pure than that.
The title change helped Styles and showcased him and his talent. He should have gold around his waist, especially top level gold. He is just too good not to be in the title picture no matter which one it is. In the end Styles had a long 371 day championship reign.
RELATED: WWE NO LONGER TESTING FOR COVID
Styles winning the WWE Championship was actually a bigger deal than it first appeared. It was actually the first time the WWE Championship changed hands outside of North America. The match took place on an episode of SmackDown which is already a rare occurrence for the WWE or Universal Championships to change hands on the weekly show, but the match was taped in Manchester England. The fact that this is the first time it had changed hands outside of North America is weird to think about as the championship has been in existence since 1963. That is a 54 year period with it only changing hands in the USA, Mexico and Canada.
Mahal Misses Out On A Big Opportunity
However, the title change didn't help Mahal and actually hurt him. Mahal had his 170 day championship reign ended. Looking back now his reign was actually a pretty good one and is pretty underrated.
However, the biggest downside to Mahal dropping his championship was that it was shortly prior to a tour of India. Mahal is of Indian descent and being champion while touring India would have undoubtedly meant a lot to Mahal. It would have also brought in a lot of extra fans and meant a lot to India and it's wrestling fans.
Brock Lesnar's next match will be at the end of the month at Royal Rumble.  He will be taking on Bobby Lashley in what will surely be a slobberknocker and a dream match of sorts.  Lashley has been talking about wanting this match for a while and he just may regret that once he goes one on one with Lesnar.
Do you think Brock Lesnar vs Jinder Mahal would have been a good match?  Was Lesnar vs Styles a better matchup for Lesnar?  Are you looking forward to Lesnar vs Lashley at Royal Rumble?  Leave a comment below and let us know if you think Brock Lesnar can survive the Hurt Lock and retain his WWE Championship.
KEEP READING: NXT RELEASES MAY BE A PERSONAL SHOT AT TRIPLE H
Sources: Wrestling Inc., Wrestling Observer Radio