This year's Royal Rumble may have a surprise "forbidden door" entrant for the men's Royal Rumble match.
RELATED: NXT RELEASES MAY BE A PERSONAL SHOT AT TRIPLE H
The Royal Rumble is one of WWE's big four PPVs and is by far my favorite because of the Royal Rumble match. It contains 30 competitors who enter the ring after a timer hits zero. This continues until the last competitor enters the ring. The only way to be eliminated is to be thrown over the top rope. The last wrestler left in the ring is declared the winner and they get to choose any champion including from Raw, SmackDown and NXT to challenge at WrestleMania.
What makes the match so exciting is that anyone can enter the match and is a great place to debut or return. This often leads to big surprises. This is exactly what WWE is planning this year.
According to WrestleVotes WWE is working on getting a "forbidden door" male entrant meaning a wrestler from another promotion, but he doesn't know who this wrestler is or if it will happen.
"Had more than 1 source this weekend, w/o me directly asking, state they believe WWE will try for an "unexpected" forbidden door entrant for the Men's Royal Rumble. Personally I'm skeptical it happens, but I can confirm WWE is at least open to the idea. Which is exciting enough."
WWE has not been very open to letting wrestlers from other promotions come over to WWE for an appearance. However, in the last few years they have lightened up on this policy a bit. The biggest step so far is by announcing IMPACT Wrestling Knockouts Champion Mickie James will enter the Women's Royal Rumble match.
The speculation is and I think it is the most likely is it will be someone from IMPACT. With James being announced it shows WWE is open to letting IMPACT wrestlers come over for the match.
The frontrunner for the mystery wrestler is IMPACT World Champion Moose. He tweeted a challenge to Roman Reigns and alluded to a "forbidden door" match with Reigns.
Is An IMPACT Star Looking To Make An Impact In The Royal Rumble Match?
If WWE is truly looking for someone from another promotion it has to be someone reconizible to the general WWE fan either because they are a well-known wrestler or a former WWE Superstar like James. Moose is well-known from IMPACT and maybe WWE is keeping an eye on him. This could be a good way to test how he will mesh with WWE.
Looking at the rest of the IMPACT roster the only other wrestlers I can see WWE trying to get are ex-WWE wrestlers. I could see WWE trying to get Heath (Slater), Matt Cardona (Zack Ryder) and Brian Myers (Curt Hawkins). Also The Good Brothers (Luke Gallows and Karl Anderson), but they may be too tied up with AEW and I don't think it will be a AEW guy.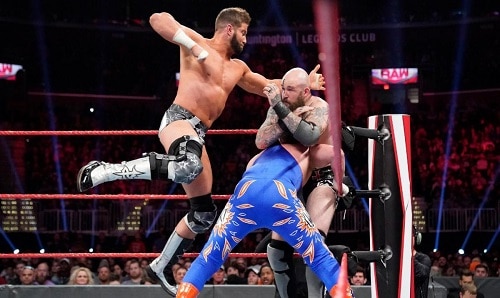 Or Could A Star From The East Shake Things Up?
The other organization I think the mysterious wrestler could be from is NJPW. I didn't really see anyone with a long tenure in WWE before joining NJPW, but I did see a lot of big names. WWE could be looking at trying to increase their Japanese Superstar roster or Japanese viewership so a big NJPW star would do that.
RELATED: A "DREAM SIGNING" ON THEIR WAY TO AEW
Some of the huge stars from NJPW who haven't worked with WWE are: Kazuchika Okada, Hiroshi Tanahashi, Tetsuya Naito and Will Ospreay. I think any of these guys would get a huge pop and would have the entire internet talking about it.
Two other big names from NJPW have worked with WWE, but didn't sign with the company. Zack Sabre Jr. and Kota Ibushi competed in the Cruiserweight Classic so they wouldn't be completely new to WWE fans. WWE could also talk about how they made a huge impact during the tournament and hype them up.
Maybe Even AEW But Probably Not
I don't think the wrestler is from AEW. I think that is the one promotion they won't pull from, especially not a big name like Kenny Omega, Hangman Page, MJF or someone at that level. However, if they do use an AEW guy it will be an ex-WWE Superstar with a long history with WWE. My bet would be on Paul Wight (Big Show), Mark Henry, Billy Gunn or Christian Cage.
Two wild card AEW guys who may make their way through the "forbidden door" are Brian Pillman Jr. trying to follow in his father's footsteps. WWE loves second generation wrestlers and this would be a great opportunity to have a surprise one in the Royal Rumble match.
The other is Brian Cage. Cage has voiced being unsatisfied with his AEW booking and this could get his foot in the door if he does ever jump over to WWE. He is the picture perfect definition of a "Vince guy" so it wouldn't surprise me if they were trying to sweet talk him.
Who do you think this "forbidden door" wrestler could be? Who from IMPACT would you want? What about NJPW? If it was an AEW guy then who do you think it could be? Leave a comment and let us know who you would love to see in the Royal Rumble match from the wrestling world in general.
KEEP READING: BROCK LESNAR REFUSED TO WORK WITH A FORMER WWE CHAMPION
Sources: Wrestling Inc., WrestleVotes, Moose's Tweet