A new trailer for Attack On Titan has just dropped for the finale season. The video was posted via Crunchyroll on their official YouTube channel as fans wait for the premiere this weekend. The crescendo trailer teases the events to come on the popular anime series featuring man Vs Titan combat.
Attack On Titan, originally known as Shingeki No Kyojin, has been a captivating series that has drawn in old and new anime fans, alike. The show first began as a manga released on September 9th, 2009. The popularity soon led to anime being produced with the first episode released on 7th April 2013. The series ended up being popular worldwide and became a hit in the west, as well as in Japan.
Attack On Titan has a story that has progressed with more twists and turns than some fans may have expected. The series focussed on Eren Yaeger's life as he dreams of seeing the sea outside of his sheltered town. However, his life was shattered when the gigantic wall protecting his home from Titans was breached. This led Eren and his friends, Armin Arlert and Mikasa Ackerman, to join the Survey Corps so they may fight back against Titan's threats.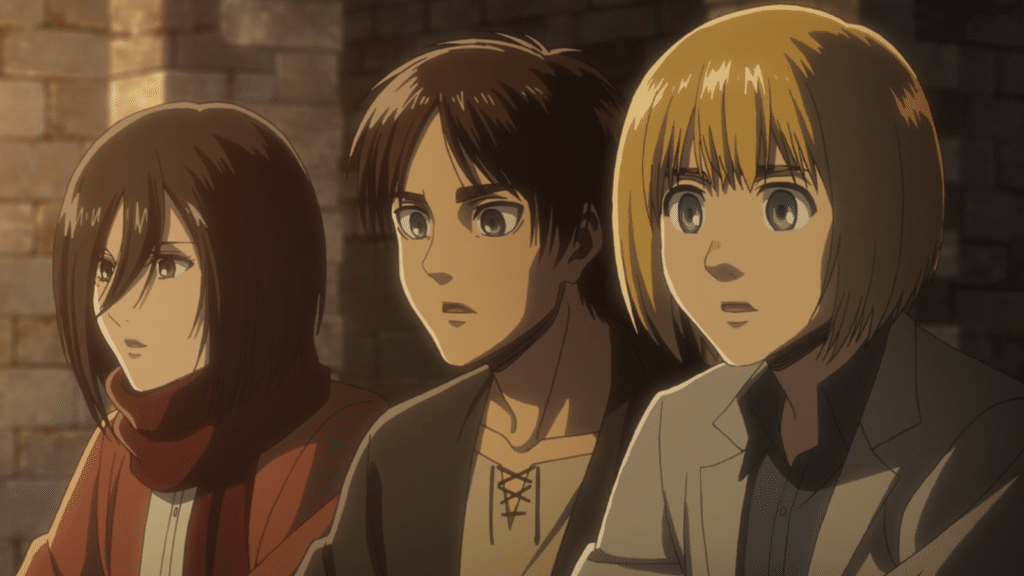 Synopsis Of Finale Season

The war for Paradis zeroes in on Shiganshina just as Jaegerists have seized control. After taking a huge blow from a surprise attack led by Eren, Marley swiftly acts to return the favor. With Zeke's true plan revealed and a military forced under new rule, this battle might be fought on two fronts. Does Eren intend on fulfilling his half-brother's wishes or does he have a plan of his own?
As more is revealed about the origins of the Titans and another nation comes to light, Eren begins to be warped by darkness in his heart. Now with his gift to become a Titan, he becomes what he fears the most, the villain.
Crescendo Trailer Adds Tension To Awaited Attack On Titan Premiere
Here is the Crescendo Trailer for the finale season, released by Crunchyroll.
The emotional music featured in this trailer makes you hold your breath as it shows Eren, Armin, and Mikasa. Seeing their journey in such a burst will surely make fans tense and the ending could take on any form. The conclusion of the series will likely be one of the biggest events in anime to date and will likely leave a hole in demand when the series finishes.
RELATED: Attack on Titan Streaming Special Bonus Episodes On Crunchyroll Ahead of Final Season Premiere
One thing that comes to mind is what potential could the franchise have in the future. There are many ways that Attack On Titan could lead to another story before, or even after, the events surrounding Eren and his friends. The Titan lore itself has a lot of possibilities as there could even be a change of concept, such as using Titans to fight a greater threat in nature. If plans for something new do arise, we can only hope that fans won't have to wait long to see it come to life.
Attack On Titan Season 4 Part 2 will be the finale of the series and will premiere tomorrow, Sunday 9th of January 2022. The show will be available on both Crunchyroll and Funimation.
Are you looking forward to the Finale? Do you hope to see more from Attack On Titan in the future? What was your favorite Story Arc or Character? Let us know on social media, or in the comments below, and keep following The Illuminerdi for more anime hype.
KEEP READING: Attack on Titan Final Season Part 2 Premieres January 9, Here's What You Should Know