The release of The Batman is a little over a month away and fans could not be more excited for the highly anticipated film. The director of the film, Matt Reeves, has recently shared some new details on this film's version of the Riddler.
The Batman won't be the first time we see the Riddler in a live-action film. The Riddler was previously played by Frank Gorshin in Batman (1966) and Jim Carrey in Batman Forever. In both of those incarnations, the Riddler was portrayed as a wacky comic-relief character.
In The Batman; however, the Riddler has so far been shown to be a ruthless serial killer who is a force to be reckoned with. In an interview with Total Film, Matt Reeves expressed that the Riddler is actually much more than just a serial killer and further explained the character's role in the film:
"He's not just a serial killer. He definitely has a political agenda. There's a terrorist aspect to him. He's indicting the city for what it is. And one of the things he's doing with each of these crimes is, he's attacking the so-called legitimate pillars of the city. The whole point of it was to put [Batman] on the path of trying to solve a mystery that was not only going to reveal the history of the city, and why it's so corrupt, but that also is going to turn at a point, and become actually quite personal."
Reeves also explained the reason behind giving the Riddler a much more grounded costume compared to the previous Riddler costumes we have seen:
"I read Mindhunter. It made me think of the Zodiac killer, and how he actually wore this primitive costume that really is a primitive superhero costume… a rogues' gallery costume. And I was like, 'Oh, that's really scary, the idea of people really wearing masks, and withholding their identities, and terrorizing people, and how scary that is.' And so I started thinking, 'Well, it could be an origin tale for the Riddler, and it could be an origin tale for some of these other characters.'"'
The Batman's Riddler Could Be The Franchise's Craziest Villain Yet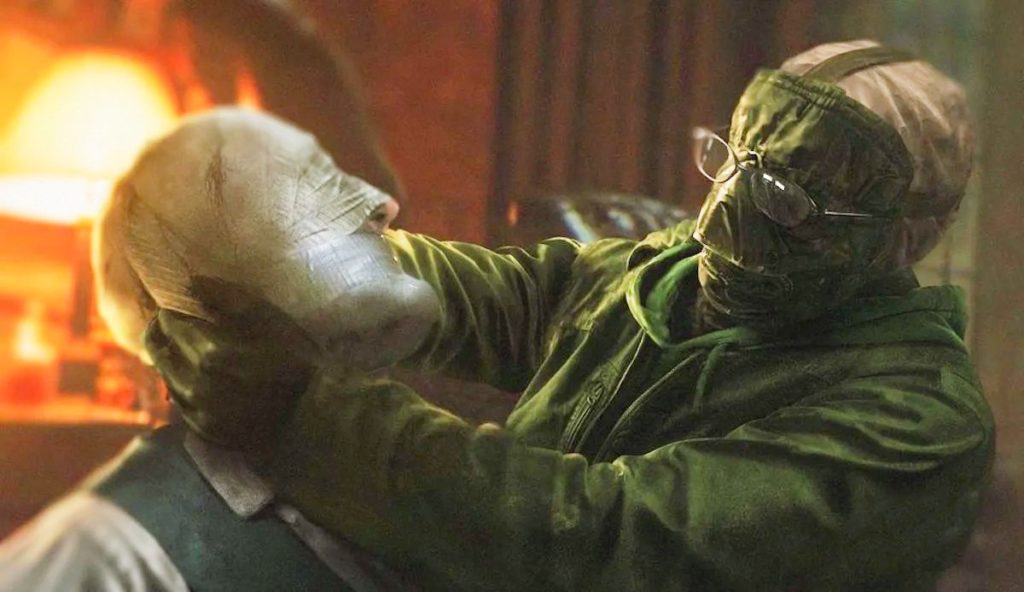 With what we have seen in the film's various trailers and clips it seems like Paul Dano's Riddler could give Cillian Murphy's Scarecrow and Heath Ledger's Joker a run for their money for the title of craziest Batman villain.
RELATED: THE BATMAN DIRECTOR SHARES A NEW 3-MINUTE SCENE FROM THE UPCOMING FILM
The trailers and clip show the Riddler being absolutely psychotic and playing mind games with people such as Commissioner Gordon and Bruce Wayne aka The Batman. He is not afraid to hurt or even kill whoever it takes to get to Batman.
It's going to be fun to see Dano portray this incredibly different version of the Riddler when The Batman releases exclusively in theaters on March 4th.
The Batman stars Robert Pattinson as Bruce Wayne / Batman, Zoë Kravitz as Selina Kyle / Catwoman, Paul Dano as Edward Nashton / Riddler, Jeffrey Wright as James Gordon, John Turturro as Carmine Falcone, Peter Sarsgaard as Gil Colson, Andy Serkis as Alfred Pennyworth, and Colin Farrell as Oswald "Oz" Cobblepot / Penguin.
What are your thoughts on Reeve's comments on Paul Dano's Riddler? Do you think he will be as threatening as he seems? Let us know in the comments below! Also, be sure to follow The Illuminerdi on social media to be notified of more DC news and updates like this in the future!
KEEP READING: THE BATMAN DIRECTOR MATT REEVES ON WHY HE REFUSED BEN AFFLECK'S "ACTION-DRIVEN" SCRIPT
Source: Total Film