Back at camp, Sophie brings together her alliance of four to put the target on David. Everyone seems to be fairly happy about this and continue to bring others in on the plan. However, Sandra notices Sophie taking control of the tribe and wants to try to take her out. She tells Amy, a beautician, and Michelle, a speech pathologist, about her plan. They both are on board and Sandra uses Amy to bring others in on the plan so it doesn't look like she is pulling the strings.
Amy is easily able to bring David and Jay, a drummer, in on the plan. Then she talks to Jesse, a tri-athlete, and Sam about the plan. The two seem much more apprehensive about the plan, especially since David targeted her last time. Ultimately Jesse leaves the decision up to Sam.
At Tribal Council, Sophie seems very confident in her plan to take out David after his actions at the last Tribal. Meanwhile, Amy does a really good job bluffing and making Sophie feel safe. Ultimately Sophie is voted out of the tribe in a 7-4 vote. However, as she walks up for elimination Jonathan tells her that she was voted off of the tribe, but she is not out of the game. He tells her that she will now become a member of the Blue tribe and she returns to their camp.
Episode 4 Highlight Players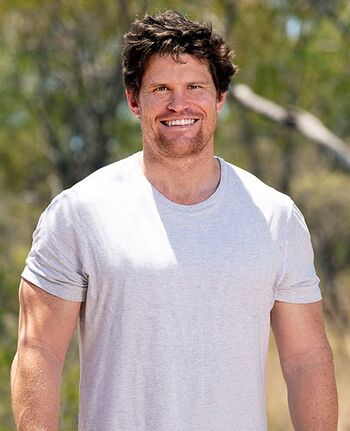 In this section of the review, we will take a chance to take a look at some of the highlight players in today's episode of Australian Survivor. Those players are Mark, Sandra, Amy, and Sophie.
Starting with Mark, he is truly showing his social awareness in the game by targeting Khahn. During the last episode, it didn't seem like anyone was concerned when Khahn revealed his idol to the tribe, so it's nice to see someone finally taking notice of it. I love Khahn but it seems silly for no one but Mark to be targeting him at this point.
RELATED: AUSTRALIAN SURVIVOR: BLOOD V WATER EPISODE 2 REVIEW – ALLIANCES BROKEN… ALREADY
Today was Sandra's episode to shine and she showed why she is the Queen of Survivor. Her plan to take out Sophie almost went down flawlessly and it was genius to have Amy do the dirty work to take the target off of herself. Hopefully, she can continue to do this as it seems like people have forgotten about Sandra for the time being.
Next up is the second in command to the Queen, Amy. She did a really good job of rallying the troops to take out Sophie. When it came to Tribal Council she also did a great job of making Sophie feel safe, making it seem like David was going home. It will be interesting to see how her alliance with Sandra will develop moving forward.
Lastly, we have Sophie who will be out for revenge after today's episode. She showed that she was an incredibly powerful player which was her downfall. Sophie showed her cards way too early which is what caused Sandra to target her. Thankfully today was a non-elimination episode and was switched to the Blue tribe. Now that she is on a tribe full of the Red tribe's family members, they will need to watch out as she has a score to settle.
Final Thoughts on Australian Survivor: Blood V Water Episode 4

Overall this was another great episode of Australian Survivor. Sandra truly showed that she is a force to be reckoned with and I cannot wait to see how Sophie will handle her vote out in tomorrow's episode.
What are your thoughts on this episode of Australian Survivor: Blood V Water? Let us know in the comments below! Also, be sure to follow The Illuminerdi on social media to be notified of more Survivor content like this in the future!
KEEP READING: 4 THINGS SURVIVOR FANS CAN LOOK FORWARD TO IN 2022