Cody Rhodes may be heading back to WWE after his AEW departure and Vince McMahon can't wait to have him back.
AEW Executive Vice President Cody Rhodes or maybe I should say ex-executive vice president along with his wife, Brandi Rhodes, have decided to leave AEW. According to Wrestling Inc., the departure was due to differences in pay. It led to a breakdown and eventually a total halt of negotiations.
Rhodes leaving AEW came as a big shock, but not impossible. Since he was/is the EVP and co-founder it seemed unlikely he would ever leave the company. However, sometimes differences or issues arise and people leave. He was also the driving force behind the promotion with the help of others, but it did feel like it was his promotion in a lot of ways.
RELATED: CODY RHODES AND BRANDI RHODES SAY ABRUPT AND SURPRISING GOODBYE TO AEW
Cody Rhodes released a long statement thanking everyone for their support while wrestling for AEW.
Wait?! He's Going Back?
It does not appear that Cody Rhodes is on bad terms or has any ill will with AEW or its president and CEO Tony Khan.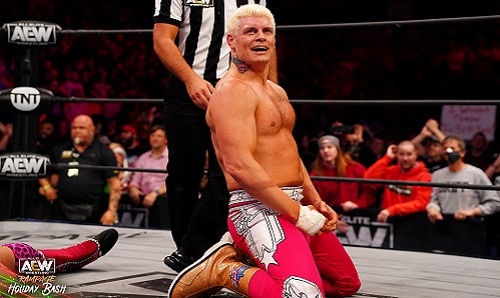 It wouldn't be outrageous to think because Rhodes left AEW he would also leave wrestling for at least a little while to spend time with his baby daughter, Liberty Iris Rhodes. However, he isn't taking much time off and may be returning to wrestling in a surprising place.
According to Wade Keller of PWTorch's latest audio show, Cody Rhodes may be heading back to WWE. He didn't leave WWE on the best terms. It also wouldn't be unreasonable that McMahon might have some resentment towards him especially since Cody Rhodes did start WWE's only real rival in North America. However, that appears to not be the case and McMahon reportedly has some major plans for him.
"Cody and WWE haven't confirmed it but Cody is going to WWE and he's going to get a big push," Keller said. "Vince McMahon is going to treat this as a big deal. Everybody I talked to thinks Vince loves the idea of acquiring a co-founder and EVP and, you know, main event wrestler. He just held their secondary singles title not that long ago, and having him show up on WWE TV is something that Vince is very interested in taking advantage of and making money on it. It could even be a situation where Cody is in a major match at WrestleMania." H/T To Wrestling Inc. For Transcription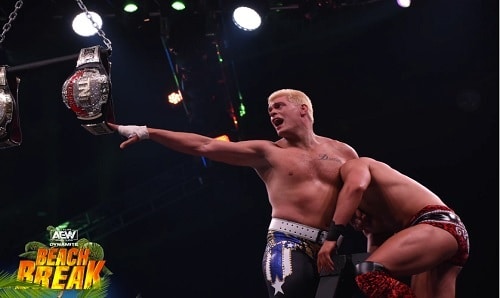 Cody Rhodes before he left WWE was not a big draw and had a character, Stardust, which was dumb. He was a joke and not in a good way. However, when he left he did his time in the indies and elevated himself and let the world know what he could do in the ring. The biggest change for his reputation was definitely his work in AEW.
Rhodes held the mid-level title the TNT Championship three times and showed that he could carry a main event match and draw in fans. This is a very big get for WWE and will be the biggest name to leave AEW for WWE and is a very surprising one.
RELATED: RVD ADMITS TO CONTACTING WWE FOR ROYAL RUMBLE RETURN
The best part about this news is that we could see Rhodes wrestling in WWE as soon as the upcoming RAW or SmackDown and even at WrestleMania.
"I fully expect Cody to be on WrestleMania either as a wrestler or making his first appearance," Keller said. "I don't know if they can hold back on putting him on TV so I could even see him appearing on Raw or SmackDown next week. I'm not aware of there being any kind of non-compete at this point since he's been a free agent for a while so Cody could appear. I wouldn't be shocked if there's even some augmentation to the booking plans for WrestleMania perhaps related to the Elimination Chamber in order to set the stage for Cody to do something really big at WrestleMania."

– H/T To Wrestling Inc –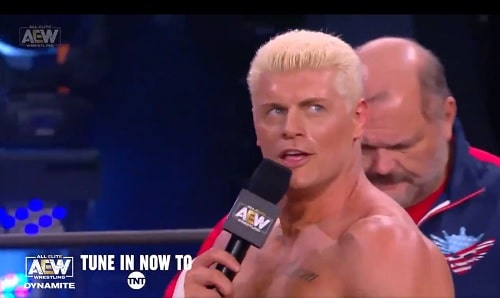 Cody Rhodes Could Get The Top Level Push
If they are talking about using him that soon and wanting to use him for WrestleMania that is a huge jump compared to his last WWE run. I think it would be very smart to use him as soon as possible because it lets WWE see first hand how much he has improved. It could also dictate who they would put him in feuds against and who his WrestleMania opponent could be. Personally I think Seth Rollins is the name that jumps out to me and Rhodes will return as a babyface to counter Rollins' heel gimmick.
Keller also thinks Cody Rhodes will get a big push upon his return to WWE.
"I think Cody will get a big push, at least at first. You know, there's different opinions on whether Vince is going to resent Cody for creating competition or admire Cody for his entrepreneurial spirit and being classy about it the whole way. You know, Paul Heyman, Eric Bischoff, Jeff Jarrett, they all competed with Vince [and] they all got jobs again. So, you know, we'll, we'll see how it goes. Vince saw Cody as a mid-carder. He saw Christian as a mid-carder. Christian went to Impact Wrestling and won a world title…He came back, he got a better push, but it wasn't at the level of Edge, which is what, you know, Christian always wanted. He wanted to be at the Edge level."
Do you think Cody Rhodes is really leaving AEW or is it just a big troll? Are you excited to see him get a big push in WWE or should he have gone to IMPACT or NJPW? Let us know who you think should be his WrestleMania opponent in the comments and on social media.
KEEP READING: EXCLUSIVE INTERVIEW: SANTOS ESCOBAR TALKS ABOUT WHAT IMPRESSES HIM THE MOST ABOUT HIS NXT CHAMPION BRON BREAKKER
Sources: Wrestling Inc., PWTorch, Wrestling Inc.