Ahead of his NXT Championship Match against Bron Breakker, NXT Superstar Santos Escobar talks about what impresses him the most about the young champion, who he wants to main event Wrestlemania with, and the words of wisdom for the GOAT, HBK, Shawn Michaels.
2nd generation wrestler, Santos Escobar, the leader of El Legado del Phantasma, is one of pro wrestling's fastest rising stars, but he's no overnight sensation. The Mexican-born star comes from a rich wrestling legacy. His father El Fantasma, is a wrestling legend in Mexico and his son hopes to carve out a name for himself on a world stage.
RELATED: CODY RHODES AND BRANDI RHODES SAY ABRUPT AND SURPRISING GOODBYE TO AEW
Santos will challenge Bron Breakker tonight for the NXT Championship in the biggest opportunity in his career to date. Ahead of his championship bout, Escobar spoke with The Illuminerdi about his upcoming championship match, his Wrestlemania dream opponent, and the advice he's received from WWE Hall of Famer, Shawn Michaels.
The Illuminerdi's EXCLUSIVE INTERVIEW with Santos Escobar
The Illuminerdi: All right, Santos Escobar. this Tuesday, Vengeance Day is upon us. You have a title shot against Bron Breakker this week at NXT 2.0, we kind of saw Dolph Ziggler and Tommaso Ciampa mess up your guys' contract signing. What happened this week on 2.0?
Santos Escobar: Well, first of all, thank you so much for having me. This is an opportunity to deliver the message to all of my audience. This Tuesday on NXT 2.0 was supposed to be just me as a challenger, Bron Breakker as a champion, and me just getting to his nerves, making him lose his cool. All of a sudden, here comes Ziggler then Ciampa, which, by the way, it helps my case because now he's got a lot of things in his mind. I have only one thing in my mind, which is that NXT title, which is going to look very good right here.
It really is going to look really good right there, honestly, Santos. Now let me ask you something about Dolph Ziggler because he's been in this industry such a long time and every single night he can walk away as a World Champion. What does Ziggler bring to the ring that a lot of people just don't really realize how good he is?
Santos Escobar: That's exactly as you said it. He is so good. And listen, me not liking him in my segment, in my house, in my moment, in my title shot… That aside, if you go back to that segment and hear just his accomplishments, that in and of itself is recent enough to have him not just on this ring, but on any ring, any given night. Any given night. I don't want to dismiss him, which is what I did because he got to my head right then. But the thing is, he is who he says he is.
RELATED: RVD ADMITS TO CONTACTING WWE FOR ROYAL RUMBLE RETURN
What Impresses Santos Escobar The Most About NXT Champion Bron Breakker?
Yeah. And hey, the same goes for all four of you, honestly. Even Bron Breakker being the rookie out of the four of you, man, he's made some tremendous strides in NXT 2.0. I'll be honest, he's a great World Champion. I mean, hey, that title's going to look really good behind you though, but he is a great NXT 2.0 World Champion. What can you tell me about Bron Breakker? And what's impressed you so far about this young athlete?
Santos Escobar: His youth. His youth because I'll see a lot of me in him. I once was a young champion. I once was inexperienced. I once was in a spot where everyone else thought I shouldn't be. I had to prove myself to everybody and I had to fight every single night and I had to go through help.
To prove myself. To show first my dad, that I was deserving of his legacy. Then the Mexican audience, which is a very special audience. Prove them that I was worthy of their attention and their time. I know what he's going through. I know where he's coming from. He also has a legacy on his shoulders. So I know. But guess what? He doesn't, he hasn't realized that. And that's my best point here. That's my advantage.
He has to realize where he is. I will make him realize this Tuesday, come to Vengeance Day, I will take that from him, much like it was taken from me over a decade ago. Then he'll realize he needs to be more mature. He needs to get that experience and I will help him.  I'm doing this from the bottom of my heart. I will help him learn by taking that title away from him.
Santos Escobar Talks About El Legado Del Fantasma
I love that. Listen, another thing I love is Legado Del Fantasma, and I'm going to tell you why. It's a faction that obliterates gender disparities and has a woman, the beautiful and talented Elektra Lopez, just as important as her faction mates. It's true gender equality at NXT 2.0. Talk to me about Legado Del Fantasma because you guys are amazing. I love this faction. Elektra Lopez came out of nowhere and blew me away. One of my top five favorite women wrestlers in the world right now. She's amazing. Talk to me about your guys' group.
Santos Escobar: Well, yeah. Thank you, Joseph. You're right. One of the main things that I was aiming for with the creation of Legado Del Fantasma… Well, first of course is Legado Del Fantasma, El Fantasma is my dad. So right there, right off the bat, we have a homage to where I'm coming from. To what are the roots of what I do, which is Lucha libre. And all along with the main points, the main bullet points I've been doing promo after promo, after promo, after promo for these two years, is that Lucha libre is the best.
And that I am the best luchador there is right now in the world, with respect to Rey, with respect to Dominik, with respect to whoever. But right now I am the best luchador there is on the planet. If you don't like it, we can try. But Legado Del Fantasma caters to everyone. To everyone. 
I think, and one of the main things that we always have in our minds when we do what we do is mind the people that are watching us. How do you want them to see you? The Latino audience is big. The Latino ratings are big. We have to represent that properly. What do I mean by properly? Dress, talk, perform. Heart, mind, and legacy. It's how we do it.
Santos Escobar On The Advice He's Recieved From HBK Shawn Michaels and Triple H
Look, there are so many legends backstage at NXT 2.0. What's the best bit of advice you've gotten from one of those legends?
Santos Escobar: Well, I get advice every week because I have Shawn Michaels there.
Yeah, I know. He's the GOAT, right?
Santos Escobar: When you have Shawn Michaels and when you have Triple H there when he was there, you have an opportunity every week to be either complimented by the GOATs or be reprimanded by them.
RELATED: THE BOOGEYMAN SIGNS CONTRACT TO RETURN TO WWE
Either way, I'll have it. I'll have it because just to have them in front of you dissecting your work, telling you how to do it… To me, I mean, I've been in this business forever. I know how hard it is to get advice from a legend and they're willing to do it. They're willing to tell you how to do it. How to walk, how to talk.
To me, that itself is one of the best accomplishments of being here. Just have them around. Of course, the best advice is to love what you do. Love what you do. If you love it… Because of course, we can go back to the basics of how you do it. But love what you do and that will be transmitted into whoever's watching.
Santos Escobar's Dream Wrestlemania Opponent Is Rey Mysterio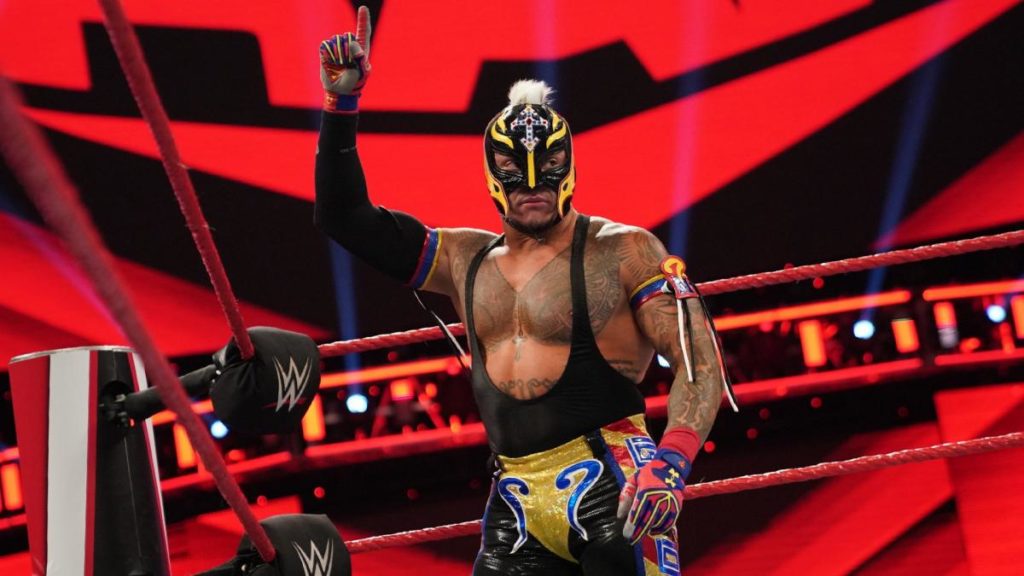 I know one of your goals was to be or is to be, the firstborn Mexican pro wrestler or sports entertainer to main event WrestleMania. And look, you've accomplished every goal you've set out so far since entering WWE. I know you're a second-generation superstar with a huge pedigree. If wrestling had no borders, who would be your dream opponent? Who would you like to be standing across the ring with on a WrestleMania main event main stage? I'm going to guess Rey Mysterio, but am I right?
Santos Escobar: You're right. You're absolutely right. And you know what I love about it? That it's possible.
Because I mean, I could say The Undertaker. But what's the odds of that happening? I could say, Shawn Michaels. I could say Triple H. But what are the odds of that happening? But Rey, the legacy we share, Lucha libre… That in and of itself would be just money. People would be invested in watching that match. But for me personally, to be in the ring with him, which I've been before, but never in WWE, that's different.
It's different, yeah, it's a different stage.
Santos Escobar: Main eventing and maybe having something at stake who knows. But to me, that's one of the goals. Yes, absolutely.
I would love to see it.
Santos Escobar: Just to be around him performing, to me that would be an accomplishment in and of itself. But to be against him at the grandest taste of them all, bro, that's it.
I saw you coming out rocking that '97 Halloween Havoc Rey Mysterio gear. I about lost it. I would love to see you guys mix it up in the main event at WrestleMania. Are you kidding me? What a match that would be, right? What a match.
Santos Escobar: You like that gear?
Dude, I love that gear. I was just going to ask you-
Santos Escobar: Joseph, let me just tell you something. This Tuesday on Syfy, Vengeance Day, tune in because Santos always brings it. You know it. You know it. Santos will dress to the nines. Santos will give you the business and Santos will always give you something new, different. This Tuesday is the night for that.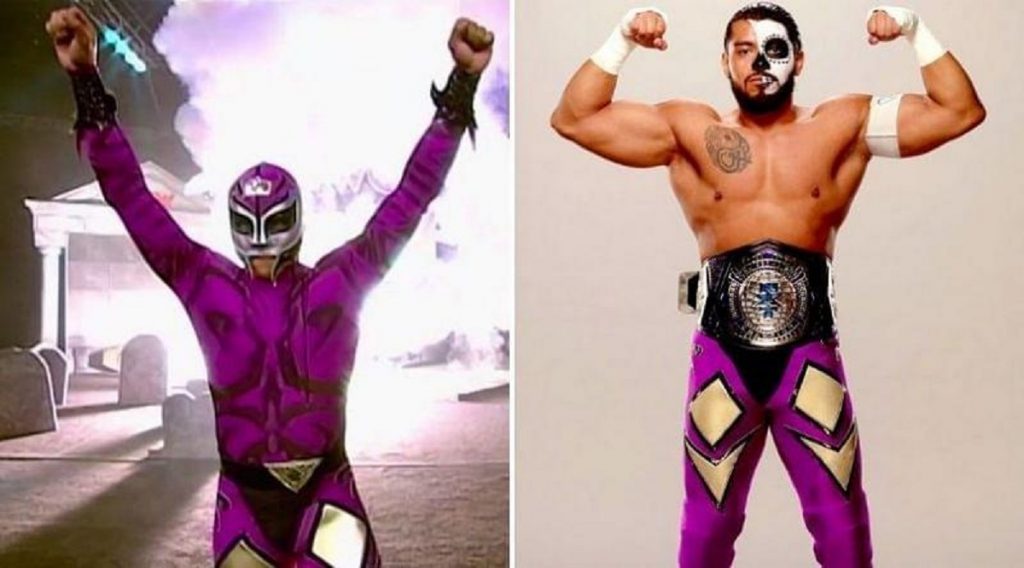 I can't wait. And correct me if I'm wrong, but those were actually Rey Mysterio's tights, right?
Santos Escobar: Yes, yes. That's one thing, that we're always in communication because I always ask for advice, and he's always humble and loving. And I remember that day, of course, one of the matches that put cruiserweight division on the map was Halloween Havoc.
I called him and I said, "Rey, do you think maybe I could wear a wristband or something?" And immediately he said, "You know what? I'll send you the gear. I'll send you the original gear. If it fits, wear it." And I had to drop 10 pounds to wear it. But to me, it was just history. It was history because 1997, I was 13 years old. It was impossible for me to be in the ring with them.
But fast forward I am the Cruiserweight Champion. Halloween Havoc, I had to do something to pay respect to that point, which to me in my mind, that's the point that allowed me and many others to be here in this company.
RELATED: WWE MAY HAVE ITS PLACE IN THE METAVERSE SOON
And that's one of the things that I love about pro wrestling at its finest. Literally, it's this kind of lineage and history that gets taken with it. And I love that you paid homage in respect to Rey by wearing his trunks because that's such a cool throwback to me as a fan watching in '97 that I get to see in 2021. It's amazing to me.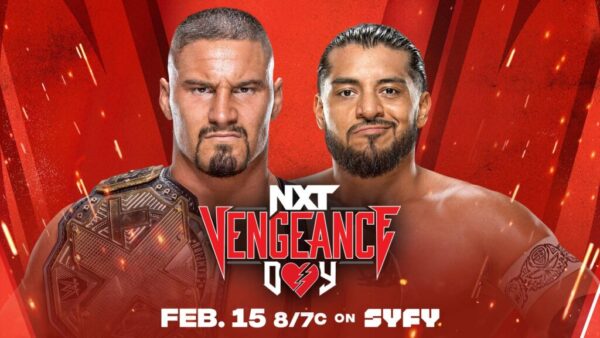 Santos Escobar faces NXT Champion Bron Breakker on SyFy tonight at 8 pm! Who do you think is walking away from the NXT Champion? Let us know on Twitter!
KEEP READING: WWE SCRAMBLING TO FILL WRESTLEMANIA CARD