Jim Ross has his AEW contract expiring soon and says it makes him think about what he wants to do in his future.
RELATED: WWE SCRAMBLING TO FILL WRESTLEMANIA CARD
Recently a guest on the JMart and Ramon radio show, Jim Ross talked about his AEW contract, how he loves what he does and how he wants to continue his commentary career despite turning 70 years old.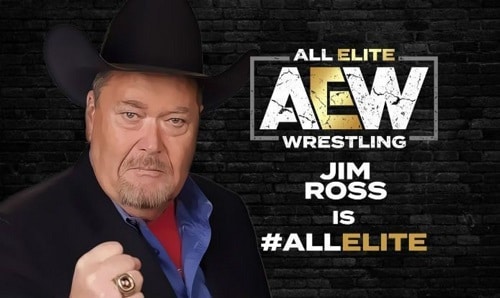 "My contract's up soon and I'm not looking to go anywhere," Jim Ross said. "But nonetheless, I'm 70, I've got to be realistic at some point my crazy a** life cause I haven't been. If my late wife were here she'd say amen to that because he's a character. I'm loving what I'm doing, still fun for me guys. As long as you keep that element in your place of work, you're alright, you're doing good."

"I can damn sure call a wrestling match because that's what I love to do. At my age, I'm a widower, my life is occupied by only a small handful of things. One of them is broadcasting a pro wrestling match, as crazy as that sounds. It's a great little company to be with, we're growing exponentially, Tony Khan is a genius." H/T To Wrestling Inc. For Transcription
AEW Has To Keep This Living Legend With Their Promotion
Jim Ross is a legend in wrestling and is perhaps the most famous wrestling commentator of all time.  He joined AEW as a commentator in 2019.  Having him along with Tony Schiavone as two of their commentators gives AEW a lot of credibility with '90s wrestling fans.  He has lost a step compared to his work in the '90s, but is still better than 90% than the other commentators in the wrestling world.  AEW would be very smart to keep him around as long as possible.  Not only can he pass on his knowledge of being a commentator but has also been in the business since 1974 and has seen it all.
REALTED: EXCLUSIVE INTERVIEW: SANTOS ESCOBAR TALKS ABOUT WHAT IMPRESSES HIM THE MOST ABOUT HIS NXT CHAMPION BRON BREAKKER
However, at the end of last year, Jim Ross had a medical condition sideline him for a few weeks.  He had a case of skin cancer develop on his ankle and needed to take some time off to deal with the skin cancer. But he didn't let it stop him from doing what he loves as he returned to calling matches while dealing with the condition.
Jim Ross went on to say just what commentary has meant to him during difficult times like dealing with his skin cancer.
"Every Wednesday night I get to relive my childhood," Ross said. "I appreciate it a lot more than I did in December, believe it or not."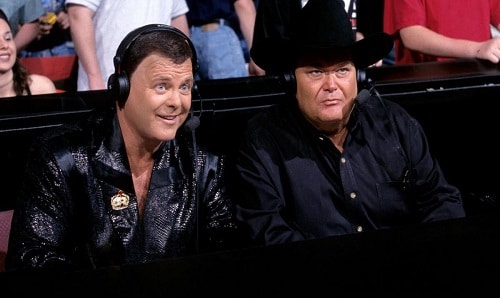 Jim Ross' Reaction To Excalibur Keeping Kayfabe Alive
Ross also talked about the next generation of wrestling commentary, Excalibur, on AEW TV. Excalibur is known for wearing a luchador mask during all his commentary and Ross talked about how weird he thinks it is.
"I don't get it, I really don't," Ross said. "When we were doing our first walkthrough I said 'You work with a mask on?' Somebody told me it was kind of a big deal, so okay I respect his gimmick but I don't understand why he's doing it. He's very very bright, always the smartest guy in the room, and does a great job there but yeah, the mask, I don't get it. But yanno, I don't get getting up after two or three Tope El Suicida [dives]. There's a difference in philosophy."
Ross has to respect Excalibur keeping the kayfabe of old school lucha libre wrestling alive. They used to get buried in their masks because they never removed them and I think the least Excalibur can do is keep it on during commentary.
Do you think Ross should remain with AEW or should he hang up his cowboy hat and call it quits? Would you like to see him go back to WWE and finish his career there or should he try some place completely new like IMPACT? Let us know if you think JR is the greatest commentator down in the comments and on social media.
KEEP READING: VINCE MCMAHON HAS BIG PLANS FOR CODY RHODES IN WWE AFTER LEAVING AEW
Sources: Wrestling Inc., JMart and Ramon