As Jodie Whittaker's time in the Tardis comes to an end, Whovians everywhere have been clamoring to know who will replace her on Doctor Who. 
While we don't know the answer to that oh-so-tantalizing question yet, we do know that David Tennant is returning to the show for one of its 60th anniversary specials – and there are rumors that Matt Smith, Christopher Eccleston, and Peter Capaldi will also appear.
RELATED: MAN-THING: NEW RUMOR POINTS TO A HALLOWEEN SPECIAL FOR THEODORE SALLIS
If this comes to pass, it would be reminiscent of the 20-year Doctor Who special back in 1983 that ran feature-length and saw the return of Peter Davison, Jon Pertwee, Patrick Troughton, and Richard Hurndall as their respective Doctors.  Eccleston, Tennant, Smith, Capaldi, and Whittaker have earned their own strong fanbases in the modern day and the show's popularity both in its native UK and across the world has skyrocketed since its relaunch in 2005. 
Doctor Who Special Brings Stars Back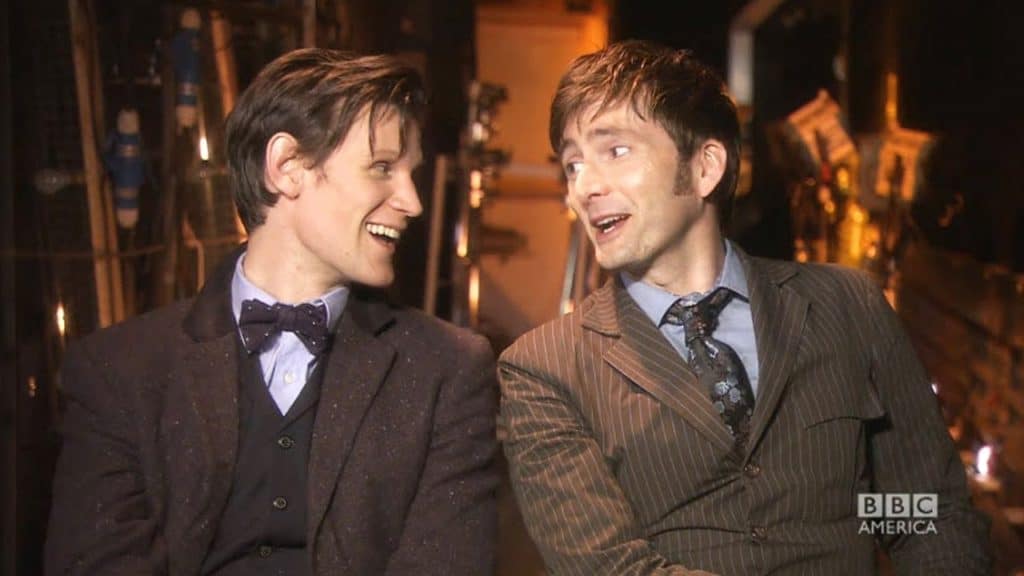 A TV insider offered the following about the possibilities of what this 60-year Doctor Who special could bring:
"The BBC wanted something unique to mark six decades of Doctor Who and while getting all the former time lords together will be a challenge, it's one Russell might just achieve.   After all, he was the man responsible for signing up Christopher and David back in 2005, and he is one of the few people who might convince them to be a part of the show again.  It remains to be seen if he can achieve an exact copy of The Five Doctors, but he will certainly want to capture some of the spirit of that landmark episode in these specials."
Much like James Bond, each actor who has portrayed Doctor Who has brought something unique to the role and made it their own.  Having seen a good amount of the rebooted era of the show, it's enticing to theorize how these new iterations of The Doctor will interact with each other and whatever insane story the writers will cook up for them to take part in. 
It's impressive for any reboot of a classic television show to succeed, but even more so if it can find and maintain an audience across multiple seasons, showrunners, tones, and in this case incarnations of its lead character.  I can imagine many fans (to be honest myself included) will happily tune in for this special to see if their favorite Doctor makes an appearance Spider-Man: No Way Home style. 
The Ninth and Tenth Doctors previously shared the screen in 2010's Christmas Special to widespread critical and audience acclaim, so if they can pull off that magic again with the upcoming one and get the Doctors who have taken over since then involved, it's sure to be an episode for the ages.
Doctor Who initially began as an educational television program infamously airing its pilot on November 23, 1963 a day after the Kennedy assassination.  Following the adventures of a mischievous yet world-weary time traveler known only as The Doctor, the show would become a staple of pop culture and have its initial run from 1963-1989 and then rebooted in 2005.  As of this writing, said reboot has seen 5 Doctors, 13 series (seasons) and multiple showrunners during its tenure, as well as introducing ongoing story arc whilst remaining largely episodic. 
Davies was head showrunner from 2005-2010, after which Steven Moffat took over his duties until 2018.  After Moffat's departure as showrunner, Chris Chibnall took the reigns and has run it ever since.  With that much history and hungry fans of this show, here's hoping Chibnall and his talented team have something special for us.
What are your thoughts on all of the reboot Doctors potentially coming together?  Have you seen the show all the way through or did you jump on when the reboot started?  Who are your favorite Doctor and Companion?  Let us know in the comments below and on our Twitter.
KEEP READING: WHAT'S NEXT FOR KID LOKI IN THE MARVEL CINEMATIC UNIVERSE?
Source: The Sun