Umbrella Academy Season 3 teaser gives us a glimpse of the Sparrows and summer release date.
Netflix's dysfunctional world-ending adopted siblings, the Hargreeves of the Umbrella Academy, are finally poised to return with Season 3 on June 22, 2022, exclusively on Netflix. However, from the end of Season 2, the Umbrella Academy looks to no longer exist. Instead, the Sparrow Academy stands in its place. On the bright side, the Hargreeves deceased sibling is alive! However, he doesn't remember them and looks to be a part of the Sparrow Academy. Season 3 is picking up immediately where Season 2 left us, according to the Teaser Trailer dropped at SXSW.
Umbrella Academy Season 3 Teaser Trailer
What I find confusing is how Ben's hair changes from somewhat emo-looking to clean and styled in what is supposed to be a matter of seconds. That bit on continuity is bothering me. But other than that, the teaser does its job and I'm sure fans are ecstatic to get a glimpse of The Umbrella Academy Season 3 and know when we'll be able to watch it. It looks that the season will begin exactly where the Season 2 finale ended with The Umbrella Academy meeting The Sparrow Academy and giving us a first look at The Sparrow Academy in series.
RELATED: Exclusive Interview: Veteran Voice Actress Jessie Flower Reveals Her Hopes For Toph In Netflix's Avatar
For those unfamiliar, here's who's playing who in The Sparrow Academy, plus Ben from the end of Season 2 so you can see the hair difference:
JUSTIN CORNWELL (Jingle Jangle: A Christmas Journey, I Am the Night) will play MARCUS, Sparrow #1.
A charming, chiseled, colossus. Honest, virtuous, and demanding, Marcus keeps the family together. Graceful but lethal, calculated but compassionate, he is as smart as he is strong. Marcus is disciplined, rational and in control. He oozes confidence and leadership without ever having to raise his voice.

JUSTIN H. MIN (After Yang, The Umbrella Academy) will play BEN, Sparrow #2.
This is not the sweet Ben we know and love. This Ben is a Machiavellian tactician, wrapped up in a pretty boy body with a rumbling inner-squid. Vicious, pragmatic, and hyper-vigilant— Ben is determined to gain his status as the leader at all costs.

BRITNE OLDFORD (The Path, Hunters) will play FEI, Sparrow #3.
Fei sees the world in a special way. She comes across as a misanthrope who would rather be alone than spend even a second with you. But truth be told, Fei wishes she had a friend. Most of the time, Fei is the smartest person in the room and willing to work things out. But if you cross her there's no looking back because Fei won't stop until the job is done.

JAKE EPSTEIN (Designated Survivor, Suits) will play ALPHONSO, Sparrow #4.
Years of crime fighting have left his face and body with countless visual reminders of his battles. To compensate, Alphonso is armed with a caustic and biting sense of humor. The only thing he likes better than verbally battering anyone foolish enough to get in his face, is a good pizza and a six-pack of beer.

GENESIS RODRIGUEZ (The Fugitive, Big Hero 6) will play SLOANE, Sparrow #5.
A romantic and a dreamer who feels a higher cosmic calling leaving her eager to see the world and experience a life beyond her upbringing. But obligations to her family keep Sloane tethered to the Academy, as does her fear of crossing the family line. But Sloane has plans… and one day she might just be brave enough to act on them.

CAZZIE DAVID (86'ed, NY Times best-selling author of "No One Asked for This") will play JAYME, Sparrow #6.
Jayme is a loner hidden under a hoodie. She doesn't say much because she doesn't have to. Jayme has a fear-inducing snarl. Catch a glimpse of it, and you'll run across the street to avoid what follows. Smart and sharp as a knife, she spends most of her time hanging with Alphonso, her only friend.

EXISTENTIAL DREAD INDUCING PSYKRONIUM CUBE (Newcomer) will play CHRISTOPHER, Sparrow #7.
Christopher is a telekinetic cube of unknown origin. He can turn the room freezing cold and induce paralyzing fear. He acts as the Sparrows' consulted oracle who hands out incredible advice and serves as the family mediator. Trustworthy, loyal, and is treated by the Sparrows like any other sibling, Christopher is a force to be reckoned with.
There's not a lot to go on, but it's enough to really build anticipation. The Psykronium Cube is easily the most intriguing aspect of The Sparrow Academy. It's a floating cube that induces existential dread. Was it born as a cube? Is it always a cube? Does do side that's facing matter? It's so intriguing! There are over 3 months to wait for The Umbrella Academy Season 3, so expect more teasers to come as we get closer to the series premiere on June 22, 2022.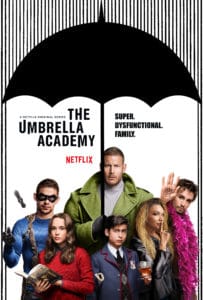 About The Umbrella Academy
Release Date: June 22, 2022
Created for Television by: Steve Blackman
Producers: Steve Blackman (Showrunner/EP), Jeff F. King (EP/D), Keith Goldberg (EP), Mike Richardson (EP), Jeremy Webb (EP, 301), Gerard Way (Co-EP), Gabriel Bá (Co-EP), Steve Wakefield (Producer, 301-307)
Produced by: UCP, a division of Universal Studio Group, for Netflix
Cast: Elliot Page, Tom Hopper, David Castañeda, Robert Sheehan, Aidan Gallagher, Emmy Raver-Lampman, Justin H. Min, Colm Feore, Ritu Arya, Justin Cornwell, Britne Oldford, Jake Epstein, Genesis Rodriguez, Cazzie David, Javon 'Wanna' Walton
After putting a stop to 1963's doomsday, the Umbrella Academy return home to the present, convinced they prevented the initial apocalypse and fixed this godforsaken timeline once and for all. But after a brief moment of celebration, they realize things aren't exactly (okay, not at all) how they left them. Enter the Sparrow Academy. Smart, stylish, and about as warm as a sea of icebergs, the Sparrows immediately clash with the Umbrellas in a violent face-off that turns out to be the least of everyone's concerns.

Navigating challenges, losses, and surprises of their own – and dealing with an unidentified destructive entity wreaking havoc in the Universe (something they may have caused) — now all they need to do is convince Dad's new and possibly better family to help them put right what their arrival made wrong. Will they find a way back to their pre-apocalyptic lives? Or is this new world about to reveal more than just a hiccup in the timeline?
Are you excited about The Umbrella Academy Season 3? Why do you think Ben's hair changed? Is there anything more intriguing than the Psykornium Cube? Let us know what you think in the comments below and share all your theories with us on Twitter.
KEEP READING: The Adam Project Review – Levy & Reynold's 2nd Collaboration is Genuine Excellence