Cheaper By The Dozen does not only retell a timeless story, it also paints a realistic portrait of what family looks like today whether you like it or not.
The film does everything in its power to give viewers a sense of belonging. Representation is vital for fostering unity amongst societies, and family is a foundation for society. This was understood intricately by the cast and crew, especially by Gabrielle Union, one of the leads and executive producers of Cheaper By The Dozen.
RELATED: CHEAPER BY THE DOZEN REVIEW: A FRESHLY BAKED REBOOT WITH A SWEET AND SAVORY TASTE
When I attended Disney's press conference on the upcoming Cheaper By The Dozen film recently, I absorbed everything that was discussed. But what I predominantly soaked in was Gabrielle Union's comments on family and why it was so crucial to reflect a diverse modern family in the film.
Cheaper By The Dozen: We Are Family
Everyone is born into some sort of family, whether you love them or try to escape from them. You're born into a family, so literally everyone in the world can relate to family drama, family fun, family problem-solving. And more and more you see these blended families having to co-parent; multigenerational families all living under one roof. This is the norm, you know?

I believe when folks started using the term 'traditional families', that's just meant to shame folks for surviving basically. So, this is a movie that calls all families in and says, 'You know what? You will find someone that you can relate to, that looks like you, that feels like your family somewhere in this movie.' And what better time than now?

Gabrielle Union
Gabrielle Union is one of the most vocal forces in the Industry, so if she has something to say, she will be heard. It warms the heart to see a star of Union's caliber say those things. Cheaper By Dozen is a movie that's all about bringing different people together and uniting them as a family. There's nothing wrong with that. In fact, we need more stories like that.
Upon the release of the trailer and promotional images for this film, there was a substantial amount of scrutiny for the movie's diverse cast and its depiction of a multiracial family. If that sounds absolutely ridiculous to you, that's only because it is. This is the world today, where multiracial and multiethnic families are very common. It can be hard to remember that sometimes due to the prejudices we face on a daily basis.
While there are many racists and bigots who desperately want to divide us, we should not let them. Whenever two people from different races, ethnic groups, or religions fall in love and build a family together, it is a beautiful thing. It shows that they have looked past their differences to see their souls through each other's eyes.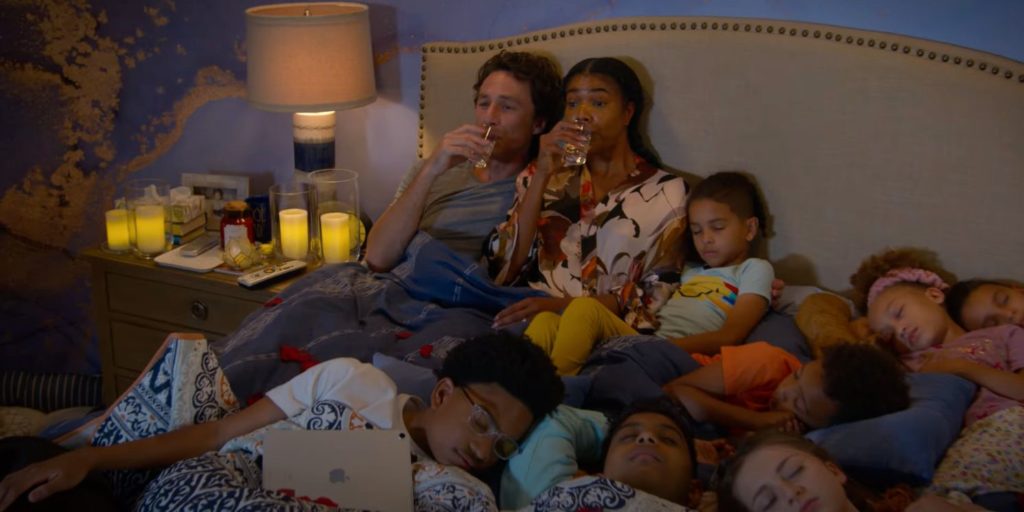 I applaud Cheaper By The Dozen's ability to make individuals of all ages feel seen and heard. There's no doubt in my mind about the positive impact this movie will have on families everywhere.
Official Synopsis
A Disney+ Original movie, "Cheaper by the Dozen" is a reimagining of the 2003 hit family comedy. It is the story of the raucous exploits of a blended family of 12, the Bakers, as they navigate a hectic home life while simultaneously managing their family business.
The film stars Gabrielle Union, Zach Braff, Journee Brown, Kylie Rogers, Andre Robinson, Caylee Blosenski, Aryan Simhadri, Leo A. Perry, Mykal-Michelle Harris, Christian Cote, Sebastian Cote, and Luke Prael.
Will you be watching Cheaper By The Dozen when it arrives on Disney Plus on March 18th? Let us know in the comments below. If you liked what you read, there's more where that came from.  Follow us on Twitter or Facebook so you don't miss more Disney content like this in the future.
KEEP READING: THE BATMAN CONCEPT ART SHOWS OFF NEW BATSUIT DESIGN & MORE