Everything Everywhere All At Once is exactly as its title says and a bona fide masterpiece of performance, storytelling, film, and absolutely wonderful movie-going experience.
Holy S#*+ this movie is incredible! Not even going to build up to it, go buy your tickets to Everything Everywhere All At Once right now. If you want a movie that will make you feel every emotion, think every thought, and ask and answer all your questions, this is the movie for that. This film has jumped its way into my top 3 all-time favorite films. The film is a masterpiece in every sense of the word. No matter how you approach this film, it is the epitome of the medium and the movie-going experience.
Everything Everywhere All At Once is Literally Everything
Everything Everywhere All At Once is about a laundromat owner, Evelyn (Michelle Yeoh) who is struggling with her family, her business, and life in general. Her distant father (James Hong) is in town and staying with them, her husband (Ke Huy Quan) is questioning their marriage, her daughter (Stephanie Hsu) is now what she planned, and her taxes are being audited by a seemingly angry tax accountant (Jamie Lee Curtis). Evelyn has to deal with all this, a language barrier, and prepare for a Chinese New Year celebration when suddenly she is also forced to save the multi-verse.
RELATED: Everything Everywhere All at Once Release the 1st Single of the Film's Spellbinding Soundtrack
The movie is bat s#!= insane. Nothing is off-limits but nothing is also ever off-point. There is a point at which characters all have hotdog fingers that for some reason spew ketchup and mustard, a guy eating chapstick, and a fight to prevent a security guard from putting a butt plug-shaped trophy up his butt, and it all makes perfect sense. The film goes into extremely wild areas of imagination, yet never stops feeling grounded and authentic. The impossible and insane, though recognizably not normal, never feels out of place or forced. It is a true testament to The Daniels' storytelling ability.
The list of things to commend and be impressed by from Everything Everywhere All At Once is endless. One thing that I want to focus on is the resourcefulness of the film. While the film is not short of star power and special effects, it brilliantly uses a limited number of locations. It was shot during the pandemic, which of course limited a lot of things. However, upon further reflection, because I can not stop thinking about this movie, I realized the incredible use, reuse, and implementation of the story, to create a multi-verse that feels boundless, with a limit on resources.
RELATED: Lumpia With A Vengeance Comes To Wondercon 2022
The storytelling through sights, sound, performance, writing, truly shows the infinite possibilities of filmmaking. When the world around them shut down, the team behind the film made their world bigger. The same set is used as multiple dimensions, the same way a character was multiple characters or versions of themselves. The film didn't look for possibilities, it made them. It took the numerous ways to interpret the films's title to heart and infused that infinite possibility throughout the entire film.
This Cast is Everything
In acting, it is said there are no small parts, and in this film, it is definitely true. Every actor came and brought it. Jenny Slate seems like an extra with lines at first, but then she steals the show from out of nowhere. Then there's Andy Le and Brian Le, who you might recognize from Paper Tigers. They may not have a lot of lines, but their body language, fights, and facial expressions tell incredible stories whenever they are on one screen. Harry Shum Jr. can't be talked about much without giving anything away, but it's a hilariously cooky take on a beloved classic.
James Hong and Jamie Lee Curtis deliver wonderfully grounded and playfully over-the-top performances as their characters. They act as perfect anchors to the reality of the story, to the reality breaking of the story, and some of Evelyn's emotional journies. James Hong is her well-meaning but stereotypically traumatizing father at first, then becomes a whole different kind of trauma later. Curtis is "The Man" but quickly becomes the vessel, the heart, and even more as the movie progresses. Curtis also has some awesome action scenes.
This Family is Everywhere
Stephanie Hsu is an absolute super force! In the presence of the tremendous talents of Michelle Yeoh and Jamie Lee Curtis, Stephanie Hsu boldly and rightfully adds her name to that list. She plays Yeoh's daughter in the film, and masterfully matches Yeoh's performance beat for beat, impact for impact, and power for power. Whether it be emotionally or physically, Hsu's star power radiates from the screen. If you saw her performance as Shu Shu, you already know Hsu is a talent to watch. But after Everything Everywhere All At Once, she is talent we can't wait to see again.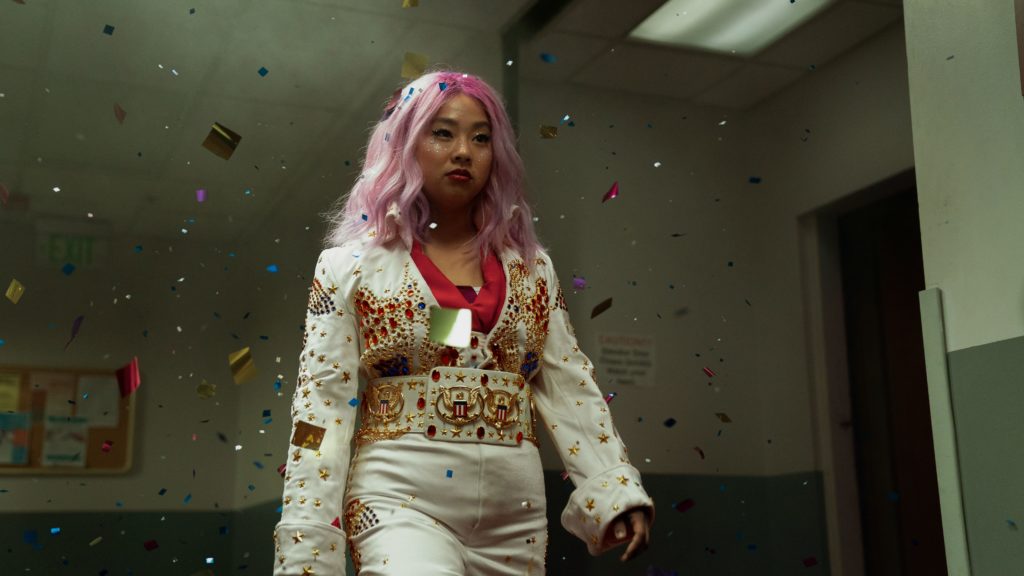 Ke Huy Quan is back and is very much the star he always was, but finally with an opportunity to shine. The state of the industry and the country did not allow Quan the opportunities to honor his immense talent as a performer. After watching his performance, not only will those opportunities finally be open to Quan, but many more will be created just for him. He's goofy, he's a loving father and husband, he's an action star, he is everything he should have been able to be in Hollywood since the 80s. Audiences will feel robbed of decades of amazing performance Quan should have had, but simultaneously elated with his performance and the realization of his potential.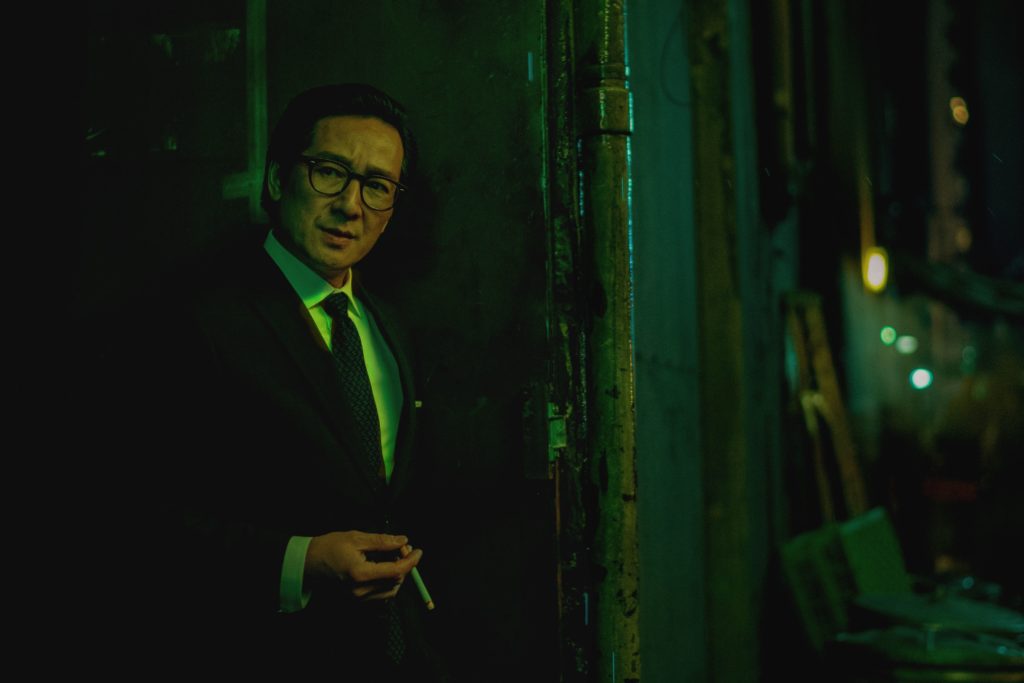 Lastly, excellence personified, Michelle Yeoh. Yeoh has been in the industry for decades, but the west has never really given her the attention she truly deserves. Yeoh is a god-tier performer the likes of Meryl Streep, but way better and capable at performing truly incredible action sequences. Yeoh proves she is the leading lady for any film of any genre in Everything Everywhere All At Once. Yeoh showcases she can do everything and has done everything in a single performance.
All At Once
The only thing left to admire about the film, outside of its wild lengths of imagination and brilliant performances, is the pace at which it takes you through the journey. Everything Everywhere All At Once makes viewers experience and feel everything all at once. It may cause some emotional whiplash. I laughed, cried, snorted, choked, and gasped all at once. The movie is billed as a sci-fi action-adventure, and that is honestly not enough to encompass the film. It is a rom-com, it is a dramatic family journey, it is a martial arts epic, it is everything.
But in an overarching sense, it's about family. It tackles generational trauma in a very direct way that geniusly incorporates dildos and BDSM. It tackles coming to terms with your choices using a mechanized robot. It opens your eyes with a fanny pack full of aquarium rocks. It is a deeply meaningful and dramatic movie that touches your the heart with the use of googly eyes.
RELATED: The Adam Project Review – Levy & Reynold's 2nd Collaboration is Genuine Excellence
Everything Everywhere All At Once is exactly as the title says. It is every type of movie, that has every type of performance, that will be enjoyed and experienced by everyone everywhere. It is a powerfully meaningful story that is also incredibly crude and silly without ever having to sacrifice aspects of either to be both. Everything Everywhere All At Once is the ultimate movie-going experience that not only offers the grandeur of summer blockbusters but the emotional impact of Oscar-winning films. It is everything all at once.
Because Everything Everywhere All At Once is Everything Everywhere All At Once, it gets a 5/5.
Everything Everywhere All At Once releases in theaters on March 25, 2022. Tickets are available now.
About Everything Everywhere All At Once
Release Date | March 25, 2022, in theaters
Written & Directed by | The Daniels (Daniel Kwan, Daniel Scheinert)
Produced by | The Russos (Anthony Russo, Joe Russo), Mike Larocca, Daniel Kwan, Daniel Scheinert, Jonathan Wang
Executive Produced by | Michelle Yeoh, Josh Rudnick, Tim Headington, Theresa Steele Page, Wang Zhongjun, Wang Zhonglei, Hu Junyi, Todd Makurath
Starring | Michelle Yeoh, Stephanie Hsu, Ke Huy Quan, Jenny Slate, Harry Shum Jr., with James Hong and Jamie Lee Curtis

Directed by Daniel Kwan and Daniel Scheinert, collectively known as Daniels, the film is a hilarious and big-hearted sci-fi action-adventure about an exhausted Chinese American woman (Michelle Yeoh) who can't seem to finish her taxes.
Have you got your tickets to Everything Everywhere All At Once yet? Did you catch the early screening at Alamo Draft House? How much do you love this movie? Let us know in the comments below and be sure to share your thoughts on the movie with us immediately after watching it on Twitter.
KEEP READING: Señorita 89 Review – The Cost of Beauty is Beyond Skin Deep