The comedy-action film Lumpia With A Vengeance based on the Filipino delicacy comes to Wondercon 2022.
To many non-Filipinos, a lumpia is a typical eggroll filled with vegetables, pork, or meat. But to Filipinos like myself, it is a symbol of Filipino cuisine and delicacy. The Filipino food-based dish is featured prominently at Filipino-themed parties, events, gatherings, food festivals, and restaurants. Some even say that it is a sacred dish that gives life to a Filipino party.
RELATED: THE ORIGINAL DIGIMON SEASON 1 ENGLISH DUB BLU-RAY REMASTER COMING SOON
Even more sacred than the Lechon (Filipino Roasted Pig), Pancit (Filipino Noodles) or Adobo (a special Filipino marinated meat, pork, or poultry dish), lumpia is a special food delicacy that must be respected. It is so popular that it even inspired the creation of a new superhero, Lumpia Man, featured in the film which is about to have a special screening at Wondercon 2022.
Lumpia With A Vengeance Coming To Wondercon 2022
All jokes aside, try not to get too hungry for Wondercon 2022, which announced that they would premiere the Filipino-American film Lumpia With A Vengeance. The upcoming action comedy film directed, produced, and co-edited by Los Angeles-based filmmaker Patricio Ginelsa.
Filming took place primarily in the San Francisco Bay Area, and the now-completed work is currently on the film festival circuit. The film is notable for winning the Hawai'i International Film Festival Audience Award for Best Narrative, the same festival where it had its world premiere.
The Spiritual Sequel Of A Classic Filipino American Indie Film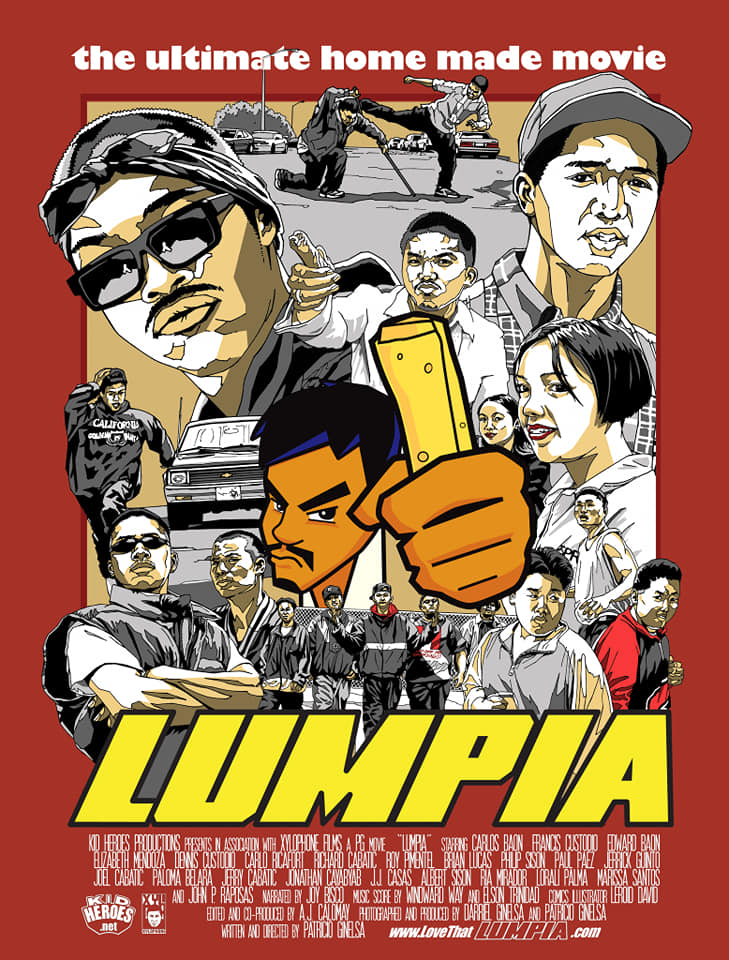 A spiritual sequel to the indie film Lumpia (also directed by Patricio Ginelsa), the film takes place in the late-90s at the fictional Fogtown High School. The plot of the original focuses on a group of high school friends who are targeted for mockery from thugs.
To defend themselves from these thugs, they rely on the protection of a hero named the Silent Avenger, whose powers come from Lumpia. The first film became a surprise hit and received positive reviews. Now, seventeen years later, a sequel of the indie classic was made featuring the new hero Lumpia Man. 
Lumpia With A Vengeance has received numerous praise from filmgoers and critics. The film has become very popular to the point where screenings for the movie have sold out in multiple film festivals. An example of the film's success is when it had a special screening in San Diego Comic-Con 2021, where it became sold out to the point it had to turn hundreds of filmgoers away. The film's success also helped start its comic book series published by Kid Heroes Productions.
A Film That Can Hopefully Showcase Filipino American Culture and Representation In Hollywood
The reason for Lumpia With A Vengeance's massive success and popularity is the movie's star-studded cast. The film stars UFC Champion Mark Muñoz, Miss Philippines Universe Tourism 2021 contestant Katrina Dimaranan, Netflix's upcoming Tomb Raider voice actor Earl Baylon, veteran Hollywood actor Danny Trejo, and an ensemble cast. 
RELATED: 2022 POKÉMON WORLD CHAMPIONSHIPS VENUE + DATES ANNOUNCED
As a fan of the original 2003 film and eating Lumpia, I am excited for Lumpia With A Vengeance. What I loved about the 2003 film was its originality, homage to Filipino American culture, and representation. The mere fact that this indie film was so popular and received a sequel featuring a star-studded cast amazes me.
By watching the trailer, its safe to assume that Lumpia With A Vengeance will have the nods and elements on what made Lumpia special. The star-studded cast for this sequel makes me excited especially seeing Danny Trejo, Mark Muñoz, and the return of. But of course, seeing the multiple Lumpia featured in this film.
About Lumpia With A Vengeance
Synopsis: In this crowdfunded action-comedy, the LUMPIA-armed avenger returns to Fogtown! A maid of honor to her own parents' wedding, teenager Rachel finds herself tangled up with a crime syndicate selling drugs masked as food. She teams up with the crime fighter to prevent a mysterious crime boss from destroying her to n and her parents' dream wedding.
Director: Patricio Ginelsa
Editor: A.j. Calomay
Screenwriters: Patricio Ginelsa, Bernard Badion, Christopher Santiago
Executive Producers: Miki Gerelhuyag, Varinder Singh, Amrit Singh
Liza Cavan
Producers: A.j. Calomay, Lawrence Iriarte, Lisa Chong, Jeff Lam, Rey Cuerdo, Patricio Ginelsa
Co-Producers: Mark Muñoz, Rheena Munoz, Lillian Prijoles, Darriel Ginelsa, Melanie Ginelsa, Leroid David, Carlos Baon, Emily Norovsambuu.
Associate Producers: Justin Quizon, Earl Baylon, Megan Barrett, Tiffani Lopez, Gerald Pilare, Randal Kamradt
Director of Photography: Dan Hertzog
Co-Cinematographer: Homer Dulu
Production Designers: Miki Hortencia Rodriguez
Marsalis Adriano
Costume Designer: Marybelle Bustos
Stunt Coordinators: Mark Elefane, Joshua Chavez
Music: Jonathan Wandag, Michael Kobayashi
Illustrator: Gerald Pilare
Cast: Mark Muñoz, April Absynth, Francis Custodio, Edward Baon, Katrina Dimaranan, Caelan Scrivener, Earl Baylon, James Lontayao, Darion Basco, Joy Bisco, Danny Trejo
Did you watch the original 2003 Lumpia film? Will you be attending Wondercon 2022 and plan to watch Lumpia With A Vengeance at the event? What is your favorite Filipino food? Let us know what you think in the comments below, or let us know on Twitter.
KEEP READING: KUNG FU PANDA: THE DRAGON KNIGHT SERIES ANNOUNCED
Source: Wondercon, lumpiamovie.com