The Lost City is exactly what you hope, a hilarious and entertaining romantic comedy that is surprisingly better than you can imagine.
All movies aren't for everyone, but there are movies for everyone. The Lost City is a movie for people who want a light-hearted, fun, and comedy with a healthy splash of romance. It has the added draw of a jungle adventure which should give the thrill-seeking moviegoers what they're looking for. Plus it has the perfect leads with Sandra Bullock and Channing Tatum to carry the comedy, romance, and action for an absolutely delightful time at the movies.
The Lost City Found Its Audience and Delivers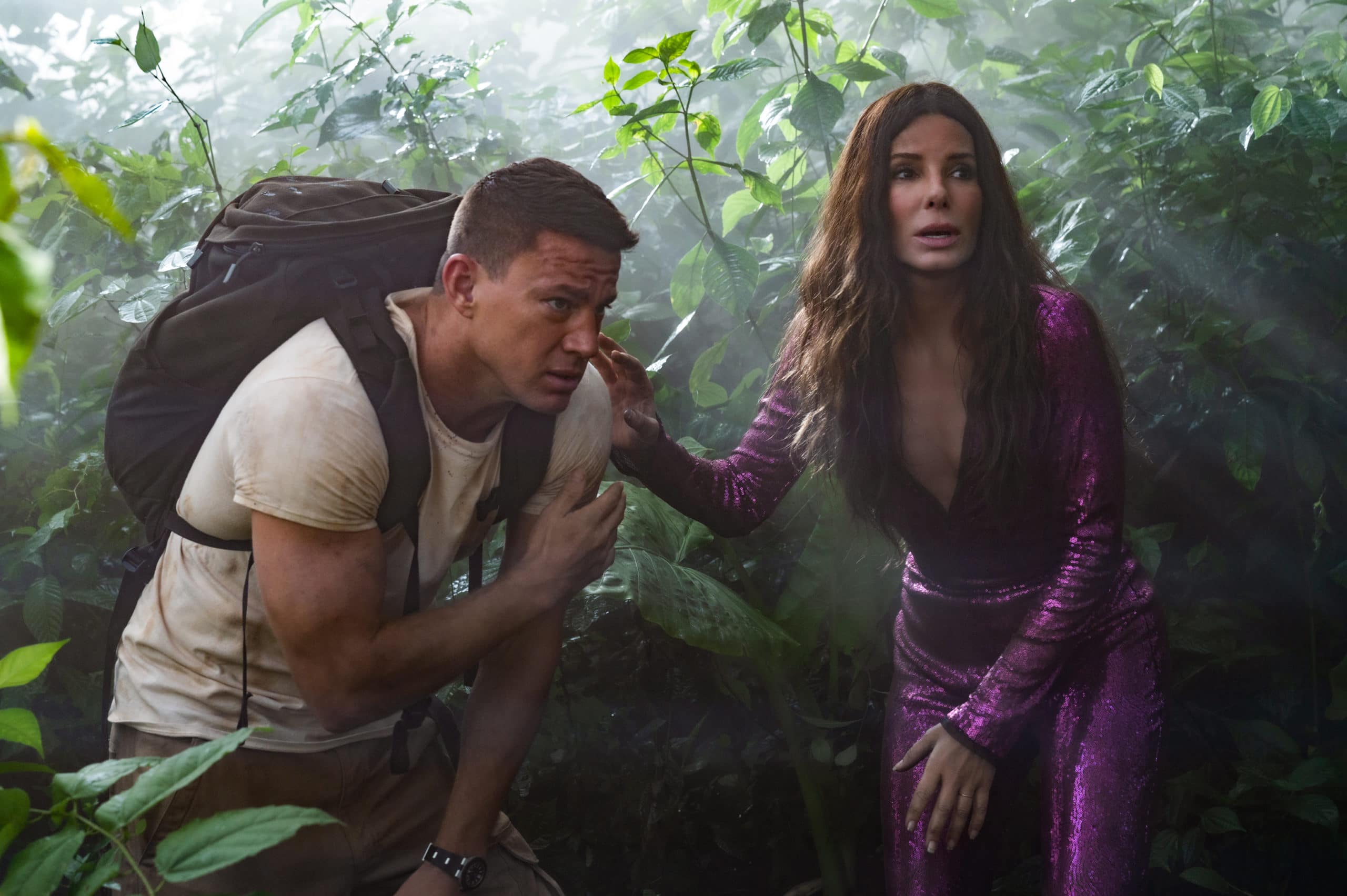 Reclusive romance novelist, Loretta Sage (Sandra Bullock), is promoting her latest novel, The Lost City of D, with her cover model Alan (Channing Tatum). After a spat between Loretta and Alan, Loretta is kidnapped by two large men who bring her to meet Abigail Fairfax (Daniel Radcliffe). Fairfax is in search of the real Lost City of D, and it turns out Loretta's book proves she actually knows something about it, so he brings her to a remote island and forces her to help him find The Lost City. Now Alan has taken it upon himself to save Loretta and prove he's not just a cover model.
RELATED: The Lost City Tickets Now Available for 3/25 Release
The concept of The Lost City is innately comical. Bullock's Loretta is stereotypical brainy while Tatum's Alan is stereotypically more brawn. However, the film adds a lot of depth to both characters preventing them from being boring stereotypes and makes them out to be real people with logical misunderstandings of each other. Whereas with Fairfax, he is comically a full-on spoiled rich boy villain that audiences will surely love to hate.
The action and adventure in the movie are surprisingly top-tier. While not a heavy focus, of the film, the fight sequences would fit right into say Uncharted or Indiana Jones type movie. It really heightens the film's enjoyment and more appealing to a broader audience. While The Lost City is unequivocally a rom-com, its action-adventure will entertain a much broader audience. The movie is sure to win over many hold-outs and turn rom-com-loving deniers into vocal fans.
Sandra Bullock and Channing Tatum are fully in their element. Their chemistry is firey and it fuels the movie. Bullock is the drier personality of the two, as the reclusive writer. This gives her some of the sharpest and most biting jokes of the film. But Tatum plays an eager, genuinely good, smart dumb guy. He's not really dumb, maybe in comparison and on an educational scale compared to Loretta, but he isn't stupid. Just not great at saying his thoughts eloquently. It allows for low-brow humor and jokes but also masterful role reversals that make the film fun to watch.
While Bullock and Tatum give downright great performances. Daniel Radcliffe is the standout star of the movie. He plays a great dick. A thoroughly unapologetic dick that flaunts his privilege and money without a hint of shame or remorse. While the character isn't the deepest of characters, Radcliffe gives off certifiable sociopath vibes. Abigail Fairfax is thoroughly charming when trying to woo Loretta, but as soon as it's not going his way, the switch is INSTANT. Radcliffe definitely has a skill for madness that should be explored.
Why Do Extra Credit When You Already Have an A?
The Lost City is a veritable pleasure of a movie experience. It is a wonderful change of pace from the franchise heavy offerings we usually have to choose from and a refreshingly great rom-com that may not break the mold but also does not feel unoriginal or uninspired. The only "critique" is that the film isn't revolutionary and maybe doesn't give enough to the supporting characters. This is not a knock against the movie, it understood the assignment and delivered. It's a guaranteed A with no attempt at extra credit. A home run that doesn't make it to the parking lot is still a home run.
RELATED: Señorita 89 Review – The Cost of Beauty is Beyond Skin Deep
The Lost City is what everyone wants from a rom-com, and then some. It will entertain its genre lovers, fans of the cast, and be an unforeseen great time for everyone else. It's fun, funny, and also less than two hours. If watching movies was a relationship, The Lost City is the perfect fling. You can put as much time and effort as you want and it will return more than whatever you invest in it. It is a thoroughly fun movie experience everyone will enjoy. It may not be a gamechanger, but it is a champion of its game.
For being just a pure delightful time, and not another franchise to buy into, The Lost City is a solid 4/5.
The Lost City releases in theaters on March 25, 2022. Tickets are available now.
About The Lost City
Release Date: March 25, 2022
Directed By: Aaron Nee & Adam Nee
Written By: Aaron Nee, Adam Nee, Orzen Uziel, Dana Fox
Cast: Sandra Bullock, Channing Tatum, Daniel Radcliffe
Synopsis:
Brilliant, but reclusive author Loretta Sage (Sandra Bullock) has spent her career writing about exotic places in her popular romance-adventure novels featuring handsome cover model Alan (Channing Tatum), who has dedicated his life to embodying the hero character, "Dash." While on tour promoting her new book with Alan, Loretta is kidnapped by an eccentric billionaire (Daniel Radcliffe) who hopes that she can lead him to the ancient lost city's treasure from her latest story.
Wanting to prove that he can be a hero in real life and not just on the pages of her books, Alan sets off to rescue her. Thrust into an epic jungle adventure, the unlikely pair will need to work together to survive the elements and find the ancient treasure before it's lost forever.
Are you excited to watch The Lost City? Did you already get your tickets? What's your favorite rom-com? Let us know in the comments below and share your reactions to the movie with us on Twitter.
KEEP READING: Everything Everywhere All At Once is Bona Fide Masterpiece