2022 is set to be a fantastic year for MCU fans, first with Moon Knight and soon enough with Doctor Strange in the Multiverse of Madness.
Marvel Studios is continuing to spoil us like an over-zealous grandmother on Thanksgiving, pushing plate after plate of comic goodness our way. We nerds are eating well!
RELATED: EVERYTHING EVERYWHERE ALL AT ONCE IS A BONA FIDE MASTERPIECE
Just this year alone, aside from releasing Moon Knight and Doctor Strange in the Multiverse of Madness, Marvel Studios will also be welcoming Ms Marvel, Thor: Love and Thunder, Black Panther: Wakanda Forever, The Guardians of the Galaxy Holiday Special, She-Hulk, What If…? Season 2, and Secret Invasion. Not to mention Morbius and Spider-Man: Across the Spider-Verse coming to us from the Sony side of the multiverse. That's 5 films and 6 Disney+ series for anyone who's counting! We are spoiled indeed.
Another Look At Doctor Strange 2
The first of the MCU films to be hitting the big screen is Doctor Strange in the Multiverse of Madness, and the hype train is currently barreling full steam ahead.
Now, courtesy of Empire Magazine, a new set of official stills has given us a new look at our main characters, as well as confirming a major plot point of the film!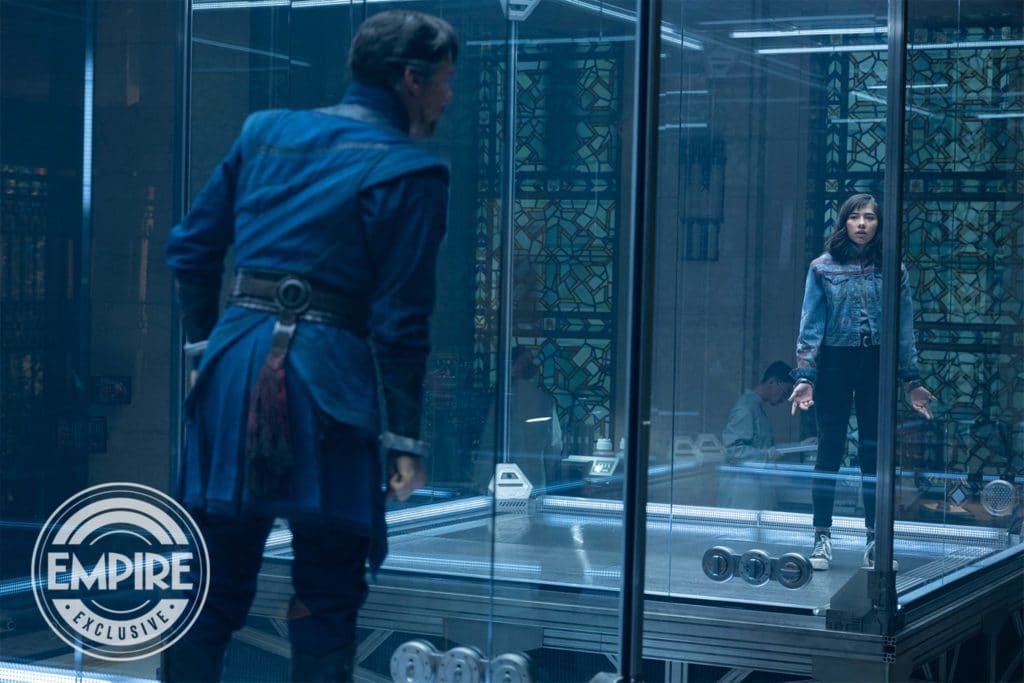 FIRST OFFICIAL CONFIRMATION OF THE ILLUMINATI
In addition to all of these images, Twitter user @cosmic_marvel has pointed out that the magazine features the first official confirmation of the appearance of the Illuminati in the film. While this is something that everyone knew was coming (and which we got a sneak peak of in the trailer), it would be the first time that Marvel Studios has officially come out and stated that the secret society would be appearing in this movie.
But now the question remains: who will the Illuminati consist of?
The Doctor Strange trailer that released during the Super Bowl gave us our first confirmation that Patrick Stewart would be returning as the mutant leader Professor X, and he seems to be a key member of this group. Based on the trailer, it also seems that variants of Baron Mordo (Chiwetel Ejiofor) and Christine Palmer (Rachel Mcadams) could also be members of the group. They seem to be present in the hall when Dr. Strange is brought before the council for judgement, so if they aren't full on members, then they seem to at least have some level of association with the secret society.
RELATED: VIDEO: HOW IRON LAD COULD JOIN THE MCU
Another character who has been heavily rumored to appear is Captain Peggy Carter (Hayley Atwell), reprising her role from the animated What If… series. Beyond that, there have been countless rumors about who else could be showing up, including a Tony Stark variant played by Tom Cruise, a variant of Mr. Fantastic played by Ioan Gruffund from the Fox films, a Maria Rambeau variant of Captain Marvel played by Lashana Lynch, a Black Panther played by Michael B. Jordan, and several others.
If even half of the rumors are true, Doctor Strange 2 will be an absolute bonkers wild ride!
Unfortunately, fans will have to wait at least a little while longer, as the film premiers in theaters on May 6, 2022.
OFFICIAL SYNOPSIS:
"In Marvel Studios' Doctor Strange in the Multiverse of Madness, the MCU unlocks the Multiverse and pushes its boundaries further than ever before. Journey into the unknown with Doctor Strange, who, with the help of mystical allies both old and new, traverses the mind-bending and dangerous alternate realities of the Multiverse to confront a mysterious new adversary."
Doctor Strange in the Multiverse of Madness releases in theaters May 6, 2022. What cameos are you expecting in Doctor Strange in the Multiverse of Madness? Let us know in the comment section below or over on Twitter!
KEEP READING: MOON KNIGHT DIRECTOR JUSTIN BENSON EXPLAINS THE IMPORTANCE OF MCU COMEDY IN NEW DISNEY+ SERIES
Source: Empire Magazine