Corey Graves opens up about being cleared to return to the ring and the timeframe behind his possible return.
Graves has been in the commentator role for the last fews years. Many new fans may not know he was a NXT wrestler before becoming a commentator and old fans may have forgotten.
RELATED: COREY GRAVES MEDICALLY CLEARED AND LOOKING TO WRESTLE AGAIN
In early 2014, after suffering concussions, he decided to hang up his wrestling boots. Despite proving to be a very competent commentator, Corey Graves wanted to see if he could return to the ring and get medically cleared.
Guess We Got To Play The Waiting Game
In January of this year the news got out that he had indeed been cleared for in-ring action. This has led the internet to wonder when he would make his return and if we should expect it soon.
Our very own Joseph Deckelmeier sat down with Corey Graves and Carmella and asked Graves about his desire to get cleared and how long he had that desire.
"Yeah, basically that's all it really is. There are no plans. I'm not going to spoil anything. I don't have any sort of immediate goals to accomplish," Graves said.  "It was just something that I've wanted to do and I've accomplished so much in this role as a commentator, which is a role I never in a million years expected to have in the first place. Now I'm like, 'okay, I feel like I've got the commentary thing down, now what else can I do?'

I'm constantly behind the scenes trying to learn the business side of the wrestling business. I always want to have irons in different fires, just because otherwise I feel like when I get complacent, I get bored.  I just keep thinking to myself, that is the one thing that I was right there, I was right at the peak and I fell down the mountain.

Now it's like, wait, I can get medically cleared, maybe get myself back into shape, which has been the hardest part, cause I really enjoy sitting ringside.

Yeah. But it's just always that, what-if? This is a what-if that I think I can potentially answer instead of having to wonder forever, what if? It may happen six months from now, it may happen next year, it may not happen at all, but I'm just trying to get myself physically and mentally into the best shape possible for whatever the world may have waiting for me."
RELATED: FORMER AEW STAR, CODY RHODES, TO MAKE TRIUMPHANT WWE RETURN/DEBUT ON TONIGHT'S NEW MONDAY NIGHT RAW?!
It doesn't look like WWE or Corey Graves have any plans for the immediate future as far as an in-ring return, but it could also be a misdirect.  Seth Rollins does have a mystery WrestleMania opponent.  Graves has also said that Rollins would be his dream opponent for WrestleMania.  It would make sense and fit in well to the program.  Rollins is waiting in the ring for his opponent and then Graves slides in the ring and jumps him.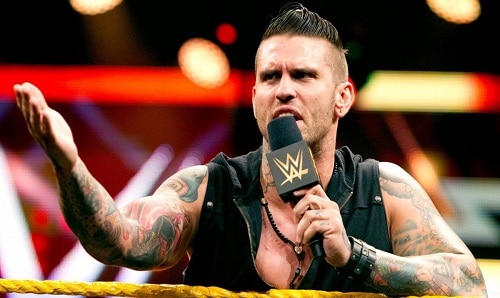 Cody Or Corey Graves? Pretty Sure Rollins' Opponent Will Start With A C
However, as cool as that would be, Rollins will face Cody Rhodes at WrestleMania.  It has been in the rumor mill for a while, and WWE set it up perfectly on this week's RAW, but it would be a pretty cool way for Graves to return to in-ring action.  WrestleMania is this Saturday and Sunday so we would not have to wait long to see if his big return is at WrestleMania.
I hope we do see Corey Graves return to the ring.  I didn't get to see him wrestle, and I would love to see what he's got.  I know he can talk and would make a very good manager, but I want to see him wrestle.  He wants to give wrestling one last shot and I want to see him get it and hopefully soon.  It would be such a good feel good story to see him return and win some gold.
Do you think WWE and Corey Graves do actually have plans for Graves' in-ring return?  Do you think Graves just may be Rollins' mystery opponent?  Leave a comment below and on social media to let us know how you would like to see Graves make his big in-ring return.
KEEP READING: TRIPLE H ANNOUNCES RETIREMENT