Orbital Bullet is one of the most addicting frustrations you will ever face.
Developed by SmokeStab and published by Assemble Entertainment, Orbital Bullet is an extremely fast paced rogue-lite shooter game that will have you running in circles due to the 360 degree platformer. As well as probably cursing because one of the taglines for this game is "Kill. Die. Modify." And that is the best way to sum up a player's experience.
RELATED: ITORAH IS A MESMERIZING MUST-HAVE GAME THAT TRANSPORTS FANS
This game is pretty simple in regards to plot. And that's because there really isn't one. The little story you get is at the beginning when you realize that you have become a cyborg and are now out for revenge. The rest of the game is you running around shooting, as you work your way to the top. Once a stage is completed, you are off to the next one. This is great for the players who hate sitting through long loading screens or cutscenes.
Orbital Bullet's Hidden Gems
While Orbital Bullet is roughly 90% shooting, there are some amazing elements that make this game shine. Starting off with the basics of any video game, is the design and soundtrack. This game is a must for people who love retro pixel graphics. As well as players who enjoy eye-catching neon visuals. These neon lights also really mixed well with the electronica soundtrack. Sometimes it can feel repetitive when running small platformer style games, especially in small circles. But the combination of both really set not only the mood, but tempo for the game. The soundtrack was composed by Juha Korpelainen & Niilo Takalainen.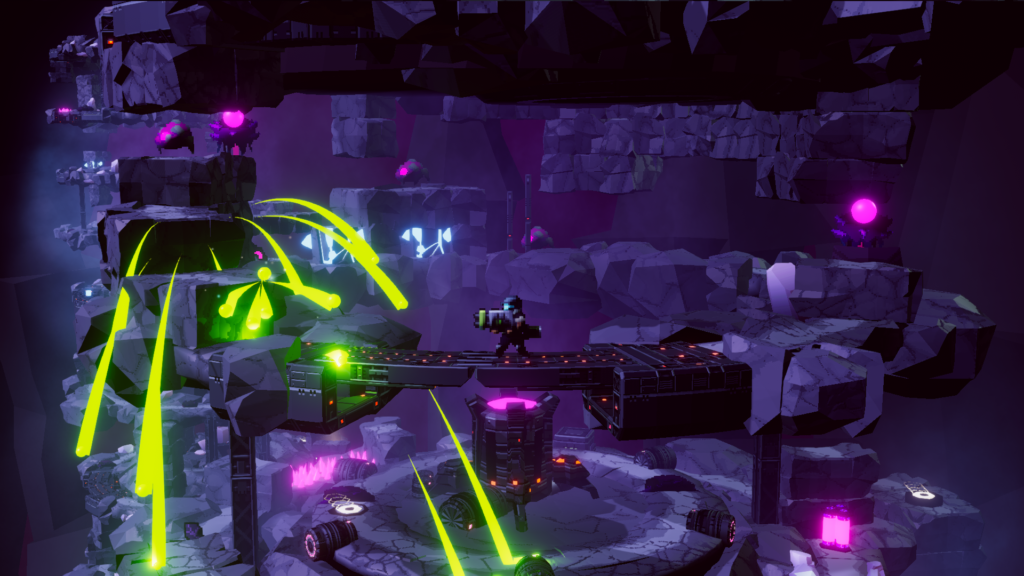 Another great thing about the design of Orbital Bullet really comes down to the seven planets players will have to make their way through. With each of these plants having a vastly different feel and design. Not to mention because the planets are procedurally generated, every run is completely different. This is so important, because there are no real saving points during the game. When you die, you will start over again and if you are like me, dying a lot can make the game get old quickly. That wasn't the case here due to the constant changes.
But it wasn't just the procedurally generated planets that kept the game interesting after death. There are a few different game mechanics that bring this shooter platformer up a few notches. These include the variety of weaponry, body modifications, crafting, and upgrades. While you are running through the levels, you will be able to open chests and shoot containers that will be able to help you. As well as making a quick stop between floors at the shop.
Now while you are at the shop, you have an option to check out the skill tree. You will be able to find these stations on different levels, but the shop is color coded on the map for easy finding. This Dynamic Skill tree is probably one of my favorite things about the game. Not only does each run give you different options, but players will also have the ability to choose the next row. Basically leaving Orbital Bullet players to build their own custom skill tree.
There is also another way to shape your skill tree. Players will unlock a special room off to the side after they die that allows them to customize their appearance, as well as choose a class. There are four classes; Mercenary, Hellion, Engineer, and Marauder.
You are not going to be able to out run death in this game. Not only is this game sometimes just difficult, the developers added a streak system. This will increase the difficulty of the game with each completed run. There is a certain feeling you will experience which is a mix of joy for barely escaping with the little life you had left and utter frustration to die within seconds of the next planet.
That feeling of defeat doesn't last long though. Due to Orbital Bullet's death-defying progression system. When you die, you are able to use Nanobytes to help unlock permanent upgrades and skills. Unlike the skill tree, shop upgrades, and weapons that vanish when you die, these upgrades stay for the whole game. That is why it's so important you use all your Nanobytes, even if you won't unlock one for that run. This is probably the biggest feature of Orbital Bullet that keeps players saying "Just one more run."
Because no matter how frustrating this game will get, there are so many ways to adapt and modify your playing experience. Merge that with the light show of visuals and energetic music, this game is almost impossible to turn off. Especially if you are a competitive gamer.
How far do you think you can make it before your first death? Do you have the patience to make it through all seven planets? Try Orbital Bullet now, available on Steam and GOG for $16.99.
KEEP READING: FIVE LEAGUES FROM THE BORDERLANDS ON PRE-SALE NOW