The Mandalorian Season 3 moves another step toward completion. Actor and Season 2 director Carl Weathers confirmed on Twitter recently that Season 3 of the smash-hit Disney+ series has completed principal photography.
Speaking on Season 3 wrapping production, Weathers tweeted, "…And what a season of WONDERFULNESS! #BePeace." You can check it out below:
THE MANDALORIAN SEASON 3 UPDATE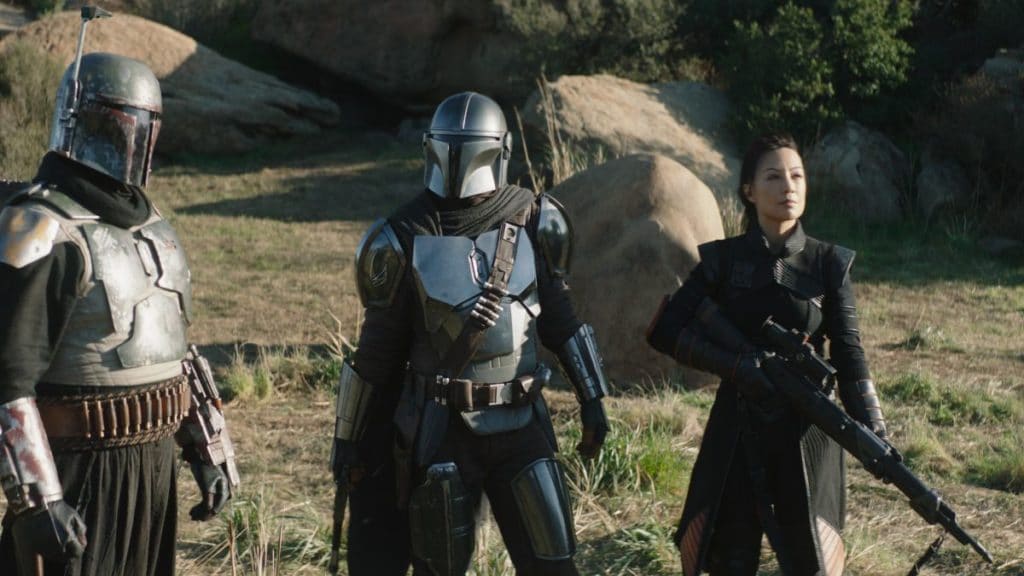 Previously, Carl Weathers had confirmed that he began work on the show last October. The wait for Season 3 has been a little longer with Disney+ airing The Book of Boba Fett miniseries in late 2021 and early 2022. However, The Book of Boba Fett did feature threads and characters being picked up from Season 2, with appearances by Mando, Din Djarin (Pedro Pascal), himself, Grogu, Paz Viszla (Jon Favreau), The Armorer (Emily Swallow), Ahsoka Tano (Rosario Dawson) and more.
RELATED: THE MANDALORIAN SEASON 3 OFFICIALLY STARTS PRODUCTION
Season 2 ended with The Mandalorian leaving his little pal, Grogu, in the care of Jedi Knight Luke Skywalker. However, after he began his Jedi training with Luke, Grogu ultimately opted to return to his friend Mando, and he was also gifted with a Beskar-mail shirt. So, while Mando was effectively excommunicated by his Mandalorian covert in The Book of Boba Fett, he was reunited with his trusted friend, and he also gained a new ride in the form of a modified Naboo Royal Space Fighter.
The Mandalorian Season 3 is expected to debut on Disney+ later this year. It does not yet have an official release date. While details on Season 3 are still thin, it was recently reported that actor Christopher Lloyd, of Back to the Future and Who Framed Roger Rabbit fame, recently joined the cast for the show for the third season. Lloyd's role is currently unknown, but his appearance is expected to be as a guest-starring character.
RELATED: THE MANDALORIAN IS COMING TO STAR WARS SQUADRONS
Besides Pedro Pascal as The Mandalorian, Din Djarin, and Carl Weathers as Greef Karga, other characters who will likely return for Season 3 include The Armorer, Paz Viszla, and Katee Sackhoff as Bo-Katan Kryze. However, Disney and Lucasfilm have not yet confirmed the casting details for The Mandalorian Season 3.
The hit series is executive produced by Jon Favreau, Dave Filoni, Kathleen Kennedy, and Colin Wilson. Karen Gilchrist and Carrie Beck serve as the show's co-executive producers. Jon Favreau is series showrunner. Season 2 featured episodes directed by Jon Favreau, Dave Filoni, Carl Weathers, Rick Famuyiwa, Peyton Reed, and Robert Rodriguez. Season 2 writers included Jon Favreau, Dave Filoni, and Rick Famuyiwa. Details on the writers and directors for Season 3 have not yet been announced.
Fans who still need more of a fix for The Mandalorian before the debut of Season 3 can check out the Emmy Award-winning digital soundtrack by Ludwig Göransson, courtesy of Disney Music. Hot Toys and Hasbro have also recently unveiled a number of collectibles and figures based on the show. Of course, there's also the backlog of episodes for Seasons 1 and 2 and The Book of Boba Fett on Disney+ for some rewatches or refreshes ahead of Season 3.
Also, while there isn't a release date yet for The Mandalorian Season 3, there's at least the knowledge that there is the Obi-Wan Kenobi miniseries debuting on Disney+ later next month. The show will launch with two episodes. So, there will be some new live-action Star Wars content debuting on Disney+ coming down the pike very soon. The show launches on the streaming service on May 27.
Are you looking forward to The Mandalorian Season 3? Does Grogu leaving the academy mean he's still alive after Episode IX? Will the Mandalorians take back Mandalore? Let us know what you in the comments section below or on our Twitter!
SOURCE: ComingSoon.net, Twitter
KEEP READING: LEAKED FOOTAGE OF THE MANDALORIAN GAME REVEALED