Netflix dropped the official trailer this week for the upcoming, CG-animated series Samurai Rabbit: The Usagi Chronicles ahead of the show's upcoming April launch.
The new show is set in a fantasy world with anthropomorphic animals, as Samurai Rabbit and his allies battle the forces of evil and bizarre yokai monsters to save the world. You can check out the new trailer release below:
SAMURAI RABBIT: THE USAGI CHRONICLES IS COMING TO NETFLIX
Based on Stan Sakai's Eisner Award-winning comic book series, Usagi Yojimbo, the series follows a teenage rabbit, Yuichi Usagi, a descendent of the great samurai warrior, Miyamoto Usagi, who dreams of fighting yokai and following in his ancestor's footsteps. Yuichi eventually joins with a team of ragtag misfits heroes: a rough bounty hunter; a cunning ninja; a nimble pickpocket; and Yuichi's faithful pet lizard Spot. Together, they go on an epic quest as they battle with various yokai and monsters from another dimension in Yuichi's quest to become Samurai Usagi.
RELATED: SAMURAI RABBIT: THE USAGI CHRONICLES: NETFLIX CIRCLING TAIKA WAITITI TO DIRECT NEW ANIMATED SERIES: EXCLUSIVE
The show features the voices talents of Darren Barnet as Yuichi Usagi & Spot, Mallory Low as Chizu (the cat), Shelby Rabara as Kitsune (the fox), Alex Le as Gen (the rhino), Keone Young as Tetsujin, and Sumalee Montano as Karasu-Tengu. The series is executive produced by Doug Langdale (The Book of Life, The Adventures of Puss in Boots, Dave the Barbarian), Candie Langdale (Maya and the Three, Scooby-Doo!), and Usagi Yojimbo creator Sakai. The animation production is being done by Gaumont Animation.
Samurai Rabbit: The Usagi Chronicles looks to be a fun, action-packed adventure show cut from a similar cloth as Kung Fu Panda: Legends of Awesomeness and the 2010's Teenage Mutant Ninja Turtles CG-animated series, both of which were big hits and success stories. Stan Sakai's Usagi Yojimbo character has made multiple guest appearances in multiple TMNT animated shows, but he's never had a starring role in his own series. That all changes with The Usagi Chronicles.
RELATED: DOCTOR STRANGE IN THE MULTIVERSE OF MADNESS OBLITERATES FANDANGO'S FIRST DAY 2022 SALES RECORD
However, one thing to note, is that this does not appear to be a direct adaptation of Sakai's comics. Rather, it appears the show is more heavily taking inspiration from Sakai's work and characters.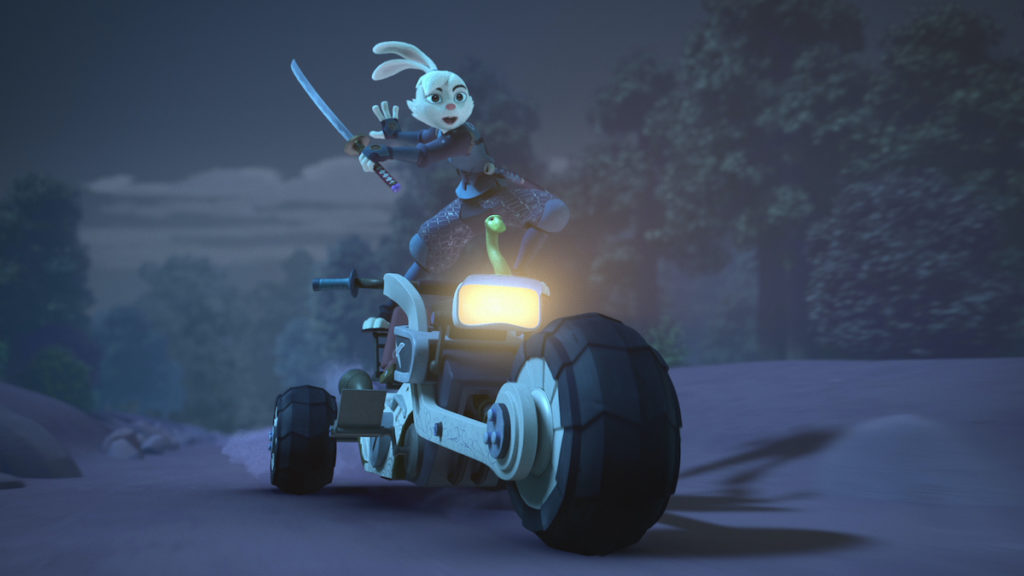 Stan Sakai revealed at last year's [email protected] panel for the show, as reported by ComicBook.com, that he was heavily involved in the creative process for the series, approving "everything" for the show, noting, "I approve everything and have input at every stage of the animation process, from the story to design to animatics, even to the choice of voice actors. It's something I'm very involved in. Gaumont, Netflix, and I have a great working relationship."
RELATED: WATCH THE CUPHEAD SHOW!'S ASTONISHING TEASER!
It very much appears that this will be a fun, exciting show, inspired by Sakai's classic comics, for kids and families alike. Samurai Rabbit: The Usagi Chronicles launches on Netflix on Apr. 28. All 10 episodes of the first season will be available to stream at launch.
But what did you think of the new Samurai Rabbit: The Usagi Chronicles trailer release? Is this a new CG-animated show you will want to check out? Let us know what you think of the trailer over on Twitter!
KEEP READING: AMERICAN MCGEE'S ALICE SERIES IN DEVELOPMENT FROM X2 WRITER DAVID HAYTER AND RADAR PICTURES
SOURCE: Netflix