Woke Season 2 geniusly exposes the trials and errors of putting on for your people.
A lot of people want to change the world (for the better). Few people have the ability to do so, and fewer people are in a position to do so. But intentions, position, and opportunity do not automatically equal change. And not all change is good, and not all good change is just good change. The world is built on an intricate number of systems that aren't all black and white. Woke Season 2 understands that and showcases the messy process of people trying to better the world in a hilarious but genuinely poignant way.
More Woke
Woke had a powerful first season, with Keef Knight (LaMorne Morris) on the precipice of being a renowned syndicated cartoonist only to have his life's direction completely changed when he was unjustly targeted and brutalized by the police. It was at that moment that Keef Knight got woke. The rest of the season followed Keef as he struggled to process his life and situation and eventually find a new direction to take his life.
RELATED: The Legendary Lumpia Squad: Filipino American Comic Book Kickstarter Launched
Season 2 of Woke, has a bit of time skip that incorporates the quarantine. Certain characters like Adrienne (Rose McIver) aren't back but are logically explained away. For example, Adrienne moved back to Australia because of the Rona. It works by not forcing a focus but also leaving it open at the same time. With some characters leaving new ones are added. Aimee Garcia, Isiah Whitlock Jr., and Miguel Pinzon join the series for multiple episodes in Season 2 and really show the range and spectrum of the different people and levels of the people.
A light overview of Woke Season 2, Keef's righteous comics have more or less set him up to where he was at the beginning of the first season. But now, he is also an activist and becoming a bigger part of events. As his popularity grows, so do the challenges, and the more things change the more Keef has to struggle to remember who he is.
This newfound success and popularity also influence those closest to him, Clovis (T. Murph), Gunther (Blake Anderson), and Ayana (Sasheer Zamata), who are there for him but also have their own things going on. Season 2 follows everyone through their struggle to handle themselves, each other, and the crazy world we all live in.
Season 2 Gives Everyone A Chance to Shine
"Free At Last" – Episode 202 — Armed with a new online following, Keef's public response to a tone deaf ad leads to an interesting corporate proposition. Clovis tries something new. Clovis (T. Murph), Keef Knight (Lamorne Morris), Ayana (Sasheer Zamata) and Gunther (Blake Anderson), shown. (Photo by: Mark Hill/Hulu)

"Sole Train" – Episode 204 — When Keef's new initiative launch doesn't go according to plan, he enlists Ayana's help. A shocking revelation leads Gunther to search for answers on how to be an ally. Keef Knight (Lamorne Morris), shown. (Photo by: Mark Hill/Hulu)

"Kill Keef Knight" – Episode 208 — The gang sets out to kill Keef Knight. Ayana (Sasheer Zamata), shown. (Photo by: Hulu)

"Free At Last" – Episode 202 — Armed with a new online following, Keef's public response to a tone deaf ad leads to an interesting corporate proposition. Clovis tries something new. Gunther (Blake Anderson), shown. (Photo by: Mark Hill/Hulu)

"Black Exceptionalism" – Episode 206 — Off the heels of the Who's Your Kin debacle, Keef attempts to clean up the mess by hiring a publicist and embarking on an audacious plan. Clovis (T. Murph) and Hype (Marquita Goings), shown. (Photo by: Mark Hill/Hulu)
As much as I enjoyed Season 1, the primary focus was just on Keef. Which isn't a bad thing, and very necessary for the story. But I enjoyed Season 2 a bit more because everyone got their time to shine. Keef is still the main focus, and he does go through the most. The series beautifully shows how bad things can go even when you mean well. How power and influence can corrupt but also be used. Lamorne Morris masterfully takes the audience with him as he tries to do right and do good. But the world, life, people, and himself are messy. What Morris does best is never lose the earnest, even when Keef loses himself a bit.
RELATED: Barry Season 3 Returns To HBO Max April 23
Ayana has a great season, where she STRUGGLES. Having a physical newspaper is hard enough, but with a pandemic, she lost her workforce and is forced to sacrifice to keep it going. As a struggling journalist who can understand, her story in particular was really relatable. Zamata brings incredible power and presence to Ayana. Even when she is struggling and at a loss, she still seems like she's in complete control over everything. She takes a trip this season that really lets her perform a multitude of emotions and situations that is best put as award-worthy television. Don't want to give too much away but it's damn good TV.
Gunther's journey throughout the season is spectacular. I know white people often have a lot to take in when it comes to minority culture, issues, but especially our struggle. But it also doesn't have to be a big deal. Andersen's portrayal of Gunther's journey hits all the notes. It gets really deep without it being forced, without him being blamed, or even part of the cause or backlash. It allows him to realize his part in this whole crazy system we all live in. His problems are as real and valid as everyone else's and also put to scale and perspective. Which I feel is a real problem a lot of people on all sides have trouble understanding.
Everyone on the show is amazing, but T. Murph is my hero. He won quarantine. He was quaran-training the whole time and it shows. And Woke makes an absolute meal out of his new snack-like physique. Murph's Clovis goes through a lot of personal development which is very opposite of his first season story. He also has to deal with his father and the issues from being raised by him, It was great seeing Keef need to be there for Clovis for emotional support and the understanding of all the other characters. But the bit of Clovis wearing a shirt with a picture of his pre-Rona bod and him naming his abs is why he's my favorite character.
Getting Woke Isn't a One and Done Kind of Thing
Where Season 2 truly shines is that it isn't just Black and white. This could be said about the characters, the issues, the story, it takes on many forms physically and symbolically. There is no one way to do things, there is no one perspective that is right, and there isn't just one thing. Keef got wok Season 1 when he thought he couldn't be a victim of police brutality. He got woke again when he learned that money, power, and influence can corrupt even the purest intentions.
RELATED: The Boys Presents: Diabolical Supervising Director Imagines Awkwafina's Areola Smells Like Baby Powder And Gives Season 2 Update: Exclusive
Clovis got woke to throuples, Ayana got woke to her audience, Gunther got woke to the washcloth. I really hope I'm using woke right. But what I'm saying is, all the characters grow, learn, and evolve. Sometimes for the better, sometimes worse, it's messy, but damn it if it's not one of the most real representations of people. People who want to do good and do right, but are also tired and burnt out. Sometimes it's just about getting by, other times it is for the people. Woke isn't a monolith of any one perspective or culture and addresses the nuance in everything.
For being a show that keeps it real, makes you laugh, and genuinely think about yourself, others, and the world, Woke Season 2 gets a 5/5.
Woke Season 1 and Season 2 are now streaming on Hulu and definitely a perfect weekend binge.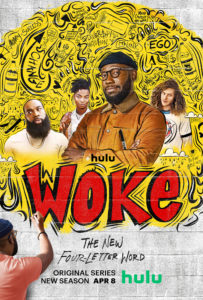 About Woke
Created by: Keith Knight; Marshall Todd
Production Companies: Cloud Nine Productions; Olive Bridge Entertainment; ABC Studios; Sony Pictures Television
Genre: Comedy
Original network: Hulu
Cast: Keef (Lamorne Morris), Gunther (Blake Anderson), Ayana (Sasheer Zamata) and Clovis (T. Murph), shown
Synopsis
Cartoonist Keef Knight is now a popular activist on the rise, but he's facing a world where "woke" has become big business. Can Keef and his friends bring about real change, or is it just about the dollar$? And can Keef navigate this new world without destroying what he's become? Inspired by the life and work of artist Keith Knight, Woke continues to upend Black nerd and activist culture, deftly satirizing with a wink and a smile. (Courtesy of Hulu)
Have you watched Woke? When did you get woke? What would you name your abs? Let us know in the comments below and let us know when you start your binge on Twitter.
KEEP READING: LEGO Star Wars: The Skywalker Saga Review [XBOX] – The Ultimate Comfort Game