We scored an exclusive interview with the cast and creators of Woke at WonderCon 2022, and they share when and what got them woke.
Woke Season 2 is currently streaming on Hulu. The series was created by cartoonist and activist Keith Knight and Marshall Todd. The series follows Keef Knight (Lamorne Morris) who is an African-American cartoonist on the verge of mainstream success when an unexpected incident changes his life. Season 2 follows up after he processes the events of Season 1 and pursues his new life direction. But like in the first season, Keef comes to realize he was really unaware of all the problems and issues there are even when you intend to do right.
When Did You Get Woke?
The show is great and is an unexpectedly light-hearted watch despite the heavy and painfully real issues it covers. A feat achieved, I believe, because everyone involved with the series got woke. Because of their deep understanding of the issues, the systems, and people had to come from a deeply personal understanding. The story and the characters, though played for comedy a lot of times, come off as genuine. So I asked the cast and creatives of Woke…
The Illuminerdi: What was your woke moment?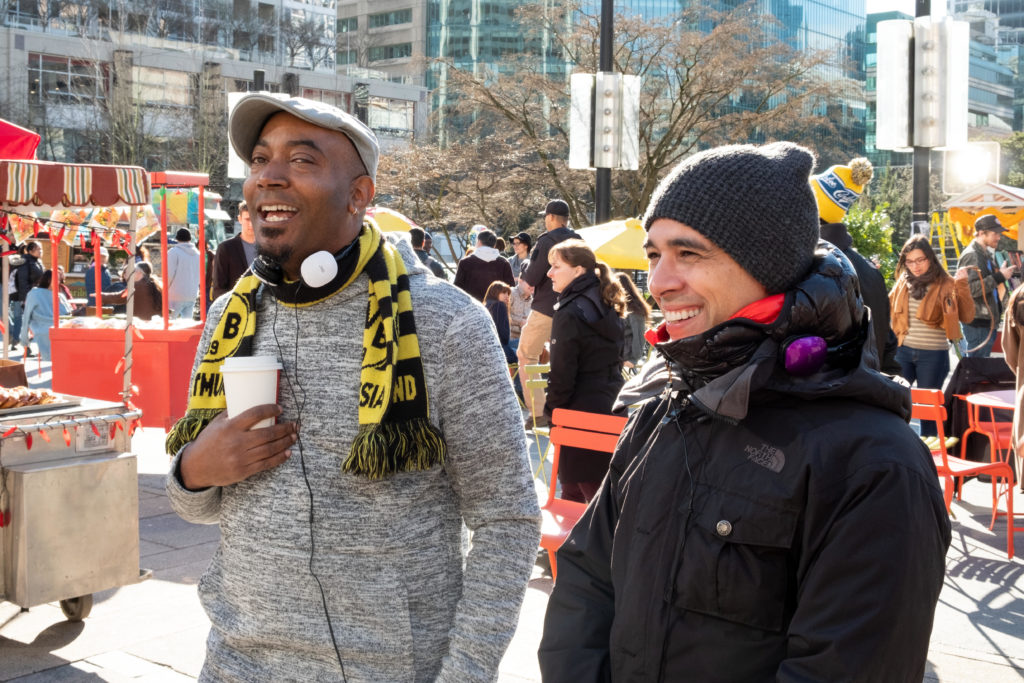 Keith Knight: "I would say one of my woke moments was when I was a junior in college. I had a teacher – and it was my first black teacher ever. He was an American Literature teacher and he gave us for assignments to read: Ralph Ellison, Richard Wright, Maya Angelou, James Baldwin.

And when someone said, 'Why are you giving us all Black writers?'

He said, 'I'm giving you all American writers.'

That was the moment where my comics went from being about keg parties to being about something more."

Keith Knight, Woke Creator & Executive Producer
RELATED: Woke Season 2 Review – Doing Right and Doing Good is Messy AF
Lamorne Morris: "When McDonald's stopped serving ice cream at 10 o'clock… DAMN! We got to do something about this! *Everyone Laughs*

No. I used to perform at Second City in Chicago. Sometimes I wore a suit. Then I would park someplace and walk [to the theater]. At the time I was dating a Jewish girl, and my best friend was a Black dude. [We were] walking back to my car, and the police stopped us while walking. As we were walking toward the car they stopped us before we could get to the car and accuse me of stealing the car. And I'm wearing a suit. They put my girlfriend to the side because she's screaming and yelling. It's a whole thing. They moved her to the side and asked her, if this was my car.

I was like, 'I just told you it was my car. These are my keys!'

It was a whole situation. And my boy was chilling. My boy was just like this, 'That's how it is.'

And he's in cuffs, like down, but he's just like, 'Just chill. G, just chill.'

And I'm so confused. I was like, 'How are you…? If you just saw the audience I just performed in front of.'

Second City is notoriously white.

I was like, 'Man, I can't believe this. This is one of the weirdest moments of my life.'

So, that was an eye-opener for me…

You're still Black!…

Lamorne Morris, Keef Knight in Woke
T. Murph: "For me, I think I've had run-ins with the police in my younger teenage years. Adult years. All that"

Lamorne Morris: "That's because you're a criminal." Lamorne Morris

T. Murph: "No, no, no! Absolutely… correct! No, but for me, I think the one, the straw that broke the camel's back was what happened to Trayvon Martin. Just seeing that happen to a child. Also Tamir Rice. And nothing was done. Then to watch somebody like George Zimmerman go on to become a cult favorite. Be invited to conventions and sell a gun that killed a kid for millions of dollars. This is insane!

Then you have people who are like, 'All you guys talk about is race!'

Then it's like, 'Are you not paying attention to what's happening? Or are you pretending to be blind?'

So that was definitely my eye-opener."

T. Murph – Clovis in Woke
Everyone had an incredibly profound and personal answer. It didn't matter age or race, everyone got woke to the world at some point or another. Though the experiences vary greatly, everyone was on the same page and I believe it is why the series is so relatable and apt. Also why it can approach the issues without being preachy or biased. I'm sure watching everyone share their experiences is more impactful so watch the interview below. Like the show, it's surprisingly light-hearted and fun for hitting such serious topics.
Woke Season 2 Exclusive Interview at WonderCon 2022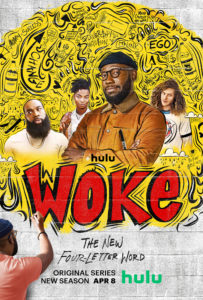 ABOUT WOKE
Created by: Keith Knight; Marshall Todd
Production Companies: Cloud Nine Productions; Olive Bridge Entertainment; ABC Studios; Sony Pictures Television
Genre: Comedy
Original network: Hulu
Cast: Keef (Lamorne Morris), Gunther (Blake Anderson), Ayana (Sasheer Zamata) and Clovis (T. Murph), shown
Synopsis
Cartoonist Keef Knight is now a popular activist on the rise, but he's facing a world where "woke" has become big business. Can Keef and his friends bring about real change, or is it just about the dollar$? And can Keef navigate this new world without destroying what he's become? Inspired by the life and work of artist Keith Knight, Woke continues to upend Black nerd and activist culture, deftly satirizing with a wink and a smile. (Courtesy of Hulu)
When did you get woke? What was your reaction when you realized you didn't immediately think of that list as American authors? Do you need a link to start watching Woke? Let us know in the comments below and let us know when you start your binge on Twitter.
KEEP READING: How I Met Your Father Review: Charming, Hilarious, Apt, and Almost Legendary