Attack On Titan voice actor Bryce Papenbrook shares his thoughts if there are parallels between the series and World War II. 
Attack On Titan is a series that focuses on mature themes such as power, corruption, and war. The series as a suspenseful survival story of teenagers having to fight cannibalistic giants called Titans. The series then spiraled into a much more complex plot with additional themes of predestination, determinism, nationalism, racism, and much more. It is easy to draw comparisons to World War II through these threads. Part 1 and Part 2 of the Attack on Titan: Final Season focus on a gruesome war between the Marleyans and the Eldians of Paradis Island. 
Attack on TItan's Brutal War Between The Marleyans and Eldians
First is the comparison of the Marleyans to Nazis. Both were extreme nationalists. They both believed that they were the greatest of all nations. The Marleyans interned people of other ethnicities into camps (in the case of Nazis, concentration camps). Also, Marleyan descendants of different races were considered impure to non-Marleyans. The Marleyan's primary goal is to dominate the whole world by using the power of Titans. They were also the ones that sent the Colossal, Female, Jaw, and Armored Titans to infiltrate Paradis Island at the beginning of the series.
RELATED: Woke Exclusive: The Cast and Creatives Reveal When They Got Woke at WonderCon 2022
The Eldians could be compared to the Jewish. In the series, Marleyans oppressed the Eldians. Additionally, Eldians living or born in Marley were brainwashed into believing that they were lesser due to their cursed Eldian blood. Marleyan Eldians were also forced to wear clothing that signified their ethnicity. Sadly they were also called "Devils" due to their Titan gene. Eldians can turn into Titans in the series if given a special serum because of their blood. The series' main character, Eren Yaeger, is an Eldian whose goal is to eliminate anyone who is against Eldians. Thus causing him and his allies to revenge attack, Marley.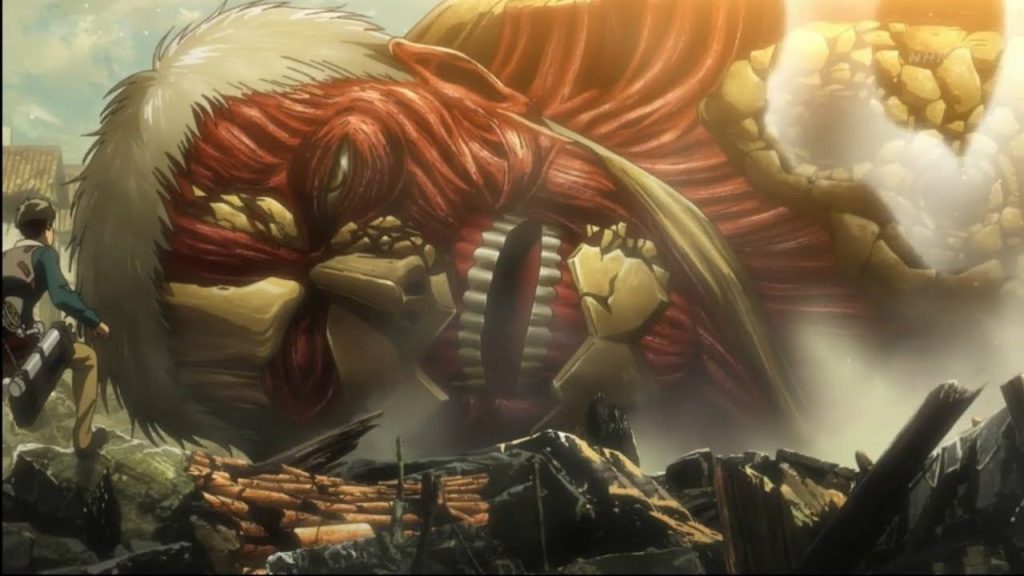 We at the Illuminerdi had the chance to speak to Attack on Titan's English voice of Eren Yaeger, Bryce Papenbrook, at Wondercon 2022. Bryce is also known for voicing notable anime characters such as Kirito (Sword Art Online), Rin Okumura (Blue Exorcist), Masaomi Kida (Durarara!!) Inosuke Hashibira (Demon Slayer: Kimetsu no Yaiba) Red (Pokemon: Origins), and many more. We asked Bryce his thoughts on the show's potential parallels with World War II. Additionally, we asked Bryce what advice he would give to someone who can use the rumbling and why they should not use it if desperate.
Attack On Titan's Bryce Papenbrook Shares His Thoughts On The Show's Potential Parallels To World War II
The Illuminerdi: What are your thoughts on Attack On Titan being parallel with World War II?
RELATED: The Bob's Burgers Movie Creator Explains The Benefits Of New Movie Being 2D: Exclusive
Bryce Papenbrook: I don't know, it's hard to place sides or place people. I see those war themes running through, but again I am not sure if it can parallel that exactly. Maybe there are some similarities, but I am just not sure. But anytime you are dealing with things like War, it just pulls out emotions. It pulls out this strange gray area and these really unique themes. So being part a show that does that is exciting.

Bryce Papenbrook | Wondercon 2022
Bryce Papenbrook Gives His Own Advice To Someone With The Power Of "The Rumbling"
The Illuminerdi: Let's say someone has the power of "The Rumbling" and who is desperate to use it. What advice would you tell that person he or she not to use it?
Bryce Papenbrook: Wow! Yeah, I have to talk them out of using the rumbling" I mean that's a really tough thing to do, because for someone to warrant that to really find a reason to utilize that kind of power it has to be something so terribly wrong. Wow yeah, I would just remind them of the good in people everywhere. What Attack On Titan shows you but dosen't show the characters.

This is what's so sad is that everyone has the reasons for making these actions. Everyone is taking these terrible decisions and putting them into action because of things that have happened to them. Other people have kind of set into motion. So I would remind them of the good in people everywhere.

Who is the bad guy? That's the thing you don't know. So I would kind of beg them to look out and see. Try to learn about that good. But for someone to utilize something like the rumbling, there's got to be some deep meaning to it. I think for Eren, we are still discovering all of that's coming to the front of the show. I can't wait to find out what happens.

Bryce Papenbrook | Wondercon 2022
Attack On Titan is a series that shows the complexity of human nature. But that is what makes the series unique is its complexity. It's fascinating to see the series start as a show involving young soldiers trying to save humanity from cannibalistic giants to fighting an enemy nation hell-bent on power. Hearing Bryce's thoughts on the show's parallels to World War II was fascinating. The show is filled with themes of war, and sometimes the majority of the character's motives are not with it seem, especially Eren. But Bryce's advice to someone with the rumbling is what fascinated me the most. Yes, there are cruel people in the world, but there are also good ones.
Do you see the parallel's between Attack on Titan has with World War II? What are your own thoughts or opinions on Eren using "The Rumbling"? Are you excited for Part 3 of the final season? Let us know what you think in the comments below, or let us know on Twitter.
KEEP READING: The Boys Presents: Diabolical Supervising Director Imagines Awkwafina's Areola Smells Like Baby Powder And Gives Season 2 Update: Exclusive