Nine years after their iconic series Breaking Bad ended, Bryan Cranston and Aaron Paul are coming back into the fold to guest star as Walter White and Jesse Pinkman in the final season of prequel series Better Call Saul. 
The prequel series, which sees Bob Odedkirk portraying idealistic lawyer Jimmy McGill as he rises to become the all-powerful Saul Goodman, has had an impressive run on AMC now for the past 5 years. But having Walt and Jesse enter the proceedings, even if it's only for an episode or two, could set longtime fans ablaze with joy.
RELATED: POWER RANGERS 30TH ANNIVERSARY SEASON: DAVID YOST SET TO RETURN
When questioned about the direction of Better Call Saul, series co-creator Peter Gould told Variety:
"I don't want to spoil things for the audience, but I will say the first question we had when we started the show was, 'Are we gonna see Walt and Jesse on the show?' Instead of evading, I'll just say yeah…  How, or the circumstances or anything, you'll just have to discover that for yourself. But I have to say that's one of many things that I think you'll discover this season."
Better Call Saul Calls Walter White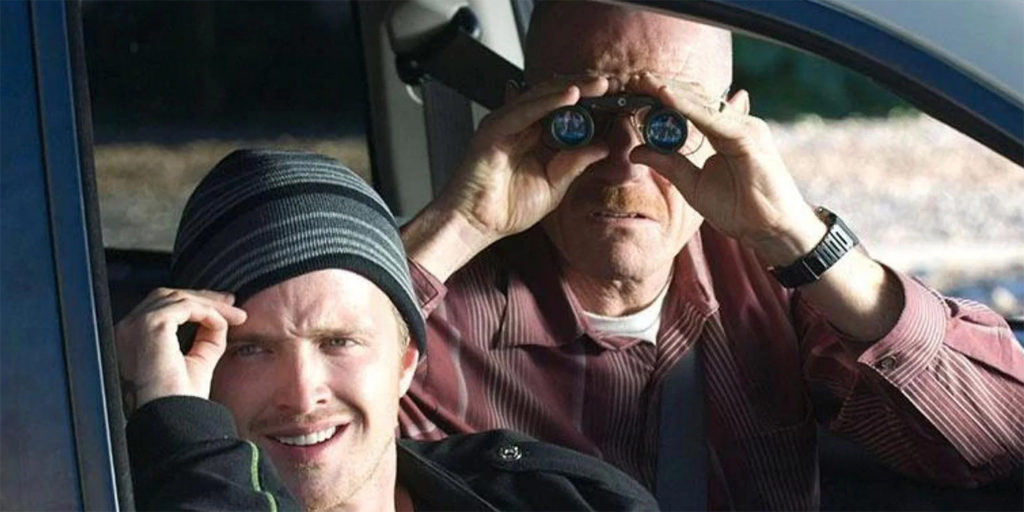 This is huge news for anyone who's followed this universe since its inception all the way back in 2008. From its attention-grabbing opening sequence in the pilot to its tragic yet fitting close in the finale, Breaking Bad gripped audiences and critics the world over with its signature blend of intense, character-driven crime drama, mature storytelling, and moments of pitch-black comedy that made it one of the most beloved shows ever to air on television. Bryan Cranston completely reinvented his public perception in the role of Walter White, transforming from an everyman doing the wrong things for understandable reasons into a power-mad drug kingpin whose entire world shattered around him before our very eyes.
Following Bad's finale in 2013, a prequel series focusing on beloved comedic relief character Saul Goodman was announced.  Like its predecessor, Saul has received acclaim on all sides and maintained solid ratings even in the era of streaming.  We've seen Jimmy McGill lose loved ones, gain uneasy allies, and slowly but surely become the man we first met in Breaking Bad, all of which is set to culminate with this final season starting its run next Monday. 
RELATED: FANTASTIC BEASTS: THE SECRETS OF DUMBLEDORE'S FINAL TRAILER AHEAD OF 4/15 RELEASE
The synopsis for the final season of Better Call Saul reads as follows:
The final season concludes the complicated journey and transformation of its compromised hero, Jimmy McGill, into criminal lawyer Saul Goodman,…..  "From the cartel to the courthouse, from Albuquerque to Omaha, season six tracks Jimmy, Saul, and Gene as well as Jimmy's complex relationship with Kim, who is in the midst of her own existential crisis. Meanwhile, Mike, Gus, Nacho and Lalo are locked into a game of cat and mouse with mortal stakes.
I've seen Breaking Bad twice through at this point in my life, and both times it hit me like a near-perfect, thoroughly entertaining tragedy.  I have no doubt that Better Call Saul end with just as big of a bang as Breaking Bad did all those years ago.  Oh yeah, and in case you missed it, I also recommend the El Camino movie that serves as a closer to Jesse Pinkman's story that's currently on Netflix along with Breaking Bad and the first 5 seasons of Better Call Saul.
Are you excited to see Walt and Jesse return in Better Call Saul?  Have you seen the Breaking Bad shows since the beginning?  Who's your favorite character in the Breaking Bad universe?  How do you think Better Call Saul will end?  Will Rhea Seehorn finally get an Emmy for her work as Kim Wexler?  Let us know in the comments below and on our Twitter.