Back 4 Blood the mind-blowing first-person co-op "zombie" shooter game has just released the Tunnels of Terror DLC!
Warner Bros. Games and Turtle Rock Studios have released the first DLC / Expansion to Back 4 Blood! Expansion 1: Tunnels of Terror is the first major DLC for the co-op zombie shooter which brings new Cleaners and Players VS. Event (PvE) activity. The expansion DLC also includes new legendary weapons, skins, weapon skins, cards, and then some. All players will also get the No Hope difficulty added to the game for free in the next update. Get a glimpse of it in the trailer below.
Back 4 Blood Expansion 1: Tunnels of Terror Launch Trailer
The Tunnels of Terror expansion seems to explore the aspect of the final mission where you go underground to finish off the giant Ridden that I forgot the name of. In search for new equipment, the cleaners are taking to the tunnels below for now equipment. But with new areas, new equipment, also comes new ridden. In the tunnels, players will encounter the Urchin, Shredder, and Ripper, each with their own unique ability. Urchins set landmines, Rippers deal massive damage and Shredders… which from what I can tell from the trailer have crazy reach and AOE attacks. It looks horrifyingly fun to take these beasts on.
RELATED: LEGO Star Wars: The Skywalker Saga Review [XBOX] – The Ultimate Comfort Game
However, with new enemies come new allies and Sharice and Heng are being added to the roster of Cleaners. Sharice is a former firefighter who used to save people from burning buildings, now she just wants to burn it all to the ground. Sharice receives an Armor Plates Buff plus grants added team health and has resistance to trauma. She is joined by Heng, an elder former restaurant owner whose best friend is still his chef's knife. Heng is able to sense nearby hive entrances and gear through walls, as well as re-use team accessories. And if you don't want to read, you can see it all in the gallery below.
The Back 4 Blood Expansion 1 – Tunnel of Terrors DLC adds 2 new Cleaners, 3 new Ridden, 7 new weapons, and 7 ridden hives in addition to the gear and cards. It is sure to add hours of gameplay and numerous options for you and your friends to work together or blame each other for the failure. It is also available now!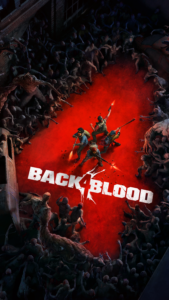 About Back 4 Blood
Initial release date: October 8, 2021, Expansion 1 – Tunnel of Terrors Apil 12, 2022
Developer: Turtle Rock Studios
Composer: Martin Stig Andersen
Engine: Unreal Engine 4
Publisher: Warner Bros. Interactive Entertainment
Mode: Multiplayer video game
Platforms: PlayStation 4, Xbox One, PlayStation 5, Xbox Series X and Series S, Microsoft Windows

Back 4 Blood is a first-person co-op zombie shooter from critically acclaimed developer, Turtle Rock Studios, available now for Xbox Series X|S, Xbox One consoles, PlayStation 5, PlayStation 4 and PC. Back 4 Blood – Expansion 1: Tunnels of Terror will be available on April 12 as part of the Back 4 Blood: Ultimate Edition, Back 4 Blood: Deluxe Edition, Back 4 Blood Annual Pass, or via standalone purchase.

The Back 4 Blood story takes place after a catastrophic outbreak where most of humanity has either been killed or infected by the parasitic Devil Worm. Hardened by unspeakable events and emboldened to fight for the last of humanity, a group of apocalypse veterans called the Cleaners have rallied to take on the infected horrors known as the Ridden and reclaim the world.
Are you hyped for the Tunnels of Terror? Will you play as Sharice or Heng first? What is your usual loadout? Let us know in the comments below and be sure to share your reactions to the new DLC with us on Twitter.
Source: WB Games
KEEP READING: Halo Infinite Season 2 – Lone Wolves to Releases on May 3