With Doctor Strange In the Multiverse of Madness a few short weeks away, Marvel is doing all it can to prevent spoilers from spreading early.
While the most recent trailer hinted that a long-standing Marvel character not previously seen in the MCU would make their way over to it with this film (and no, I'm not saying who it is for those of you who have avoided spoilers like the plague), the film is still shrouded in relative secrecy as far as its plot is concerned. It's certainly understandable as some of No Way Home's biggest plot points were trending online days and weeks before the film was released, so I'm guessing Kevin Feige and everyone else at Marvel doesn't want a repeat of that.
Marvel's Doctor Strange in the Multiverse of Madness Release Strategy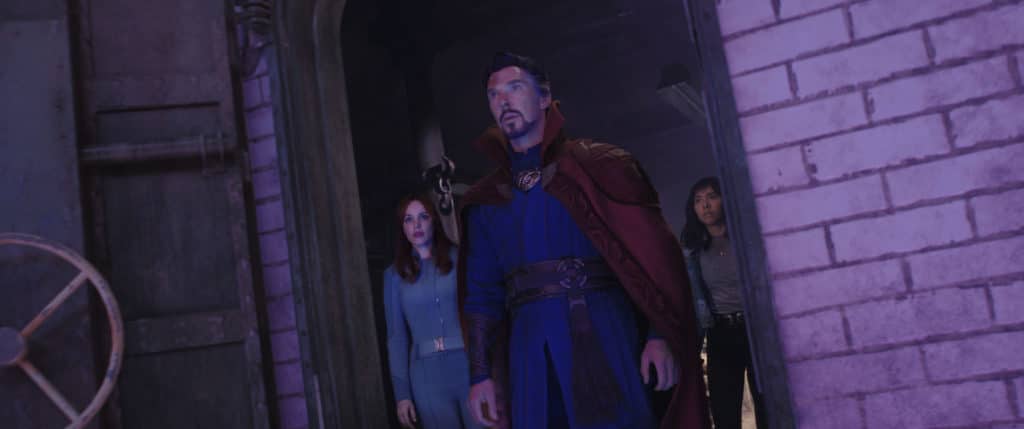 According to Collider editor-in-chief Steven Weintraub, the social media review embargo will be lifted on May 2, the day after Madness' premiere, while the full review embargo will remain in place until May 3. He stated:
"The first time anyone will see movie is Monday night May 2nd which is world premiere. The social embargo lifts after screening. The review embargo lifts Tuesday, May 3rd at 6:00am PT. this is due to spoilers…"
Given that the past few Marvel releases have been privy to news outlets and fans searching out secrets early and spilling them well in advance, it's not surprising that they're taking more precautions for Doctor Strange In The Multiverse of Madness. The post-credits scene in Eternals (which I again won't spoil in case anyone hasn't seen that one yet) was revealed before the film's release, and of course, anyone who desired to see Spider-Man: No Way Home spoiler-free would have had to deactivate their social media pages and choose to live under a rock for the full year leading up to its release. 
RELATED: SAM RAIMI ON MARVEL'S "MANDATE" TO ADD HORROR ELEMENTS IN DOCTOR STRANGE 2
It's in stark contrast to Avengers: Endgame back in 2019, where the hype was so strong that anyone who dared attempt to spoil it was digitally cast out and the hashtag #DontSpoilTheEndGame went viral for some time after. Even Venom: Let There Be Carnage from 2021 had a banner going around the web with Venom asking people not to spoil that, and it wasn't even part of the MCU. 
The Marvel movies that do go off book and contain shocking surprises have often been touted as the stronger entries in the franchise (think Captain America: Civil War, Spider-Man: Homecoming and No Way Home, Thor: Ragnarok, and even the ever-controversial Iron Man 3), so if Marvel is keeping things this close to the chest for Doctor Strange In the Multiverse of Madness, they must have something special planned for us.
RELATED: THOR: LOVE AND THUNDER MARVEL LEGENDS REVEAL FIRST LOOK AT CHRISTIAN BALE AS GORR THE GOD BUTCHER
Doctor Strange In the Multiverse of Madness will also be the first MCU film following Spider-Man: No Way Home, which featured Benedict Cumberbatch's Doctor Strange and Benedict Wong's Wong in supporting roles, so my best guess is that Strange's actions in No Way Home are going to be the catalyst for the events in Madness. 
Plus, with Sam Raimi directing, we'll likely get plenty of bizarre and crazy visuals along the journey (something we got a good helping of in Scott Derrickson's Doctor Strange back in 2017). Add in that this film is said to have horror elements at play (a first for the big screen MCU) and we're potentially looking at a film that could be a benchmark not only for that series, but for comic book films in general. Here's hoping the Doctor has some mystical cinematic magic under his sleeve.
What are your thoughts on Marvel barring reviews of Doctor Strange in the Multiverse of Madness until release? Are you excited to see the film when it comes out? Have you read Doctor Strange comics? What was the first MCU film you saw in theaters? Let us know in the comments below and on our Twitter.
KEEP READING: BRAND NEW DOCTOR STRANGE IN THE MULTIVERSE OF MADNESS CHARACTER POSTERS FEATURING STRANGE, BARON MORDO, WONG AND MORE
Source: The Direct