GKIDS, the acclaimed producer and distributor of multiple Academy Award nominated animated features, announced it has acquired the North American distribution rights for Summer Ghost, the debut "short feature" from acclaimed Japanese illustrator Loundraw.
Developed from a single illustration from loundraw, Summer Ghost features original character designs from the artist, and is produced by Flat Studio the all-new animation studio he established in 2019.
RELATED: GKIDS TO RELEASE "FORTUNE FAVORS LADY NIKUKO" IN SELECT THEATERS NATIONWIDE JUNE 2022
Joining him on the project are novelist Hirotaka "Otsuichi" Adachi who wrote the screenplay, and internationally renowned pianist Akira Kosemura for the soundtrack.
Celebrate The Summer Months With Summer Ghost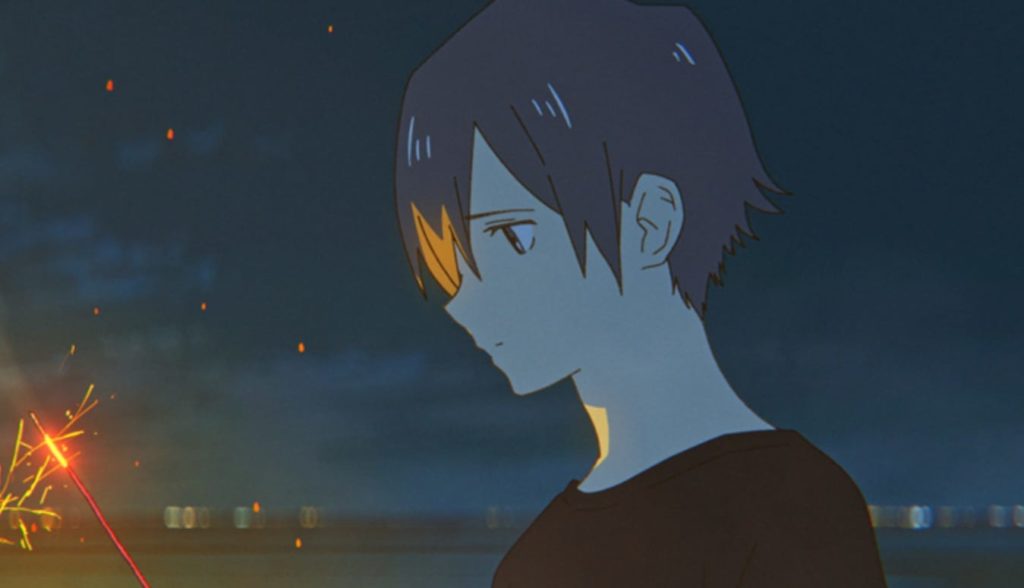 Celebrated for his detailed spatial designs, use of transparent, airy colors and attention to depth of field, loundraw began his career as an illustrator when he was a teenager, finding early success on online platforms. He also created key visuals for various notable writers, including and illustration for the novel "I Want to Eat Your Pancreas," which was later adapted to a theatrical film.
Outside of his work in illustration, loundraw's debut original animation "Until Dreams Awaken" was released on YouTube in collaboration with the wildly popular Japanese rock band BUMP OF CHICKEN, and swiftly hit over 2 million views, and he was concept designer for the recent anime adaptation of Josee, the Tiger and the Fish.
Summer Ghost opened in November 2021 in Japanese cinemas. GKIDS will release Summer Ghost theatrically this summer in its original Japanese language version, and an all-new English language dub. It will be paired in theaters with a documentary about the production of the film, and additional special content.
"We are very excited to introduce American audiences to a major new talent," said David Jesteadt, President at GKIDS. "With Summer Ghost, loundraw has transferred his emotive illustration style to a story of human connection that meets our current moment."
Summer Ghost looks like it's going to be one of those that hits you deeply. In my my own experience, when I watch movies with similar concepts as this one's, it stays with me for days and days. It's a sensitive and touchy topic for me but regardless, I know I'll be showing up in theaters to watch it. I'm that type of masochist who is very emotionally sensitive but will watch films and shows like this to get a good cry.
Watch the trailer here!
What is Summer Ghost About?
A local urban legend claims that lighting fireworks at an abandoned airfield will call the "summer ghost," a spirit that can answer any question. Three troubled teenagers – Tomoya, Aoi, and Ryo – do not know each other yet, but each has their own reasons to show up one day. When a sparkler is lit, a ghost named Ayane appears, and she reveals she is only visible to those "who are about to touch their death."
The three teens return home, but Tomoya soon begins visiting the airfield alone, as he becomes obsessed with the mystery surrounding Ayane and the true purpose of her visits.
I haven't even seen Summer Ghost yet and I already know there will be tears. The plot alone is tear-jerking so I can't begin to imagine what the real thing will be like. Especially since our ears will be blessed with the phenomenal artist that is Akira Kosemura for the soundtrack. I'm already sold!
Inspired by one of his own drawings, this remarkable directorial debut from the celebrated illustrator loundraw brings his lush visual sensibility to a poignant supernatural drama about the struggles of growing up, and the importance of living life to the fullest.
I'm particularly eager to check out his art style, I haven't seen too much of his work with Flat Studio, and being someone who appreciates all avenues of animation, I have no doubt that I'm in for a treat. From the trailer alone, it gives me slight Weathering With You (Makoto Shinkai) vibes when I saw them falling in the sky. Seeing that on the big screen will be so surreal!
Watching Summer Ghost's trailer brought me back to when I watched Anohana, an anime about the ghost of a girl who died in a freak accident as a kid and can only be seen by the main character. It was a happy ending but it was the most I have ever cried in any anime series (that I can think of anyway). I'm not sure how this film ends but I can assure you, I have a strong feeling I'll be a crying mess either way, and I'm HERE for it.
The film will run only 45 minutes but with the accompanying documentary that will play right afterwards, animation lovers such as myself will get a behind the scenes look. I sure hope other people in the theater will stay for it. I say this because it's happened before and I was in awe. And it was for a GHIBLI movie! The blasphemy. I would hate to be the person who leaves when our eyes are blessed with such precious content.
I know what you're thinking, people may not care as much as me. But I feel that if you want to support the film you should at least stay to appreciate the hard work it took for it to come into fruition. I grew up watching behind the scenes footage of films and shows and it made me realize one of my dream jobs: animation. You never know who you can inspire.
What are you most excited about for Summer Ghost? Will you watch subbed or dubbed? Let us know in the comments and on Twitter @theilluminerdi.
About GKIDS
GKIDS is the producer and distributor of award-winning feature animation for both adult and family audiences. Since 2010, the company has scored an astounding 12 Best Animated Feature Oscar nominations with The Secret of Kells in 2010, A Cat in Paris and Chico & Rita in 2012, Ernest & Celestine in 2014, The Tale of The Princess Kaguya and Song of the Sea in 2015, Boy and the World and When Marnie Was There in 2016, My Life as a Zucchini in 2017, The Breadwinner in 2018, Mirai in 2019, and Wolfwalkers in 2021.
GKIDS also handles North American distribution for the famed Studio Ghibli library of films, one of the world's most coveted animation collections with titles Spirited Away, My Neighbor Totoro, Princess Mononoke and others; as well as the critically acclaimed television series, Neon Genesis Evangelion. GKIDS also hosts ANIMATION IS FILM (AIF), an annual LA-based film festival which embraces the highest aspirations of animation, and is a vocal advocate for filmmakers who push the boundaries of the medium to its fullest range of artistic expressions.
KEEP READING: AQUALAD: NEW HBO MAX SERIES IN WORKS WITH CHARLIZE THERON PRODUCING
Source: GKIDS