Calling all weebs and K-pop stans! Crunchyroll has announced the acquisition of the upcoming animation series Bastions from Korean producers Thymos Media and will begin airing the five-part series on Saturdays, beginning this week. The global streaming rights extend worldwide, excluding China, Japan, Hong Kong, Taiwan, North Korea, and South Korea. Anime has become so popular in the last few years and with the rise of Korean culture/music, it was about time that both of these worlds collided.
CRUNCHYROLL ACQUIRES BASTIONS WITH NEW MUSIC BY BTS
"Crunchyroll has an extraordinary opportunity to introduce fans to more animation styles from Asia, and this exciting new series from Korea does just that. And having the music of so many K-pop stars really broadens the appeal of Bastions," noted Asa Suehira, Crunchyroll's Chief Content Officer. I don't think I've seen animated shows/movies in languages other than Japanese and English but this is an exciting new territory to explore. I'm sure it will be just as entertaining and fun to watch.
I've been watching Korean dramas since I was in high school and never thought I'd see a "Korean anime". Naturally, I've gotten so used to hearing Korean spoken in dramas and in Korean music so when I saw the trailer for Bastions, it was slightly unusual to see animated characters speaking Korean but I'm all for it! It's like I'm watching a K-drama, except it's animated! 
RELATED: Crunchyroll Releases New Suzume English Dub Trailer
Bastions is about a group of rookie superheroes in a world where superheroes compete for popularity. The young dynamos emerge as full-fledged heroes after saving Earth from a crisis by uncovering the identity of a villain responsible for environmental pollution. The series fuses K-Pop and animation, with several K-pop original songs, the most exciting of which is the main track and theme song by BTS. 
It's the first project by BTS as a group since it released its anthology album "Proof" in June last year. Bastions will also feature music from K-pop girl group Le Sserafim and singers Heize and AleXa participating on its soundtrack. I'm wondering if all the K-pop groups that are participating in this project will produce new music exclusively for this or if they'll use songs that they already have or both!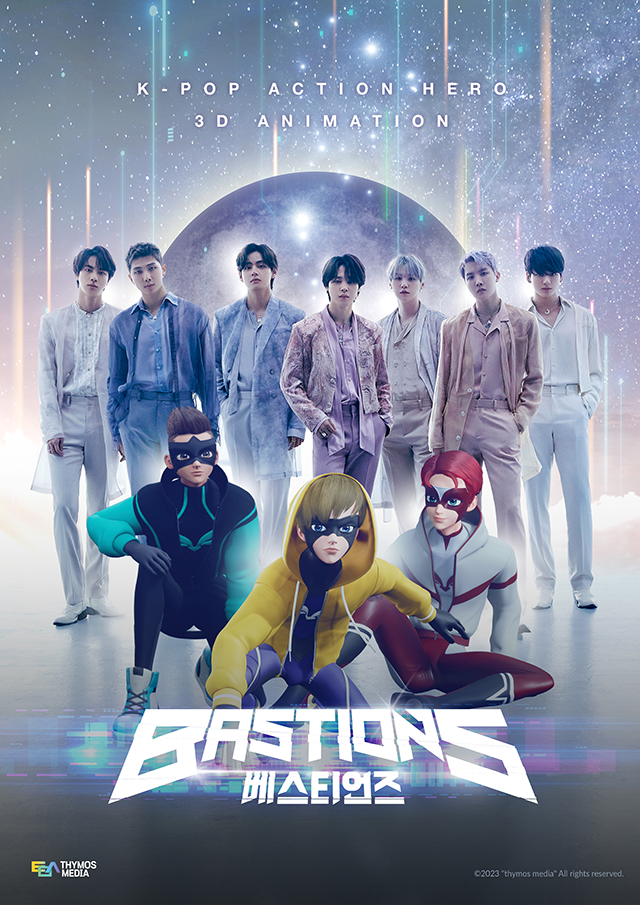 "BTS is expected to provide an overwhelming sense of immersion to the emotions and action scenes of the series by singing the theme song in perfect harmony," Thymos Media said.
As a veteran BTS stan (and generally K-pop), I am always going to be excited to see them featured in cinema; however that may look. As with anything BTS is involved in, it will surely attract quite a bit of attention. They are so beloved worldwide, ranking in a whopping 35.6+ million monthly listeners on Spotify, so it's no doubt that the fans (nicknamed "army") are looking forward to this.
When they announced their hiatus it was quite a shock to many. The whole world is collectively trying to get through each of their military enlistments. Whoever has enlisted so far has either collaborated with an artist they like, put out some content, or gone on a military tour. This is why it's very intriguing to me that there's new music by them for this title. I also wonder if it's a solo member project or if only the remaining members that haven't enlisted yet that are doing it. Either way, I'm looking forward to seeing how it sounds and how it will contribute to the series.
The series itself looks interesting. I wonder if the inclusion of K-pop groups/songs will be part of the characters' stories or if it'll just be playing in the background as part of the soundtrack. The plot reminds me somewhat of My Hero Academia, in which students enroll in a prestigious school for superhero training in an effort to become professional heroes.
RELATED: Crunchyroll Adds Music to SVOD Service
I can't help but also be reminded of the old-time classic series Captain Planet on Cartoon Network, which was about 5 young people who were given elemental powers by Gaia, the spirit of the planet, to summon a warrior named Captain Planet. With all of their powers combined, their mission is to defend the earth from pollution as much as possible. No doubt there will be similarities but I'm eager to see which direction Bastions goes.
Bastions will stream on Crunchyroll weekly beginning Saturday, May 13. Are you excited to see these worlds collide? Let us know in the comments!
SOURCE: Crunchyroll
KEEP READING: Crunchyroll Announces Blooming Spring Anime Season 2023