Invincible fans can rest easy knowing Season 2 is a little bit closer as new footage shows Steven Yeun back in the booth.
Robert Kirkman's best-selling comic book, Invincible, was one of the pandemic's breakout series. Based on his comic book written by him, and illustrated by Cory Walker and Ryan Ottley, Robert Kirkman's Skybound Entertainment and Prime Video brought the titular hero to life in a mature animated series. Season 1 of which is currently streaming on Prime Video. The series premiered over a year ago on March 26, 2021, and has been greenlit for Seasons 2 and 3. While we don't have a premiere date set, we know that Season 2 is on its way, and there is evidence to prove it.
Invincible Season 2 is in Production
RELATED: The Boys Presents Diabolical Executive Producer And Supervising Director Breakdown How Animation Can Allow For More Violence, Gore, And Truer Adaptations In The Superhero Genre Than Live-Action
Production could mean a lot of things. And we know the team behind the series has been working on it diligently for us to binge-watch and overanalyze as fans do. Over the weekend, Prime Video shared footage of Steven Yeun back in the booth recording lines for Invincible Season 2. He doesn't appear to read any lines from the series and is just shooting the promo, but it is more than enough to get fans excited for what is next in the gorgeously gorey series.
The downside of the video is if the lines are just being recorded now, that means there is probably about a year or more left before we get the next season. As great as the animation team is for the series, fans should not expect the impossible. The Boys Presents: Diabolical took 10 months to create, so it wouldn't be unreasonable for Invincible fans to wait even longer for Season 2, considering the show runs much longer than episodes of Diabolical.
RELATED: The Boys Seasons 1 & 2 Collection Set to Release on Blu-Ray and DVD With Mind-Blowing Extras
The silver lining, we do not know when the video posted was actually shot. It was posted on April 16, 2022, it could have been shot last year. Hopefully, it was shot last year. However, the lax masked usage leads us to believe it is fairly recent. That is unless this was shot in his home. But speculation isn't really helpful. Best to prepare for the year plus long wait for Invincible Season 2 and be joyously surprised if and when it comes out sooner than to convince ourselves it is definitely coming out sooner. San Diego Comic-Con is only a few months away, I highly expect to get news there.
Until then, fans of Invincible rest easy knowing that the series is making progress and will get to us eventually. The star of the show is back in the booth, and he's a pro at what he does (Keith from Voltron: Legendary Defender), so we know he likely won't take a long time. Maybe that knowledge will make the wait seem even shorter. Until then, Invincible Season 1 is streaming on Prime Video, and fans can always start reading or reread the comics.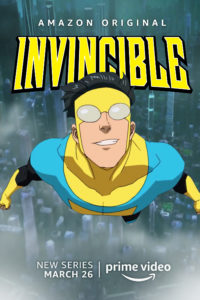 About Invincible
Created By: Robert Kirkman
Executive Produced By: Robert Kirkman, Catherine Winder, David Alpert, Simon Racioppa, Seth Rogen, Evan Goldberg
Produced By:
Cast: Steven Yeun, J.K. Simmons, Sandra Oh, Seth Rogen, Gillian Jacobs, Zazie Beetz, Andrew Rannells, Walton Gogins, Jason Mantzoukas, Zachary Quinto, Mahershala Ali, Kevin Michael Richardson, Grey Griffin, Khary Payton

Synopsis:
From The Walking Dead creator Robert Kirkman, and based on the Skybound/Image comic of the same name by Kirkman, Cory Walker, and Ryan Ottley, Invincible is an hour-long, adult animated superhero show that revolves around seventeen-year-old Mark Grayson, who's just like every other guy his age — except that his father is the most powerful superhero on the planet, Omni-Man. But as Mark develops powers of his own, he discovers that his father's legacy may not be as heroic as it seems.
Does Steven Yeun back in the booth hype you up about Invincible Season 2? Have you read the comic book? Which arcs do you think will be covered in Season 2 and what do you think will change? Let us know in the comments below and share all your theories with us on Twitter!
Source: Prime Video
KEEP READING: The Boys Presents: Diabolical Review – 8 of the Most F*%ked Up Insane Cartoons Ever