New Thor: Love and Thunder Funko Pops! line accompany the highly anticipated teaser trailer.
Now sitting at over 5 million views as of this writing, the Thor: Love and Thunder teaser trailer has gotten the world executed for the God of Thunder's fourth solo film. With that excitement, and in particular, the Marvel fandom, comes the urge – no the need – for merch. And one of the best providers for our merch fix, Funko, has done what they do best. They provided us an adorably awesome new line of Funko Pops! to coincide with the film, and just coincidentally went live with the new Pops! roughly the same time the teaser trailer was dropped.
Thor: Love and Thunder Funko Pops!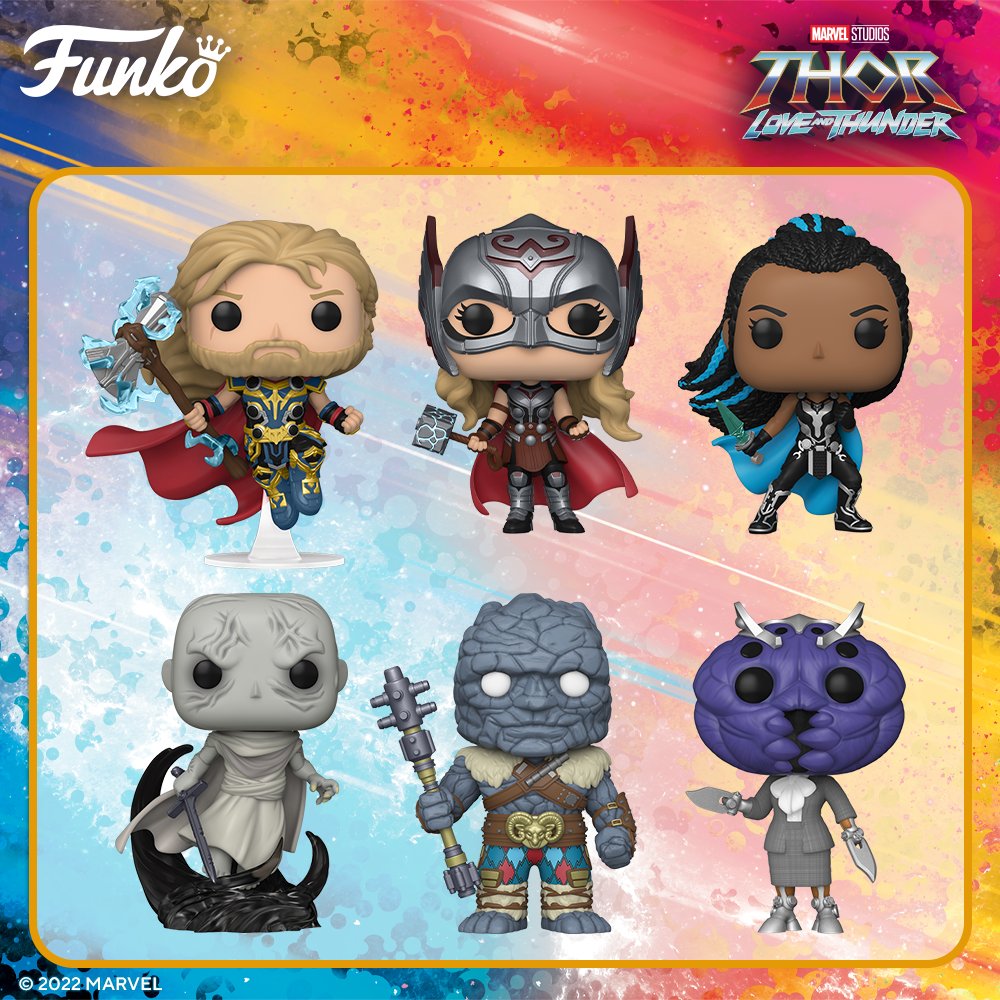 RELATED: Thor: Love and Thunder Finally Drops 1st Official Teaser Trailer
The base, and widely available, line of Thor: Love and Thunder Funko Pops! consists of 7 Pops! and 4 Pops! keychains. Of the regular 6 Pops! we got Thor, Jane Foster Thor, Valkyrie, Gorr, Korg, and Miek. This is the first real look at Miek in the film, and they seem to be rocking a woman's suit along with their usual bladed hands. Not sure what to make of that really. The Super Deluxe Funko Pop! is called "Thor Rides" as he is seen on an Asgard Tours Boat being dragged by his legendary goats Tanngrisnir and Tanngnjóstr. Then of course the keychains.
Exclusive Thor: Love and Thunder Funko Pops!
RELATED: Thor: Love and Thunder Action Figures Reveal Promo Art and New Story Details
Then, of course, to make life difficult. The exclusive Thor: Love and Thunder Funko Pops!. Luckily the Wal-Mart and Target exclusives are just packs of the widely available pops. I only really recommend those if it's cheaper or if you like to keep them in the box. Otherwise, it's usually not worth the price difference. However, the Maskless Jane Foster Thor is a Books A Million (BAM!) exclusive and the Glow in the Dark Flying Jane Foster Thor is a Pop in a Box exclusive. Pop in a Box is a very reputable and easy to work with site. Books A Million is needlessly difficult with horrible communication that will cancel your pre-order without telling you. So, good luck there.
The damage, and by damage I mean to budgets and time lost hunting, could have been far worse. There could have been an exclusive of like Working Out Thor or something. Actually, San Diego Comic-Con is coming up, so there is a high probability SDCC Exclusive Thor: Love and Thunder Funko Pops! will happen. But for now, the collection appears manageable, and not too many isolated exclusives to drive collectors crazy. Ideally, collectors could get each pop and still be under $150 after tax and shopping.
You can get all of the wide-released Thor: Love and Thunder Funko Pops!, and the key chains, by clicking these words. For the exclusives Love and Thunder Funko Pops!, head over to those respective retailers to order yours.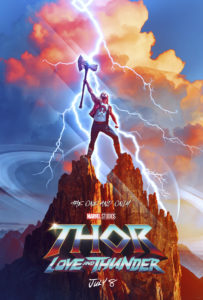 About Thor: Love and Thunder
Release date: July 8, 2022 (USA)
Director: Taika Waititi
Produced by: Kevin Feige; Brad Winderbaum
Production company: Marvel Studios
Music by: Michael Giacchino
Distributed by: Walt Disney Studios Motion Pictures
Cast: Chris Hemsworth, Natalie Portman, Christian Bale, Taika Waititi, Tessa Thompson, Matt Damon, Luke Hemsworth, Russel Crow
Do you collect Funko Pops! or any other kind of memorabilia? Are you going to get any or all of the Thor: Love and Thunder Funko Pops!? Can you explain what is up with Miek's outfit? Let us know in the comments below and share your Funko collection with us on Twitter!
Source: Funko
KEEP READING: VIDEO: Who is Zombie Strange in Doctor Strange in the Multiverse of Madness?