The first season of Undone debuted on Prime Video on September 13, 2019, and now the long-awaited second season is only weeks away. This rotoscope animated series is centered around Alma Winograd-Diaz and her family. After a car accident, Alma's life is changed when she is able to see and interact with the universe and time in an entirely new way, compounded by her new mission to save her long-deceased father with these new abilities.
Part of what is so intriguing about Undone is the viewer never truly knows what is going on, does Alma actually have special abilities or is she suffering from schizophrenia as her father and paternal grandmother reportedly did? Or could it be some combination of both? Mental health is an integral part of Undone, but in a truly unique way that often leaves audiences with more questions than answers.
RELATED: DUAL DIRECTOR EXPLAINS HOW HE IMMEDIATELY KNEW KAREN GILLAN WAS PERFECT FOR THE LEAD AND HOW AARON PAUL'S CASTING CHANGED HIS CHARACTER: EXCLUSIVE INTERVIEW
The Illuminerdi had the opportunity to participate in roundtable interviews with the cast and creators of Undone during WonderCon 2022. When the creators were asked about why they chose the diagnosis of schizophrenia and whether they personally knew anyone who has schizophrenia Kate Purdy shared her own family history with this illness, but she also made an important clarification about Undone's main character Alma.
"So, we never actually give her the diagnosis of schizophrenia. We say her father did and her grandmother did. But she never gets a diagnosis specifically. There's schizophrenia in my family. So, my Grandmother and some Great Uncles both have schizophrenia, and there's other, I imagine, but maybe I'm wrong, that all families have mental illness. So, we have depression and anxiety as well.

So, it's sort of exploring some of those feelings and experiences and lineage and history within the family. But we want to be very careful to say, 'She is schizophrenic and we are representing schizophrenia in the presentation of the show.' We are sort of saying, schizophrenia is an umbrella term and there's a lot we don't know about mental health. And there's a lot we don't know about the universe. And there's a lot we don't know about personal experience. So, raising more questions and trying to sort of explore all these different angles in the process of the exploration of the show."
The importance of Alma not being diagnosed with schizophrenia is a fascinating specification that adds some of that mystery, curiosity, and exploration to the series. During the Undone cast roundtable Angelique Cabral, Rosa Salazar, and Constance Marie were asked about their own understanding of mental illness and whether or not working on this series has helped them to better understand it. Angelique Cabral, who plays Alma's sister Becca, revealed that while she doesn't have a wealth of knowledge about the subject she hopes Undone makes it easier for people to have these difficult discussions.
"I will just speak for myself, I don't know a lot about it, I'll be totally honest with you. This was not something that I came into the show, knowing much about. And I love that we talk about it, and deal with it in a way within our family dynamic that makes it palatable. Makes it easy to discuss, I'm hoping that it brings attention to it and it makes people who are out there, our viewers who seem to react very strongly about the show.

I'm hoping that it really shines a light and if anything, ultimately helps people. Right, isn't that the whole point of talking about something like this, on a show like this? And I can only speak for myself, again, that I have learned so much about this. And about how different people deal with it differently. And different families deal with it differently. And Becca, which is very Angelique of me, would deal with it, in the way I deal with it. And I think that Alma deals with it in the way [Rosa] deals with it. And we also never know if it is real or not. Right? So, it's all very confusing in the show.
RELATED: THE BOYS PRESENTS: DIABOLICAL SUPERVISING DIRECTOR AND EXECUTIVE PRODUCER TALK ABOUT WHAT THEY WOULD LIKE TO FURTHER EXPLORE ABOUT THE WORLD OF VOUGHT AND THE BOYS IN A POTENTIAL SEASON 2
In Undone Rosa Salazar's character, Alma, is the most intertwined, personally, with this aspect of the series. She is the character that may be dealing with schizophrenia. Throughout the first season, especially before her powers manifest, Alma is genuinely concerned about being seen as crazy. She knows about her grandmother's diagnosis and doesn't want to follow the same fate, but as the first season progresses and her powers manifest all may not be as it once seemed. Rosa talked about Alma's obsession with these abilities and her relationship with the word, "crazy."
UNDONE STAR ROSA SALAZAR TALKS ABOUT ALMA'S RELATIONSHIP WITH THE WORD "CRAZY"
"Yeah, and so, Alma says the same line in season one and season two, and it's not on accident. She says, 'I'm not crazy.' There's been a major refusal on Alma's part to be crazy. And what that means. And I think because of all of her, I mean, she's a very learned person and she delves deep into many cultures and their belief systems and how they treat things like mental illness.

You know, you can be of the mindset of that you get a pill and that chemical kiss and that's gonna fix everything. But we know that that's not true now. We know that you're just going to just keep upping dosages, and you're not going to fix what's actually, quote unquote, wrong with you. So, the first two season Alma's like, 'No, there is nothing wrong with me. I have abilities.' And she's so staunch in that belief, and what's so brilliant about what Kate and Rafael did is that both seasons, she's like, 'No, no, no I'm not crazy.'

She's going like this, 'I'm fixing my Mom. I'm fixing my Dad. I'm gonna fix this. I'm gonna fix our thing. I'm gonna save my Dad's life.' It's all about these abilities. She's obsessive about these abilities. And by the end of the second season, she's like, 'Holy shit, I never went inward. I'm so busy trying to fix my circumstances that I never even asked how I felt. I'm so about the family.'

I mean, she is very selfless in that way, but I think it's because she does not want to face herself. Who wants to face themselves? We're all crazy afraid of what we might find. We all wear masks, they may look like that today, but they may look like this on any given other day, or this. And so, there's a real refusal on her part. I don't even think we've begun to scratch the surface of what is actually going on. Why is she's so obsessive about fixing everything? I think if we were to delve into a third season, I think it would be all about radical acceptance."
RELATED: THE BOYS PRESENTS: DIABOLICAL EXECUTIVE PRODUCER AND SUPERVISING DIRECTOR REVEAL WHICH ANIMATED CHARACTERS THEY'D LIKE TO SEE APPEAR ON THE BOYS AND DIG INTO THE HOMELANDER EPISODE
Alma's entire focus in season one was saving her father and it seems season two may be diving deeper into her family. Rosa's understanding of her character and the idea of being selfless for one's family as a way to avoid looking inwards is an interesting idea that it seems will be touched upon in the second season of Undone. Constance Marie, who plays Alama's mother Camila, had an interesting perspective on not only mental health but how generational trauma plays a part.
"For me what I like is, I think that everybody has a certain level of organic trauma that happened to them and their families, generationally. And it may not be diagnosed as mental illness but it is limitations, it is phobias, it is anxieties. It is all these micro levels of limitations or issues that we have and what I love about the show is it's not afraid to look back at what happened, at yourself as a child, as your children.

It looks at it all in this, with dignity and respect, and the 100% just exposure in a thoughtful, curiosity without shame. Right, because there is so much judgment, so much shame. And hopefully what I think will translate is that it makes people think about their Grandmother and their Mother, and what makes my family and me the way I am. And not afraid to look at it."
RELATED: THE BOYS PRESENTS: DIABOLICAL SUPERVISING DIRECTOR IMAGINES AWKWAFINA'S AREOLA SMELLS LIKE BABY POWDER AND GIVES SEASON 2 UPDATE: EXCLUSIVE
The idea of examining mental health through not only genetic predisposition, but generational trauma is fascinating and hopefully something that Undone will examine in the second season. Mental health has long been stigmatized and still is today, but hopefully, with shows like Undone, this will stop being the case. The unique perspectives of each Undone cast member and creator Kate Purdy are fascinating as is the series approach as a whole.
Undone focuses on Alma and her journey, but part of what makes it so intriguing is the fact that Alma is in fact an unreliable narrator to some degree. We only see this story through her eyes which leaves audiences wondering does Alma actually have universe-bending abilities, is she dealing with undiagnosed schizophrenia, or is Rosa Salazar right and she is in fact dealing with both?
Undone Season 1 is available on Prime Video now. Season 2 of Undone will debut on Prime Video on April 29, 2022.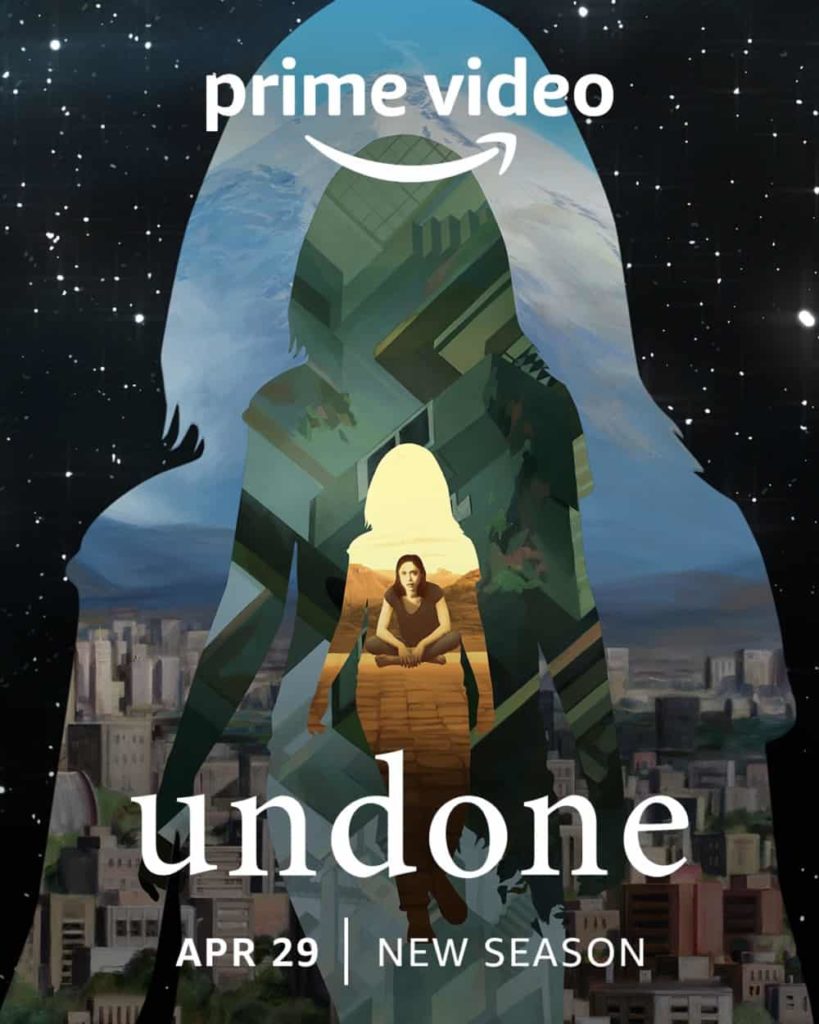 Are you a fan of Undone? Are you excited about season 2? Leave your thoughts in the comments below or on our social media and check back with The Illuminerdi for more Undone.
KEEP READING: THE BOYS PRESENTS DIABOLICAL EXECUTIVE PRODUCER AND SUPERVISING DIRECTOR BREAKDOWN HOW ANIMATION CAN ALLOW FOR MORE VIOLENCE, GORE, AND TRUER ADAPTATIONS IN THE SUPERHERO GENRE THAN LIVE-ACTION