NOONAN'S (wt), the spin-off series of the adult-animated DC Series Harley Quinn is getting 10-episodes at HBO Max.
The adult-animated Harley Quinn series spin-off about everyone's favorite loser, Kite Man, gets a 10-episode order at HBO Max. The spinoff series is going by the working title NOONAN'S which is the name of the dive bar where all the lower-tier villains and henchmen go to. After the events of Harley Quinn Season 2, Kite Man's story seems to come to an end. But as it turns out, it was really only just the beginning, as now this D-Tier level villain is going to go from side character to leading man. Likely making Clayface extremely jealous.
Noonan's Gets a New Owner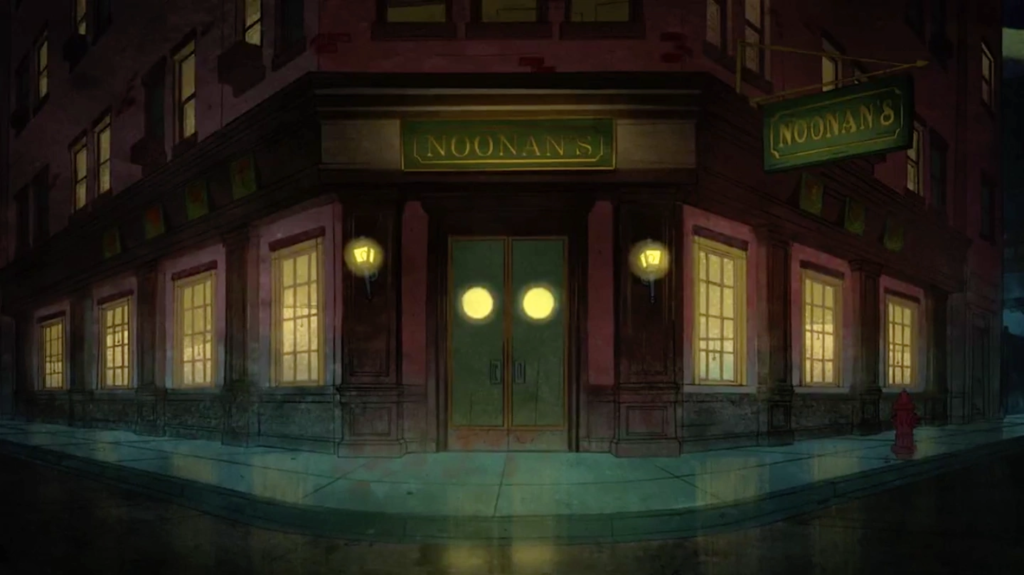 The premise of Noonan's is that Kite Man and his new paramour, Golden Glider, purchase the bar in order to fund their criminal activities. Kite Man was a truly likable character and after the events of Season 2, makes a lot of sense for him to get a spin-off series. The powers that be at HBO Max and Warner Bros. Animation truly believe so too.
RELATED: Batgirl, Leslie Grace, on Reaching Out to Her Awesome DCEU Co-Stars.
"We love the wild and fun world of "Harley Quinn" so much we just had to make a spin-off and who better to center it around than the outcast Kite Man. Justin, Patrick, and Dean have created the perfect local hangout for Gotham City's not-so-finest at Noonan's, where bar patrons can blow off steam after a long day of mayhem."

Suzanna Makkos, Executive Vice President, Original Comedy and Adult Animation, HBO Max and Adult Swim
"'Harley Quinn' unlocked a world of hilarious possibilities with the iconic superheroes and supervillains of the DC Universe. Exploring this world further with our partners at HBO Max and DC is going to be a lot of fun. Plus, after getting dumped by Poison Ivy, the least we could do was give Kite Man his own show."

Peter Girardi, Executive Vice President, Alternative Programming, Warner Bros. Animation
RELATED: Constantine: WB Circling Ṣọpẹ Dìrísù To Star As John Constantine In New HBO Max Series: Exclusive
Kite Man was recurring character in the Harley Quinn series, who fancied Poison Ivy and eventually began dating her and even got engaged to her. His earnest nature and thorough support of Ivy were very endearing, and he surprisingly made the kite really work for himself, Ivy, Harley Quinn and her team. He was often the butt of the joke, but he had the love of his life, so he was infallible.
However, things started to change as Kite Man and Ivy's wedding drew closer. Kite Man was proving to be a bit of a groomzilla, while Ivy and Harley's relationship began to cross into new territories. Though a lot of Kite Man's issues with the wedding, or Condiment King, were very superficial and objectively hilarious. It was clear that Ivy and Kite Man were very different people. Their values and wants became more and more apparent. On the day of their wedding, Kite Man realizes this and lets Ivy go. Harley and Ivy then drive off into the sunset.
It works a great set up for Kite Man and the NOONAN'S (wt) spin-off. Kite Man deserves the best and is now on his way to finding it. Unfortunately, we don't know when the series is set to premiere. However, we do know Harley Quinn Season 3 has wrapped and will likely air sometime this year. Fans should expect to see NOONAN'S (wt) sometime in 2023 at the earliest. Seasons 1 & 2 of Harley Quinn are now streaming on HBO Max.
About NOONAN'S (wt)
Showrunner: Dean Lorey
Executive Producers: Justin Halpern, Patrick Schumacker, Sam Register, Dean Lorey, and Kaley Cuoco
Produced by: Delicious Non-Squitur, Yes, Norman Productions, Warner Bros. Animation
Based on characters from DC.
Cast: Matt Oberg
Logline:
Lovable loser Kite Man and his new squeeze Golden Glider moonlight as criminals to support their foolish purchase of Noonan's, Gotham's seediest dive bar, where everybody knows your name, but not necessarily your secret identity!
What do you think about NOONAN'S (wt)? Do you think we'll get more Kite Man in Season 3 and see it set up his spin-off? Do you think WB/DC will let Batman perform *bleeep* after the backlash? Let us know what you think in the comments below and feel free to tell us what happens in the Harley Quinn comics on Twitter.
Source: HBO Max
KEEP READING: Warner Bros. Discovery Searching For Its Own "Feige" To Overhaul DC Entertainment