Did you ever wonder what it would look like if Animal Crossing, Sims, and Disney combined into one game? Welcome to Disney Dreamlight Valley.
Just announced by Gameloft is a new life-simulation adventure game, Disney Dreamlight Valley. And the best part is it's free-to-play! From the announcement trailer it seems to merge the appearance of Sims with the concept of Animal Crossing, to bring fans a Disney adventure that includes a variety of Disney and Pixar friends.
RELATED: UNDONE CAST TEASE THEIR EXCITING NEW ARCS IN SEASON 2
Disney Dreamlight Valley invites players to make their own personalized avatars while they explore the dream world of Dreamlight Valley. Embarking on an enchanting adventure, players will have to complete quests in hopes to restore the village from its current dreary state. Covered in Night Thorns it seems the beloved characters of Disney and Pixar have lost their memory due to a mysterious event called The Forgetting. But have no fear. With the help of players, these characters will be able to regain their memories and put everything back to how it once was.
Wandering Through Disney Dreamlight Valley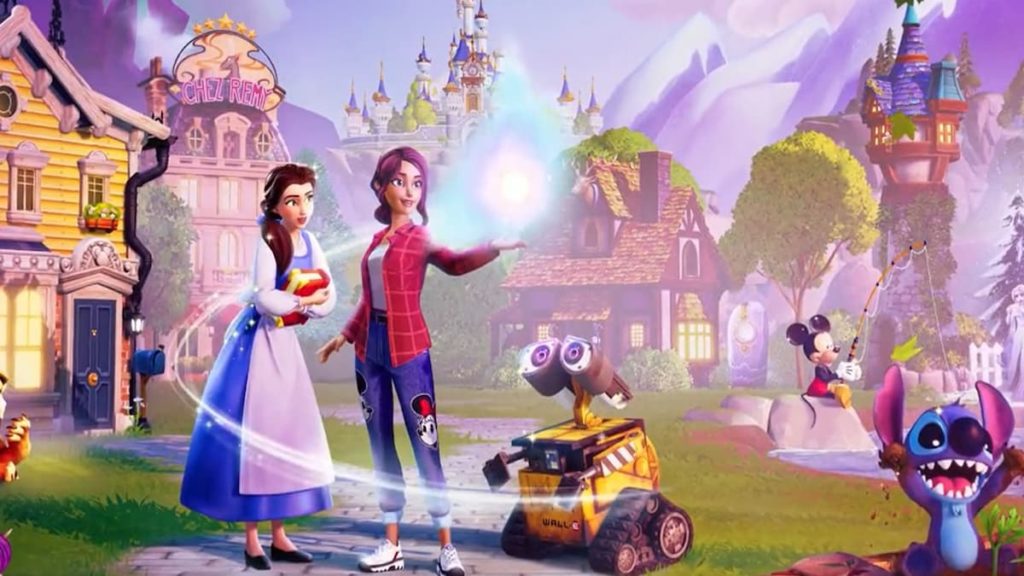 Not to mention players will be able to meet and build friendships with iconic characters from Mickey & Friends, to Disney's The Lion King, The Little Mermaid, Moana, Disney and Pixar's Toy Story, and more. As well as be immersed in a multitude of unique story arcs around individual characters.
For example, whipping up delicious Disney-themed dishes alongside Remy from Disney and Pixar's Ratatouille. Or try stopping by the fishing hole with Goofy or grow vegetables from Wall E's garden patch.
Check out the announcement trailer below:
One of the game mechanics that has a lot of people drawing Animal Crossing comparisons is the ability for players to design and build their own avatars, homes, and villages. This is made easy with a huge variety of customizable options. Including an ever-evolving list of Disney-princess-inspired ballgowns, Mickey-adorned streetwear, Frozen-inspired antique kitchen designs, and more. Players will also have multiple biomes to choose from when building the villages of their dreams. Perhaps the Frosted Heights is more your style or somewhere nestled in the Peaceful Meadows. No matter what, the choice is yours. Find out which Disney Princess you are like, and play along.
Luigi Priore, V.P. of Disney and Pixar Games said, "Disney Dreamlight Valley will give our fans the opportunity to write their own story and build their ideal Disney and Pixar life within a richly detailed world populated with characters from some of Disney's most iconic stories." As well as continued to add, "We are excited to hear feedback from our audience throughout the development of this title as we collaborate with the talented team at Gameloft to bring Disney Dreamlight Valley to life."
The last part of his quote is important to note. While the game isn't scheduled to release until 2023, it does seem fans will have a chance to be the first to play in an Early Access available this summer. This access will be available exclusively for players who purchase a Founder's Pack or have an Xbox Game Pass. You won't only be the first to explore Dreamlight Valley, but will also receive exclusive rewards that you can keep. Early Access is scheduled to release across all supported platforms including PC, MAC, Nintendo Switch, Playstation 5, PlayStation 4, Xbox Series X, Xbox Series S, and Xbox One consoles. Checkout Steam for the PC and Mac versions.
The only thing we haven't heard and many gamers are asking, is will it be multiplayer? One of the thins that keeps Animal Crossing so exciting, is the ability to share players creations with friends. Now while it does look like this might be something in the works, nothing has been confirmed. And personally, this is something that might lead to the make it or break it moment for Disney Dreamlight Valley. However, with it being free-to-play, it definitely is worth checking it out.
Let us know your thoughts in the comments below, and share which Disney Dreamlight Valley characters you are most excited to hang with once it launches.
KEEP READING: GHOSTBUSTERS: AFTERLIFE OFFICIALLY ANNOUNCES SEQUEL