Undone is back with an even more exciting and universe bending second season.
While the first season of Undone focused primarily on Alma and her journey to understand and control her new abilities in order to save her long deceased father season two expands the world even more. The season season brings Becca, Alma's sister, into the sci-fi fantasy fun as she learns about and develops her own powers. Meanwhile the new mystery is centered around Camila, Alma and Becca's mother, as her enigmatic past comes to the surface.
UNDONE CAST TEASE THEIR NEW ARCS IN SEASON 2
The Illuminerdi had the opportunity to participate in virtual roundtables with some of the cast of Undone, Angelique Cabral and Constance Marie. We asked both actresses about their characters' arcs in season two. Constance Marie shared that while exploring Camila's past she was surprised not only by how much pain she has endured, but how she has faced it with grace.
"For me, how much pain she endured and it touches my heart just to even think about it. She endured so much pain and did it gracefully. Whereas when you see season one you just think, "Oh she's just mean or just closed off." And she is such a survivor. And I think a lot of, like, the single moms or generationally what women have to deal and is expected with.

A lot of these really tough decision that we have to do about our bodies, about who we are, about our education, where we're allowed to go. Past generations of women didn't have the opportunities that we had and Camila handles it with such grace, but I really didn't realize how much she had to endure. And how much pain she just kind of swallowed to hold it all together."
RELATED: UNDONE CAST TEASES EXCITING NEW CHARACTERS IN SEASON 2 AND REVEALS HOW THE RELATIONSHIP BETWEEN ALMA AND BECCA EVOLVES
It seems generational trauma will continue to be an important aspect of Undone, but now it will be explored not only through Alma and Becca's father, Jacob. With Camila's past being at the center of this seasons mystery her own pain and trauma will come to light as the sisters investigate. Camila has always been a secretive character keeping elements of Jacob's past and accident away from Alma in season one and now it seems her own secrets will be revealed. It will be interesting to see how she copes with this and how her family is impacted by it.
When we asked Angelique about her new arc, exploring new abilities, and how it changed her view of Alma she had an interesting answer. Angelique digs into what motivates Becca and how her understanding as well as acceptance of these powers evolves throughout the second season of Undone.
"What's so great about this show is we are not given any, we're not privy to anything that happens so this was all a surprise to me, season two that I had these abilities. And I think that it's so telling of Becca. She probably has known her entire life and she's just so judgy and she's so compartmentalized. And she's striving for such perfection which she's trying so hard to not repeat the mistakes of her sister and her family. And she's trying so hard to be essentially in my opinion white. Right?

So, I feel that it's so telling and I love so much that she discovers this and then by the middle to end of the season she's just like leaning in. And she's all in. And she's like, "this is me." And she starts making decisions for herself and it's just I think the best arc. I was so happy with what she got to play with this season."
It is exciting to see the world bending sci-fi fantasy element of Undone evolve with more characters becoming a part of it. Part of what is so fascinating is how these powers reveal the core of each character with Becca and Alma approaching their abilities very differently. Alma constantly wanting to go back to fix the problem before it arises while it seems Becca would rather tackle the pain and fall out in the present.
RELATED: UNDONE CAST AND CREATOR TALKS ABOUT HOW THE ANIMATED SERIES APPROACHES MENTAL ILLNESS
Watching as Becca grows into her power and finds the confidence to get to the "all in" mentality is thrilling as is the evolution of her relationship with Alma. Hopefully Undone gets a third season and even more of this universe warping power and these relationships can be explored.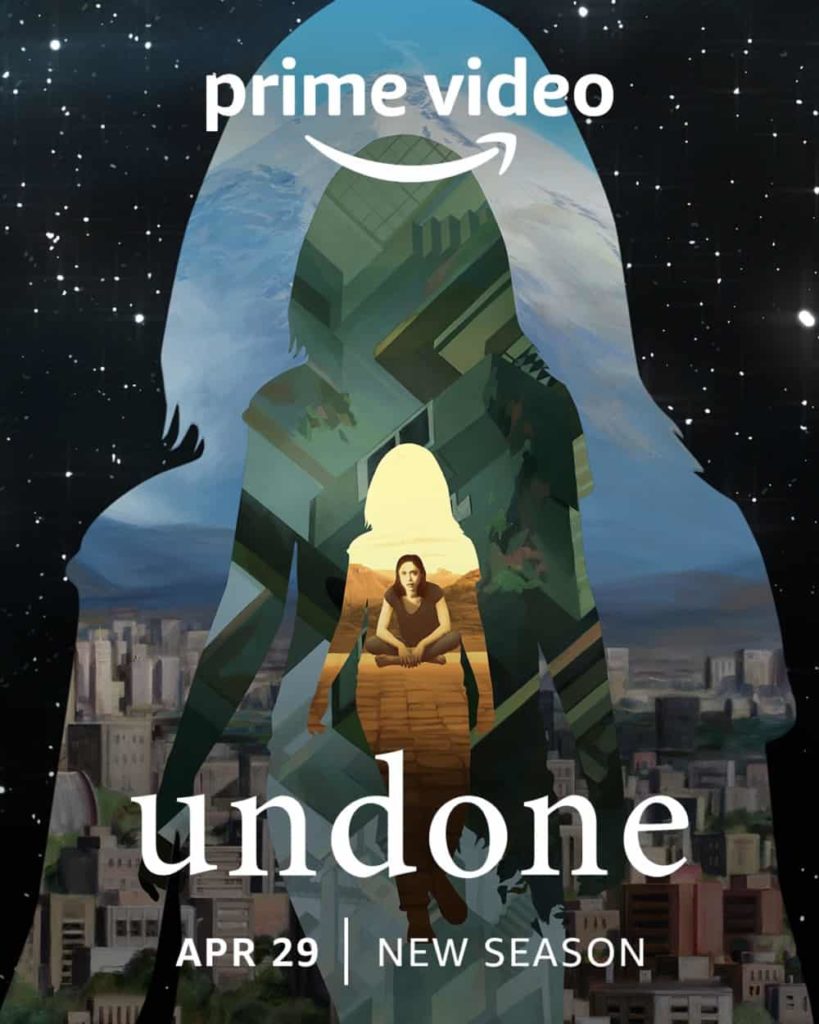 Undone seasons 1 and 2 are available on Prime Video now. Are you excited to see Becca join in on the sci-fi elements of the series? Are you intrigued by Camila's mysterious past? Are you interested in seeing how these arcs will impact not only these characters, but Alma as well? Leave your thoughts in the comments below or on our social media and check back with The Illuminerdi for more Undone.
KEEP READING: UNDONE CREATOR REVEALS HOW HIS EXPERIENCE ON BELOVED BOJACK HORSEMAN INFORMED THE CREATION OF THE ROTOSCOPE ANIMATED SERIES