Connections to the wider MCU were few and far between in Moon Knight, but the show's head writer says characters from another Phase 4 project almost made an appearance.
Save for a bus ad for the Global Repatriation Council, or a Madripoor namedrop by Layla, Moon Knight's overall story didn't tie into any other MCU film or series in a significant way. The introduction to Marc Spector, Steven Grant, Khonshu, and everything else in the show was given its own room to breathe without having to be tethered to a broader narrative.
RELATED: ALL THE EXCITING CAMEOS IN DOCTOR STRANGE IN THE MULTIVERSE OF MADNESS!
In fact, Moon Knight is the only Marvel Disney+ series to not feature a character that was introduced in a previous project.
However, executive producer and head writer Jeremy Slater recently revealed there were plans at one point to include some of the most powerful MCU characters in Moon Knight.
HOW THE ETERNALS COULD HAVE ENDED UP IN MOON KNIGHT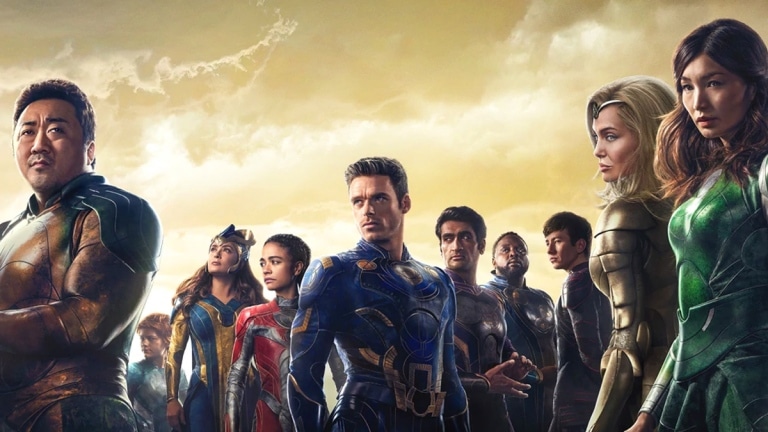 In an interview with The Direct, Slater discussed an early idea to have some of the Eternals be part of a flashback sequence:
"I tried very hard to get the Eternals into the show, just because I'm buddies with Kumail Nanjiani. At one point, there was a flashback on the page that sort of showed one of Khonshu's Avatars back in ancient Egypt, sort of dealing with Ammit being locked away, and Alexander the Great, and all of that stuff. You sort of saw this Avatar team-up with the Eternals. It was a really fun scene, but again, it was so massively expensive to recreate Ancient Egypt, to sort of bring in three or four of the Eternals to have this big action sequence."
While that certainly would have been a very exciting scene, the reasoning behind it being scrapped is completely understandable. Even though the Marvel Disney+ series have had some impressive VFX sequences, the budgets for those projects are nowhere near the level of a feature length film. The Moon Knight finale alone took a lot of effort to put together due to having giant-sized versions of Khonshu and Ammit squaring off in Cairo. Adding in an action set piece featuring the Eternals would have required more resources than Disney might have been willing to put into the show.
Slater went on to tell The Direct that the decision to leave the Eternals out of Moon Knight ended up being the right call:
"It would have been a great cold open to one of the episodes, but it also would have had to come out of our budget somewhere else, and probably would have hurt our finale along the way. So, that was the cameo I had to cut. It hurt, but it was also the right thing to do for the show, and I think everyone sort of collectively agreed. There's plenty of time in the future to team this guy up with other characters in the MCU and start building these connections; let's not force something just because the other shows have all had it."
That final point Slater raises certainly bodes well for the future of Moon Knight in the MCU. As of now, a second season of the series has not been confirmed, and there's no clear project on the horizon that could feature a Marc Spector, Steven Grant, or even a Jake Lockely cameo. This summer's Thor: Love and Thunder may include some Egyptian gods for its villain to butcher, but Khonshu will more than likely not be one of them. Even though Moon Knight's outlook is unclear, Slater talking about the character teaming up with other MCU heroes may mean Khonshu's fist of vengeance will make his return sooner than later.
Would you have liked to see the Eternals in Moon Knight? Where do you think Marc Spector will show up next? Let us know in the comments, and make sure to follow us on social media for more!
KEEP READING: DOCTOR STRANGE IN THE MULTIVERSE OF MADNESS MIND-BLOWING POST-CREDITS SCENES EXPLAINED!