"Automobile in America?" Looks like West Side Story's Rita Moreno will be joining a franchise full of automobiles, and one of the highest-grossing series in American cinema history with Fast X.
Vin Diesel made the announcement on his Instagram page, through a video, that the Academy Award-winning actress would be playing none other than Dom Toretto's grandmother! Talk about a family reunion for the history books, and sign us up for any movie where these two stars interact.
The Fast Family keeps extending itself, with F9 introducing us to Dom's brother, Jakob (John Cena), and now we're getting to see another previously unseen (and unheard) member of Dom's Family accompanying him on his next mission. In my humble opinion, if Rita Moreno doesn't drive a car in the new movie, it'll be one of the biggest wasted opportunities in cinema history, so Diesel and director Louis Leterrier should definitely make it happen.
Rita Moreno Becomes Part Of The Fast Family
In the video, Diesel explains how he always wanted to work with Rita Moreno for a film: "It's been my dream forever to work with Rita Moreno, and the fact that she's here playing my grandmother makes my soul smile. I'm so blessed."
Moreno then said: "I think my old age was waiting for you to invite me. Isn't that nice? And I'm here. And the answer is yes, I'll do it. And yes, not only do it but I'm tickled. I'm tickled to hell to do it. I'm so thrilled. It's going to be such fun!"
Rita Moreno has reached EGOT status, having won an Academy Award for her performance in 1961's West Side Story as Anita, two Primetime Emmy Awards, one Grammy Award, and a Tony Award. She was last seen in Steven Spielberg's 2021 remake of West Side Story as Valentina, the owner of Doc's general store. She will next appear in The Prank, which premiered at South by Southwest on March 13th of this year, and in 80 for Brady, which will star Tom Brady, Jane Fonda, Lily Tomlin, Sally Field, and Bob Balaban.
The latter film is currently in production. Once again, if Moreno doesn't drive a car and isn't part of one of the film's main action set pieces, why bother casting her in the role? She should be an integral part of its production. After all, she's one of the biggest on-screen legends that ever graced the silver screen!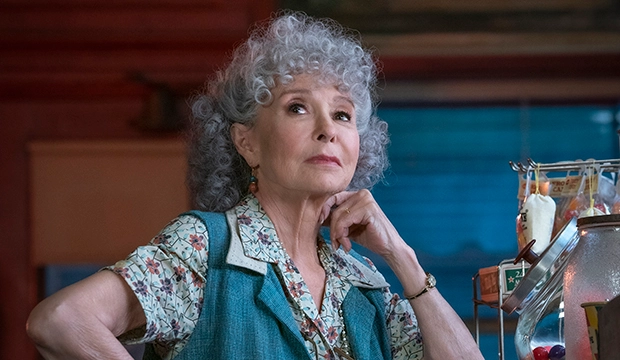 After a setback with Justin Lin leaving the production of Fast X as director, the movie will be shepherded by Louis Leterrier, who recently released The Takedown on Netflix, a sequel to David Charhon's On the Other Side of the Tracks, starring Laurent Lafitte as François Monge and Omar Sy as Ousmane Diakité. The movie was met with a middling critical reception but was a commercial hit in France for Netflix.
The film will be divided into two parts, written by Dan Mazeau and Justin Lin, and star Vin Diesel, Michelle Rodriguez, Chris "Ludacris" Bridges, Tyrese Gibson, Jordana Brewster, Nathalie Emmanuel, Sung Kang, Scott Eastwood, Michael Rooker, Charlize Theron, Cardi B, Jason Momoa, Daniela Melchoir, Brie Larson, and Alan Ritchson. Momoa will be playing the primary antagonist, though it is unclear which character he is playing. You can watch Diesel's full video with Rita Moreno below:
What do you think? Should Rita Moreno be part of one of the film's major car chases? Is it time for the Fast & Furious franchise to go all-in with its concept of family? Let us know in the comments below and be sure to follow us on Twitter!
KEEP READING: TED LASSO'S JASON SUDEIKIS REPORTEDLY CAST AS TED KORD
Source: Instagram